this ZTE strengthened its portfolio in Brazil with its first launch 4K TV Box The model, which the brand announced on the national market on Wednesday, 1st, ZT866 It comes with AndroidTV 11 operating system installed right out of the box, giving you access to an extensive list of streaming services.
With the promise of turning any old TV into a smart TV, the device is powered by a quad-core ARM Cortex-A35 processor. The datasheet also includes 2GB of RAM and 8GB of storage capacity.
Regarding the connection, the device supports: dual band wifi, and can connect to 2.4GHz and 5GHz networks, subject to availability. It also has an RJ-45 ethernet port for accessing the internet over the cable to achieve greater signal stability.
HE ZTE TV Box 4K ZT866 It also has a USB port for plugging in flash drives and other accessories, as well as an HDMI 2.0 port and A/V connectors. Bluetooth 5.0 allows you to pair the joystick and wireless headphones for gaming and listening to music more conveniently.
pre-installed apps
endorsed by google 4K resolution TV box from ZTE It comes with a variety of pre-installed apps such as YouTube, Netflix, Globoplay, Paramount+, Amazon Prime Video, and Disney+. You can also download other options for apps and games from the official Android TV store.
Other highlights of the equipment are the reduced energy consumption according to the manufacturer and Google Assistant support, to access various features with voice commands. The remote has dedicated buttons that make it easy to open apps from some main streaming services.
Located in the national retail network, TV Box 4K ZT866 It costs R$589, the ZTE recommended value.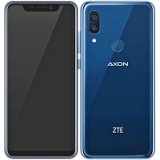 Source: Tec Mundo