enormous amount streaming services Subscribing to whatever is currently available, whatever you want to access, usually has a strong impact or budget. But did you know it's possible to have multiple subscriptions that pay a lot? cheaper At the end of the month?
This service offer Kotasa site that aims to help you find people who want share accounts with family, friends and even strangers. the idea here divide value For example, a subscription to a Netflix premium plan or Spotify's family package allows group members access to all content for just a fraction of the total price.
What is Kotas?
Kotas is nothing but a site that allows its users to create their own or join existing groups. share the costs subscriptions for video, music and more. The system acts as an intermediary between the users of the groups, payments automatically and individually.
Did you find it interesting? So it's time to learn divide the value of plans Netflix, Spotify, YouTube Premium services and many other streaming and apps available in the market.
Your account is being created
First of all, you need to have a Kotas account. To create your own, access the official website, click "Enter" and then "Register" at the bottom of the screen. After filling in your information, you will need to confirm your email and then you will be able to access and use the platform to save on subscriptions to streaming services.
find groups
While your account is already active, you will now be able to access the list of available groups on the platform and find people who want to share access to accounts in different streams and different apps. Some suggestions are automatically displayed on the main screen, but you can click "see all" to view all groups with vacancies.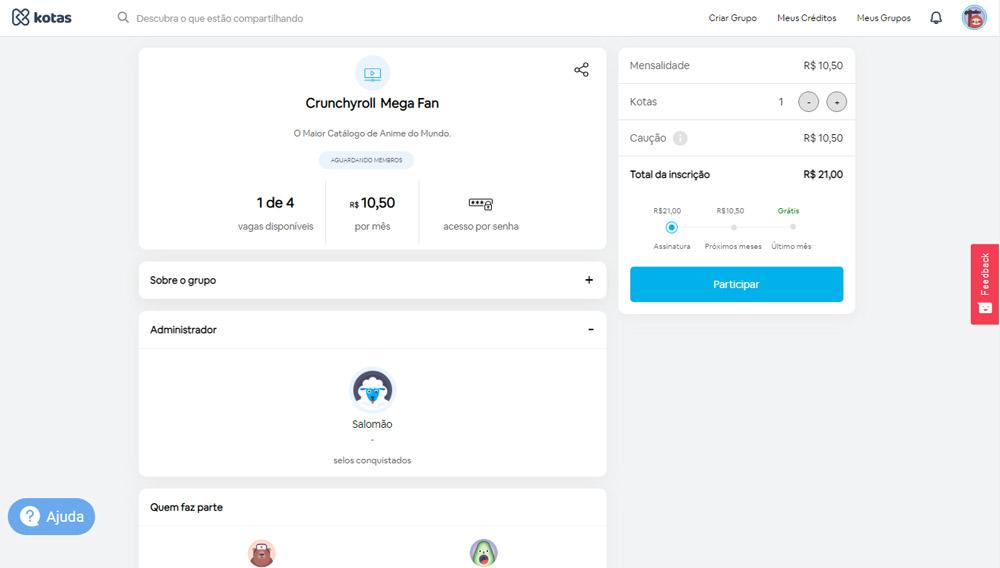 When you find a group willing to split the price of the service you are interested in, simply check the information about that subscription and click "join" if you agree to the terms. The site will take you to another screen where you have to choose the payment method for your quota and it will be forwarded to the account manager at the end of the month. After your payment is confirmed, you should have access to the selected service.
Creating your own group
If you can't find open space for your preferred subscriptions, you still have the option to create your own group. In this case, it is your responsibility to pay the contractual subscription fee, to receive the monthly transfers made by the platform itself. It is the group administrator who must add group members to contracted plans so that they can access the benefits of the subscribed service.
To create your own group, you must click "create group" from the menu at the top of the page and choose which service you want to share with other users. Each listed item has its own characteristics, such as the requirement that group members live in the same household or have some degree of consanguinity.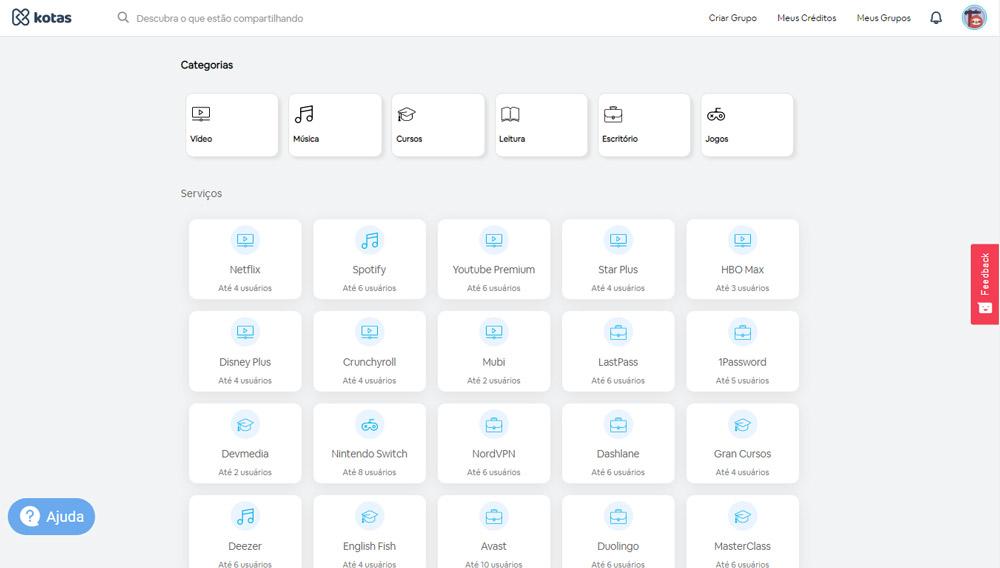 You can also choose to have a public group that can be found by a Kotas user; or private, in which case it can only be accessed via a direct link. This last option is recommended if you prefer to only share your accounts with people you already know, such as friends, colleagues, and relatives.
Worth it?
Many people are already in the habit of sharing accounts, but the difference lies in the way the app acts as an intermediary between users and automates the collection of subscription fees. Kotas, after all, lets you spend less and have more premium services and apps at your disposal.
Access to different forms of entertainment is always good – especially if you can save some money at the end of the month.
Source: Tec Mundo