Digma DiCam 810 is a budget action camera with features for adults: digital stabilization, zoom, wireless WiFi connection, good battery life and 1080P@120fps capture. I suggest knowing it in more detail.
The Digma DiCam 810 Action Camera comes in a thick cardboard box with a picture of the device's appearance, features and detailed specifications.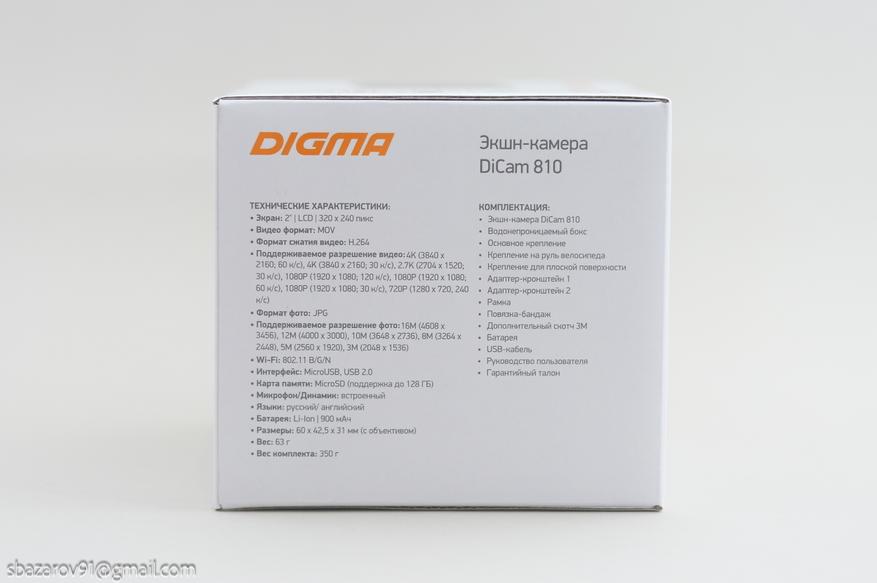 The kit is rich and includes all the main brackets, adapter plates, adhesive stickers. The number of complete accessories, although not packed with quantity, but for full use, everything is available.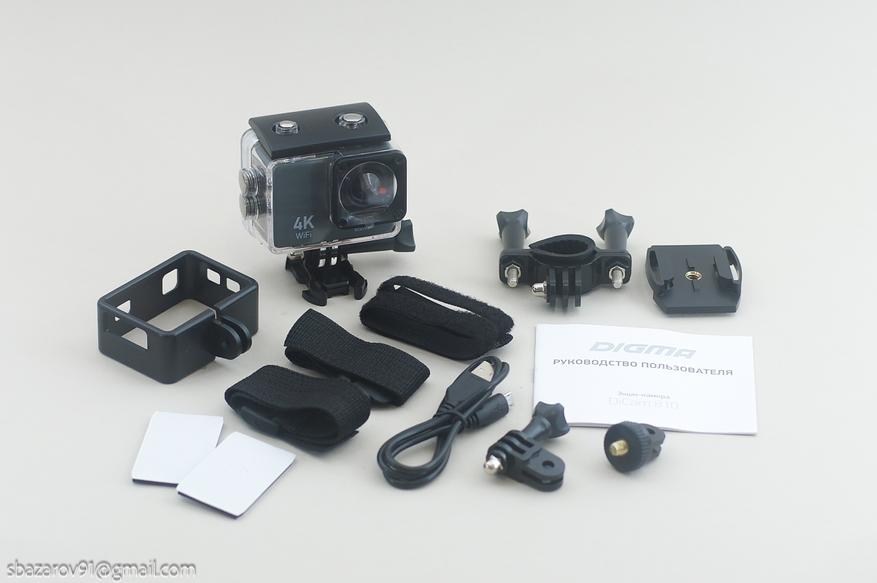 Before use, I recommend that you read the action camera's instructions, which describe all the necessary controls and functions in detail.
The Digma DiCam 810 has a rectangular plastic case with a lens in the right corner. The case is half-stocked and consists of a corrugated matte gray and black insert. The main connectors are located on the left side and contain: miniHDMI, microUSB, microSD. There is also a hole for the microphone here, the recording quality is average – there is a small amount and extraneous noise.
The main sensor is not known, but on the net open spaces I found information about how users changed the standard lens to a long focus CCTV LENS 3MP M-12 with minor modifications. But this is if the hands itch.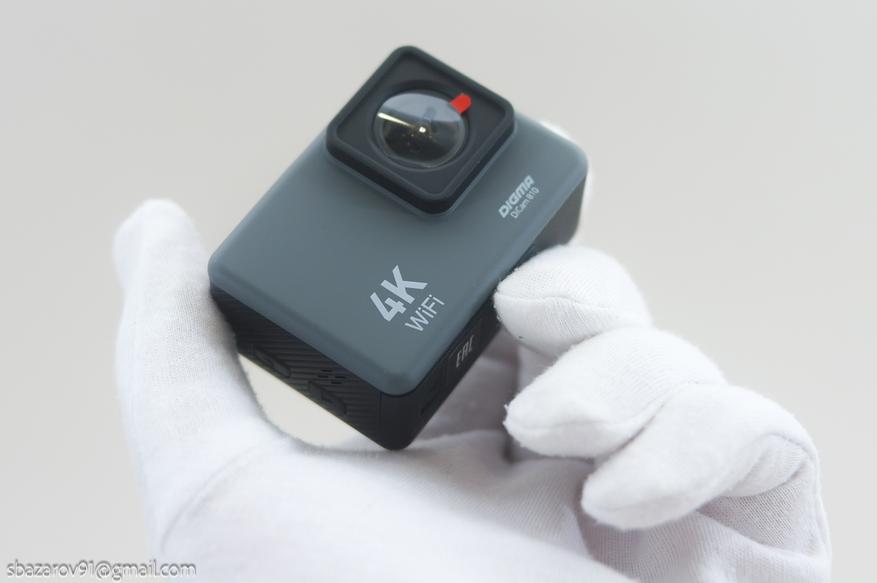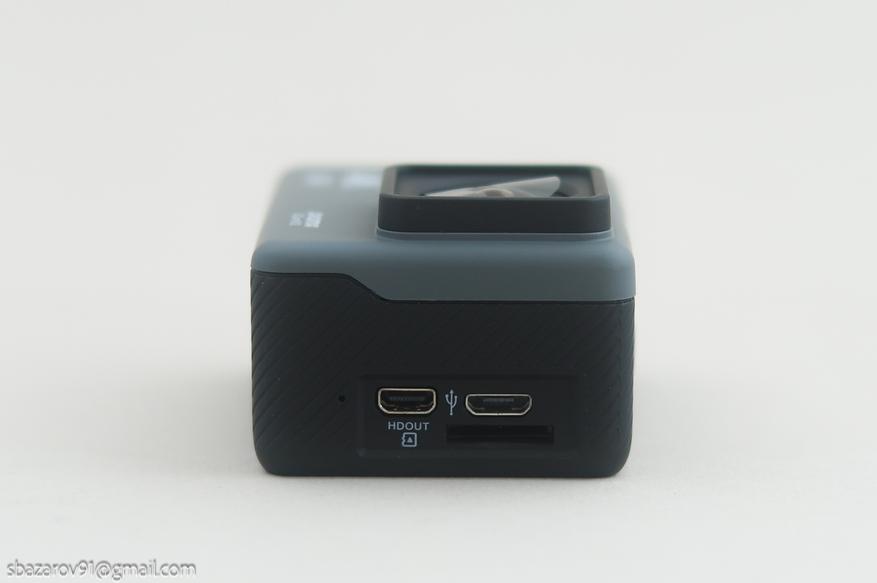 The camera control is placed on the upper and right side wall. Control is intuitive: the Mode button turns the device on and off, and the Ok button performs the function of confirming the selection.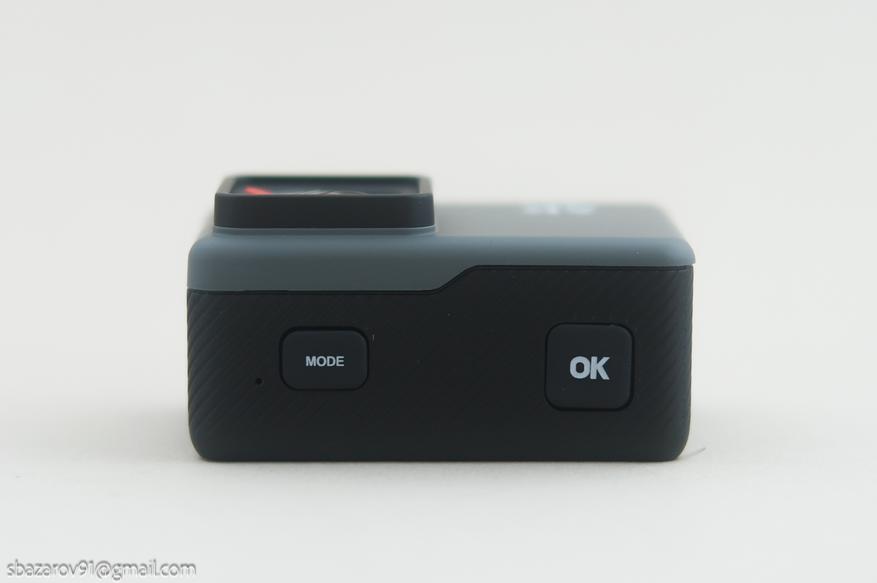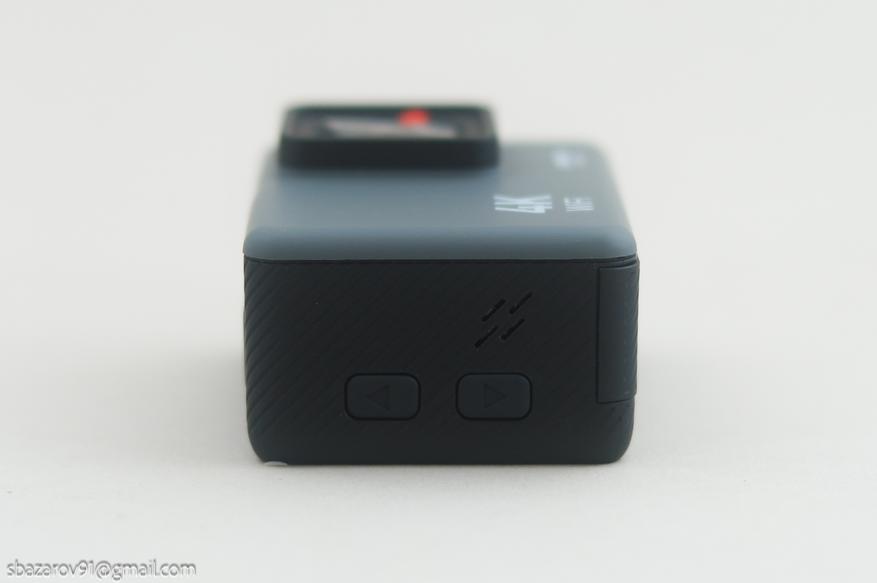 At the bottom of the camera there is a slot for an integrated battery with a capacity of 900 mAh. Li-ion battery type. Operating time on a single charge: up to 2 hours of video recording.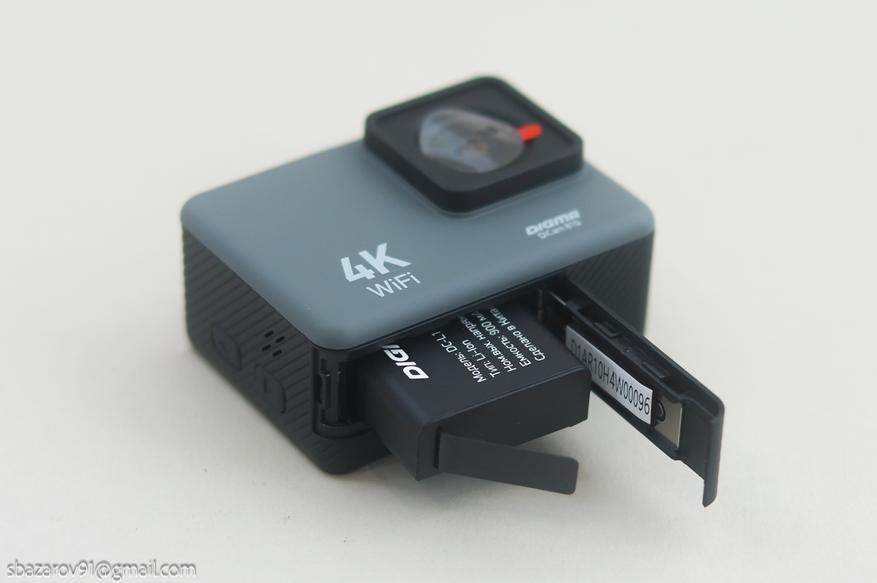 The action camera is equipped with a waterproof housing for shooting underwater or as drop protection. The buttons are controlled by pressure plates. There were no leak problems during use, the test with fleece immersion was successful.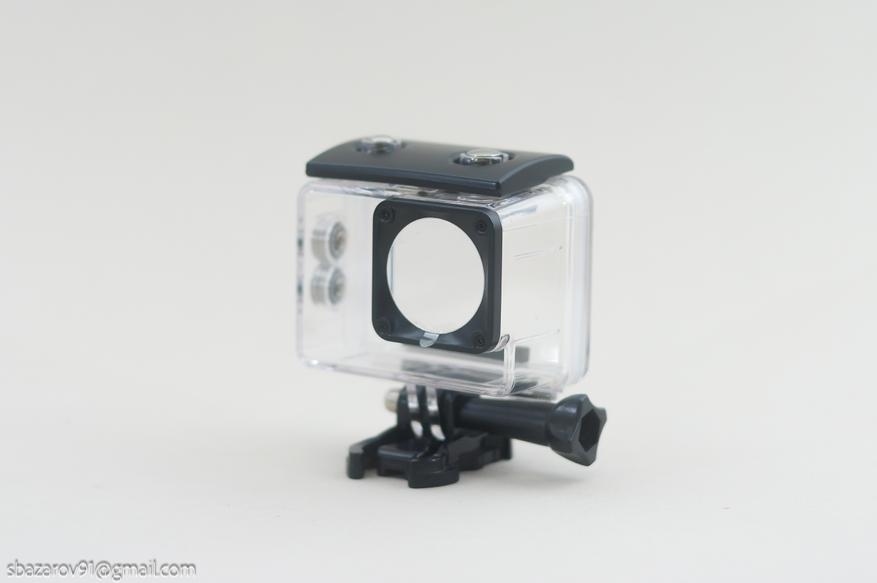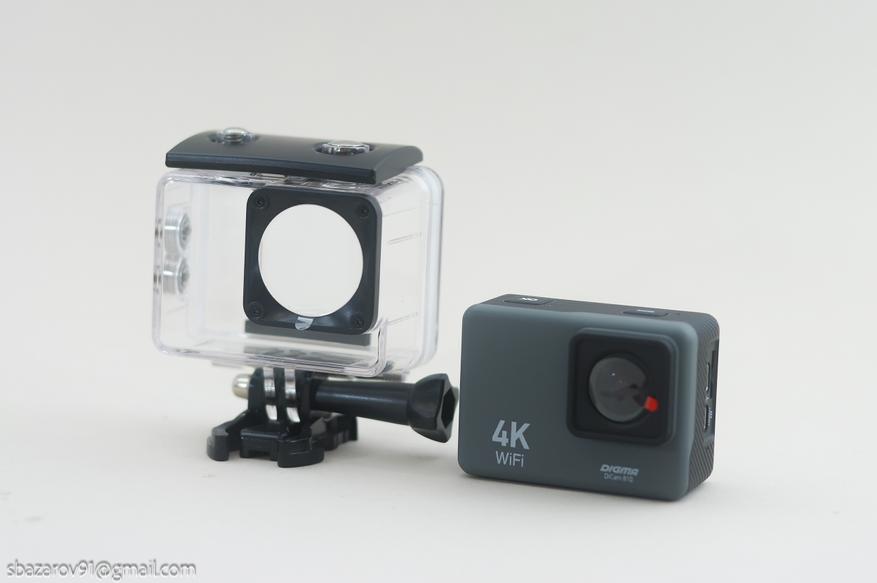 Appearance of the Digma DiCam 810 placed in a waterproof case: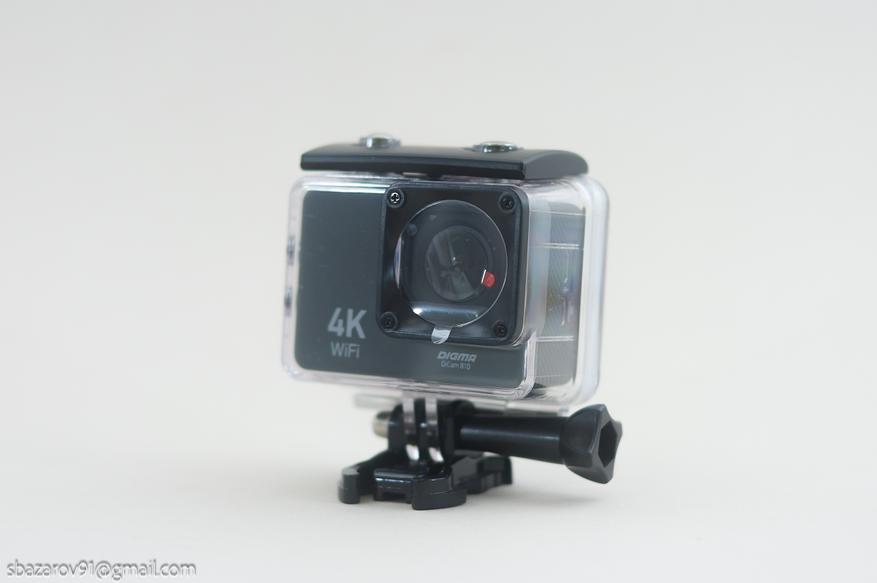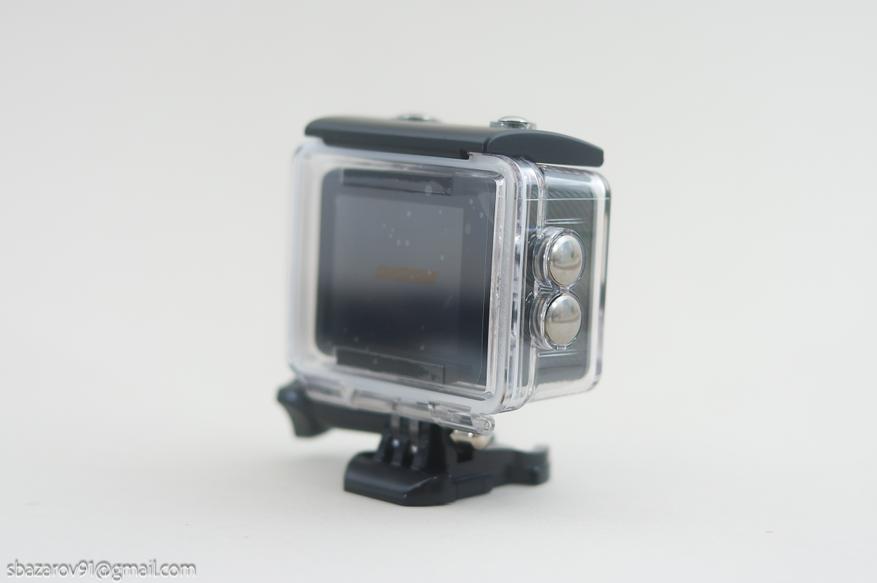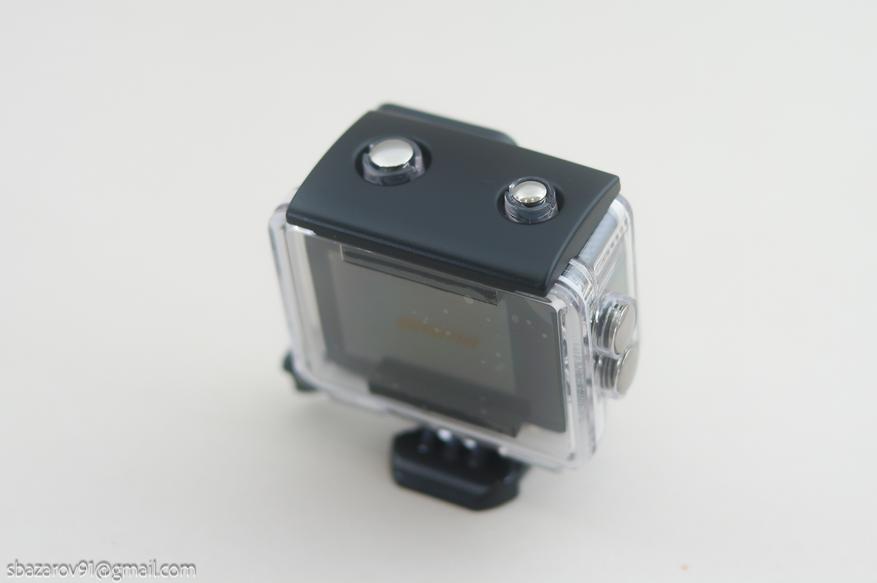 Let's go back to the action camera and get acquainted with its software. The main screen displays the operating mode (video or photo), the number of available shooting frames/minutes, the battery level, the current EV/ISO values, and a digital zoom slider. Image zoom is available in photo and video modes. This zoom is done using the side buttons.
As for the screen itself, we have a 2-inch LCD screen with a resolution of 320 * 240 pixels. Brightness level settings are not provided.
In addition to control by the camera itself, WiFi is provided for wireless connection. To enable this module, simply hold down the up arrow for a couple of seconds, then download the app from the link in the instructions.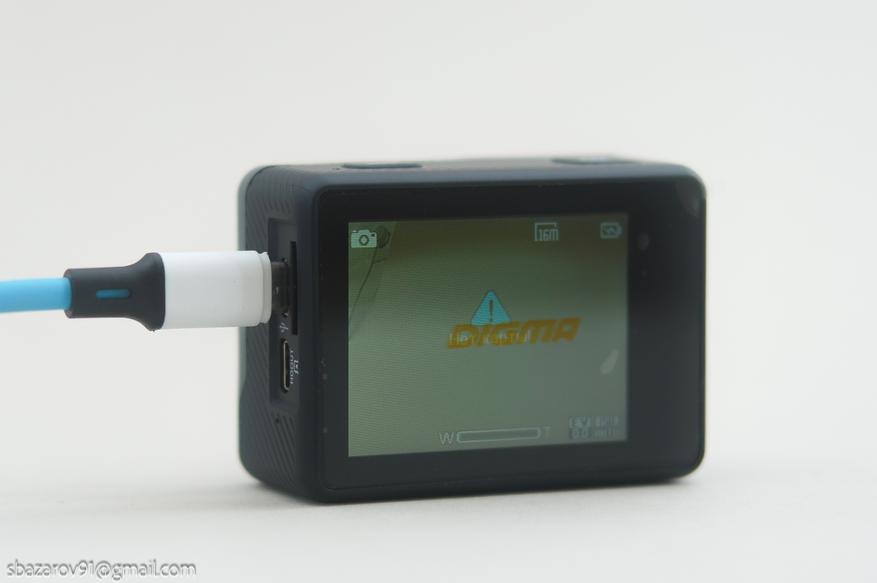 The main menu of the action camera consists of 5 main icons:
video playback – selection and playback of recorded videos

photo view – view captured photos

video settings

photo settings

system settings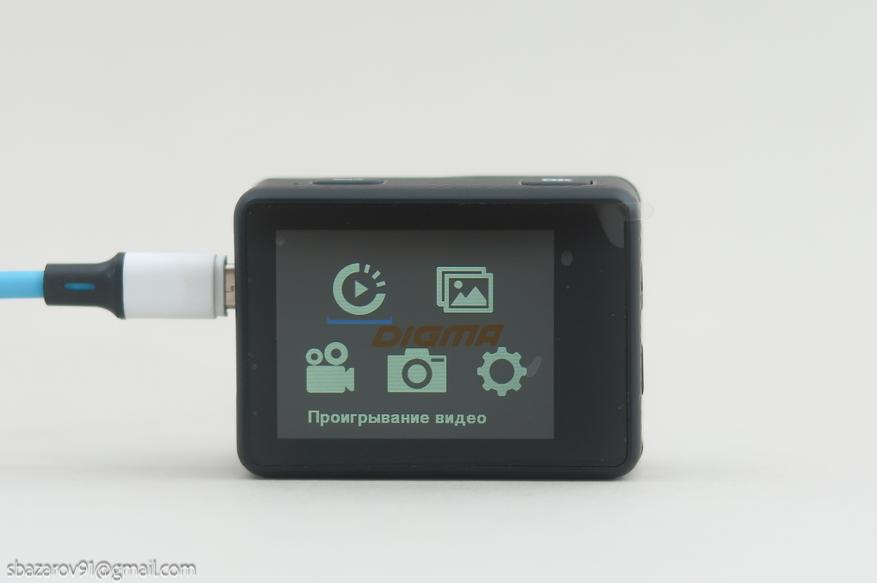 The video settings include the following menu:
video resolution with quite wide options: 4K@60fps, 4K@30fps, 2.7K@30fps, 1080P@120fps, 1080P@60fps, 1080P@30fps, 720P@240fps

exposure compensation: selectable EV values ​​in the range of -3 to +3 in steps of 0.5

Stabilization: On or Off. Not all resolutions are available when stabilization mode is on

cyclic video: recording of files with a duration of 1, 3, 5 minutes

time lapse – range 1, 3, 5, 10, 30, 60 seconds

viewing angle – wide, medium, narrow

auto dim light

date stamp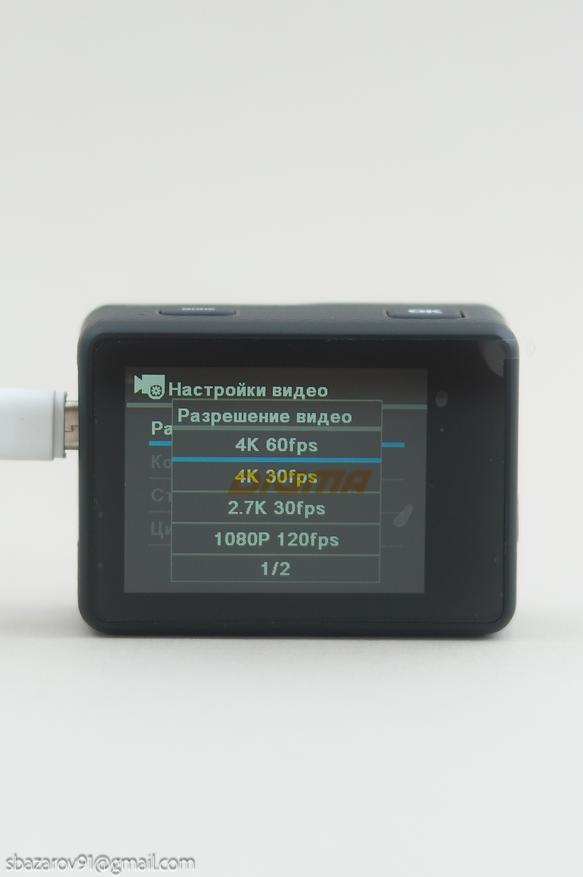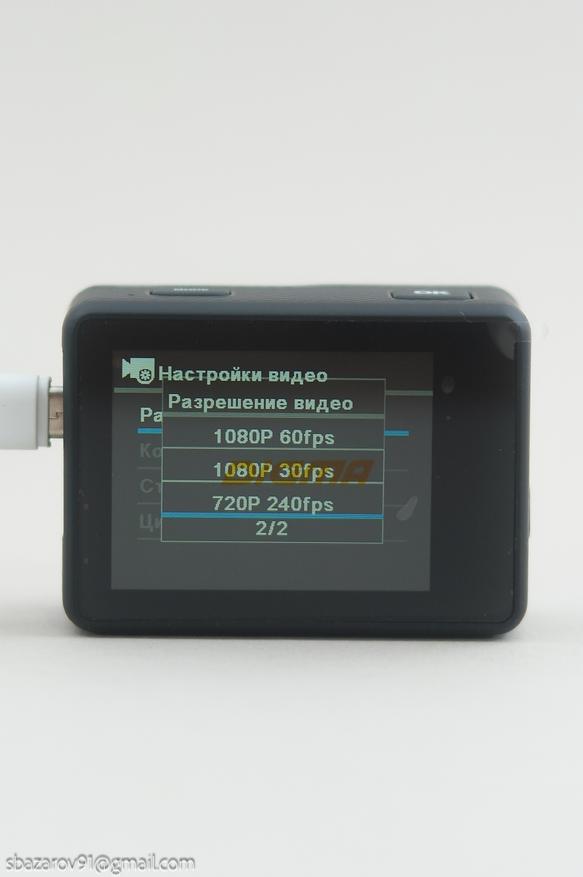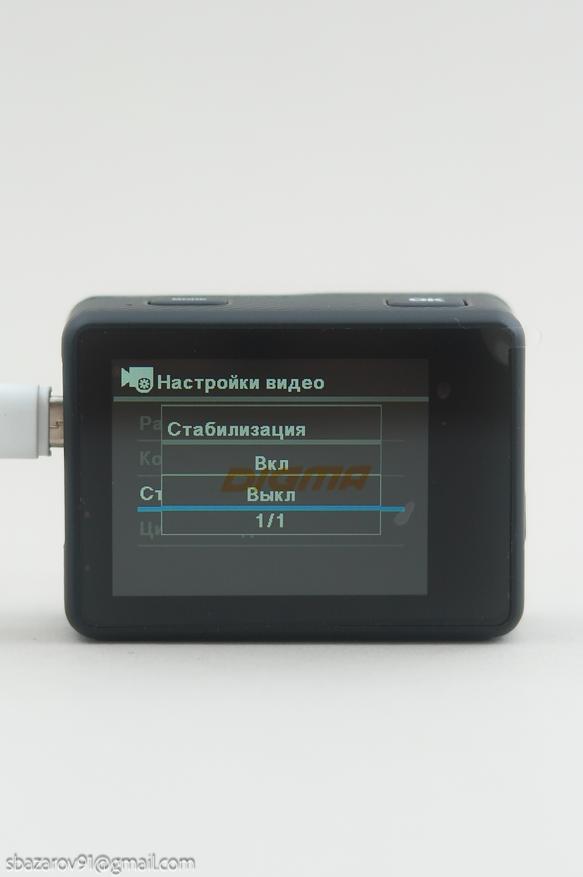 The photo setting is no less rich:
photo resolution – 16, 12, 10, 8, 5, 3 MP

exposure time – 1, 2, 5, 8, 30, 60 seconds

ISO-100, 200, 400, 800, 1600, 3200

exposure: select from -3 to +3 in increments of 0.5

time lapse photo – 3, 5, 10, 30, 60 seconds

time lapse duration – 5, 10, 15, 20, 30, 60 minutes

continuous shooting – 3, 7, 15, 30 photos

timer – 2, 10 seconds

date stamp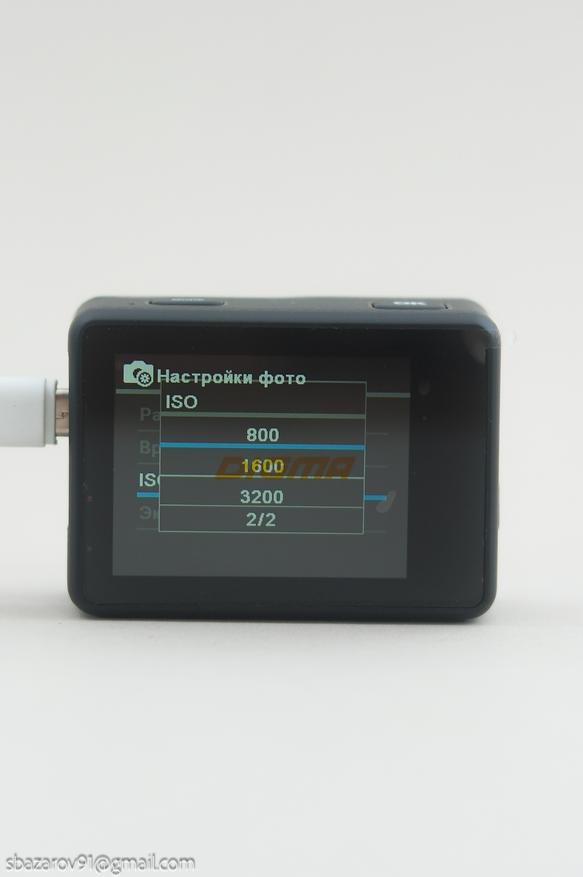 System settings allow you to select one of the default presets (black and white, sepia, etc.), enable software barrel distortion correction, turn off the screen during capture to save battery power, switch the camera to DVR mode.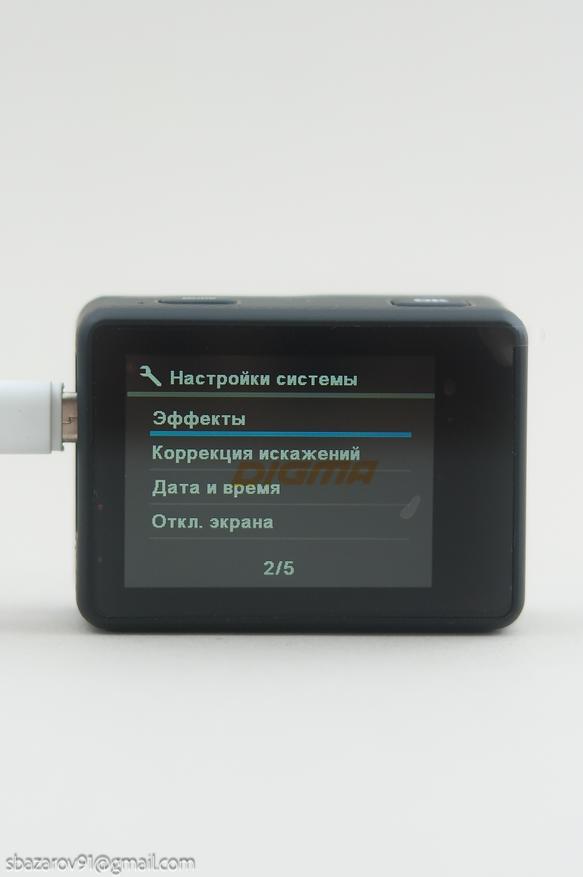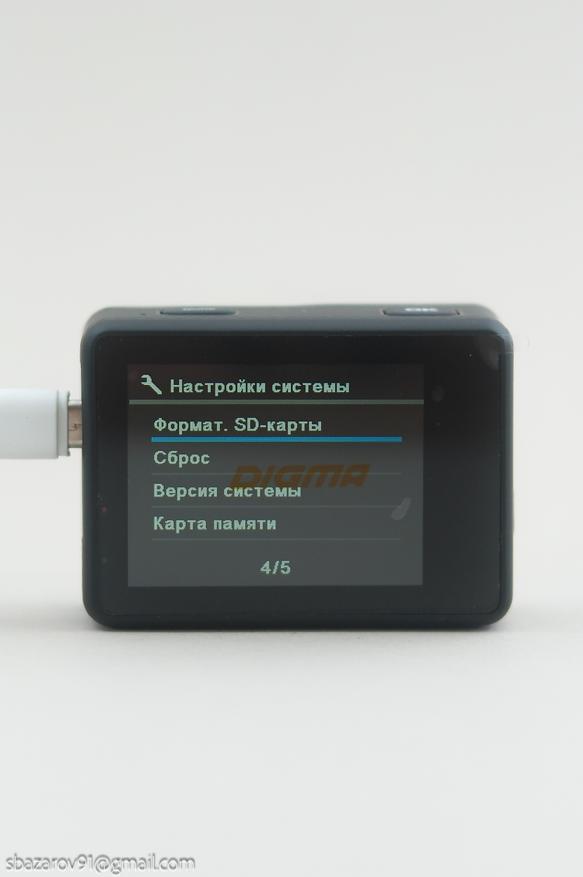 The memory card menu recommends certain microSD cards that the user will not have any problems with.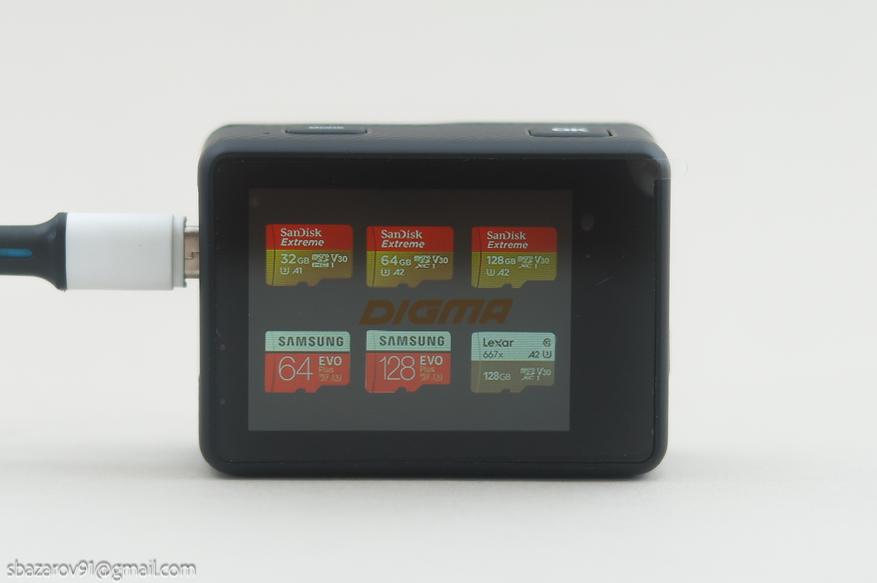 Having dealt with the management, we proceed to the test. To begin with, let's get acquainted with photo opportunities at different times of the day. All photos are taken in automatic mode, the way most users will shoot. Detail is good, no timbre sharpness is observed.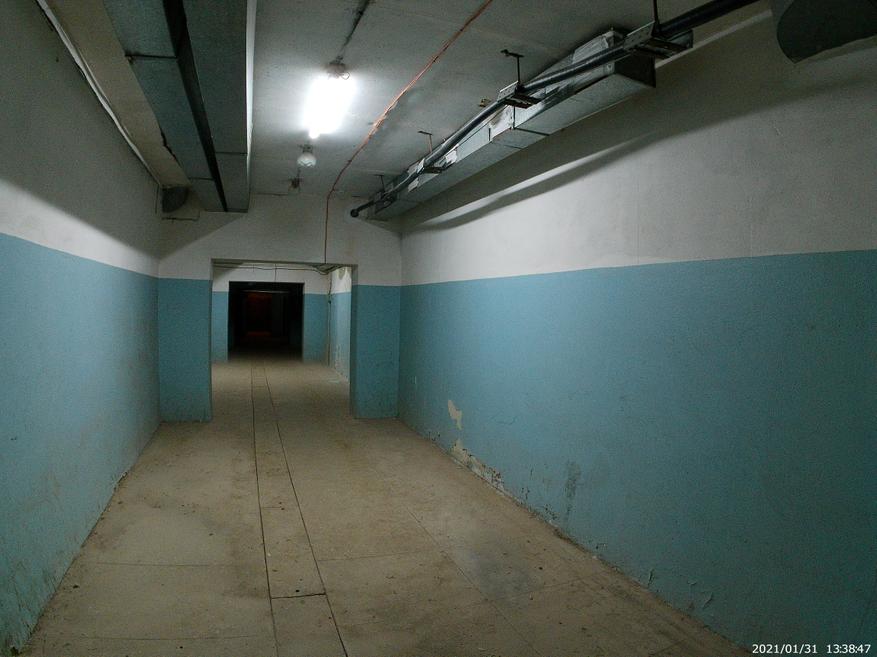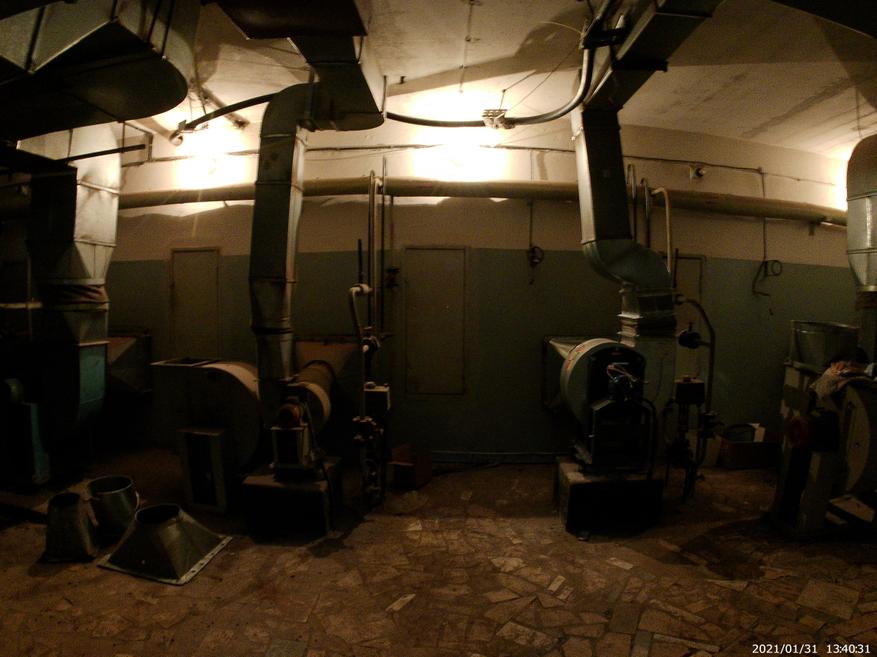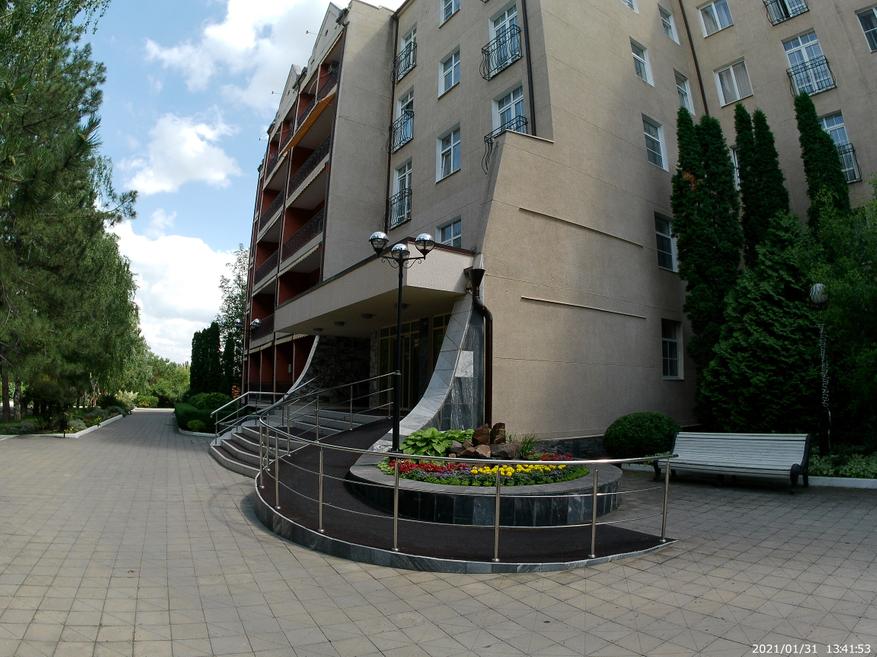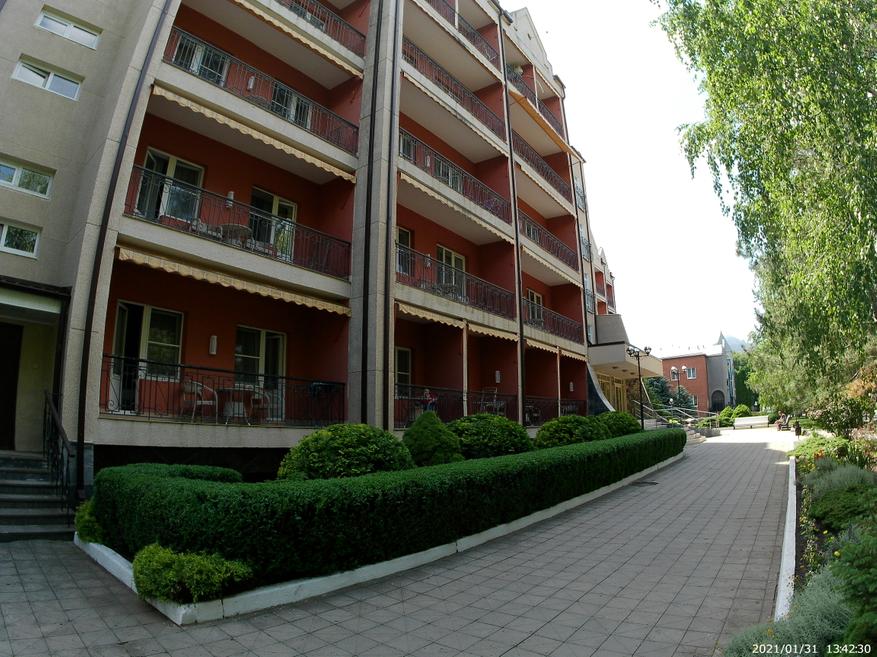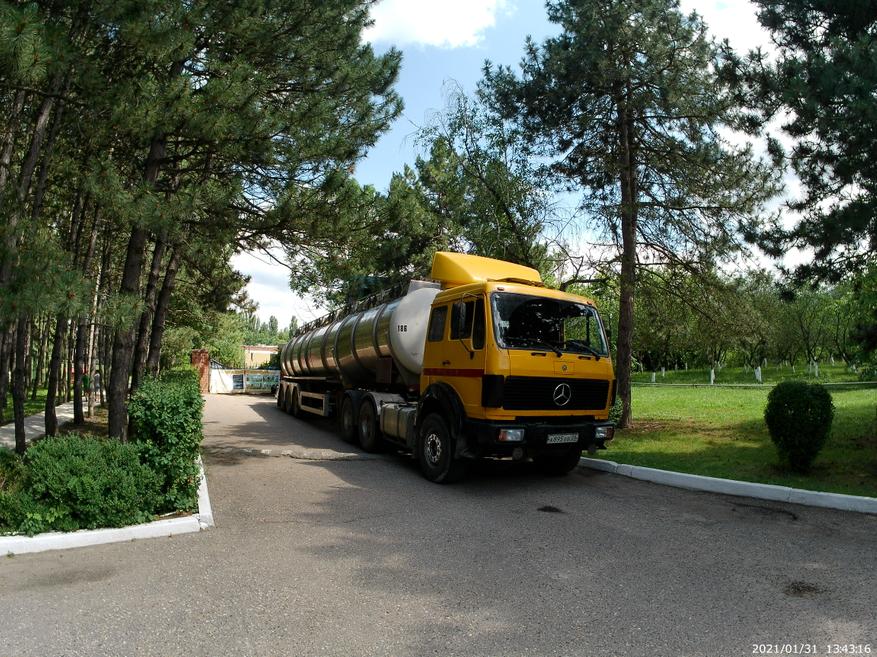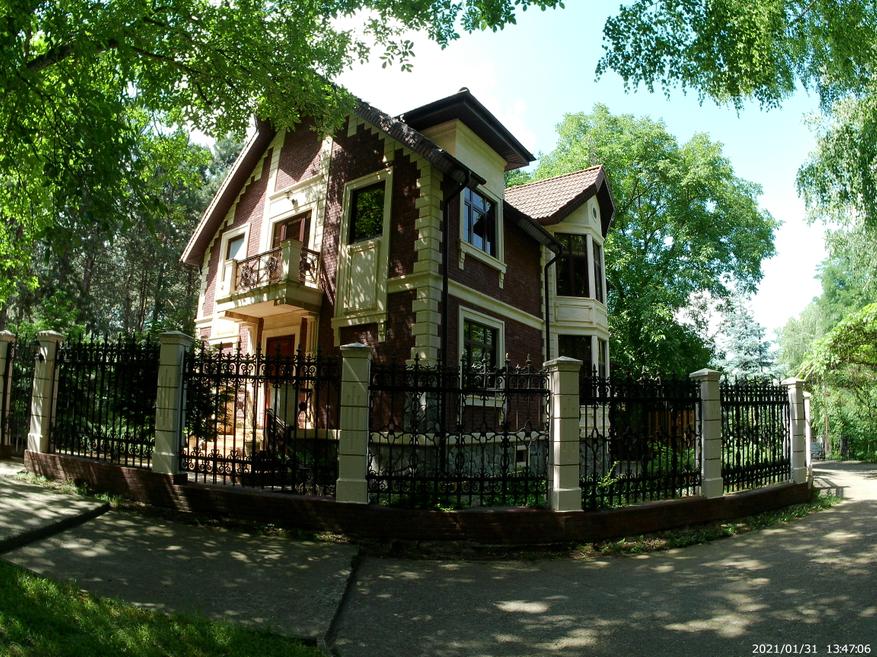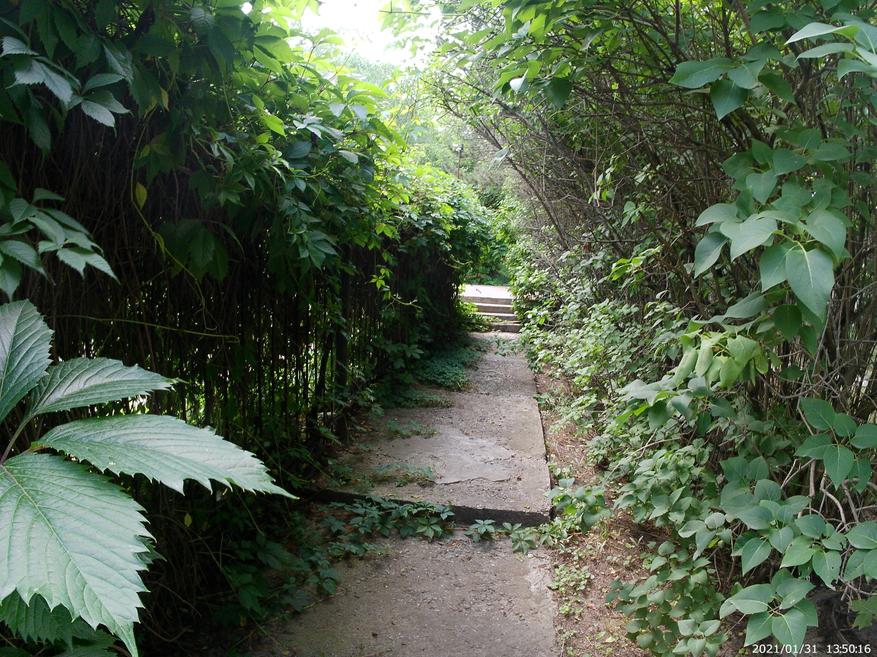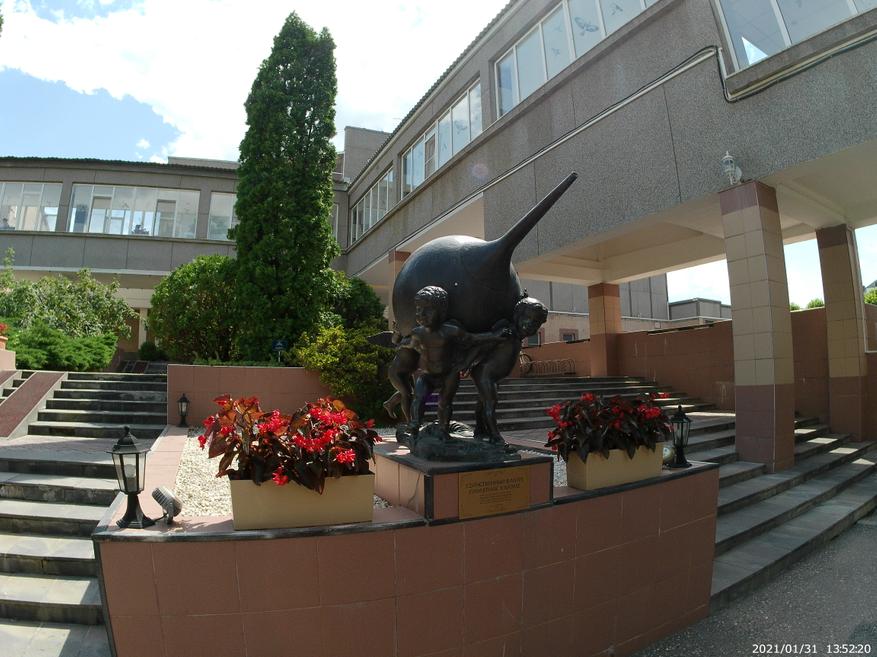 Movies were recorded in various resolutions with stabilization enabled. Numerous steps have been added for better dynamics. The original files can be found at this link. The bitrate for files with stabilization is as follows:
2160P@60fps – 59.5Mb/s

2160P@30fps – 39.1Mb/s

1080P@60fps – 35.9Mb/s

1080P@30fps – 35.5Mb/s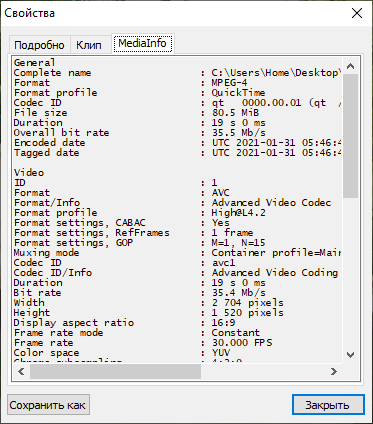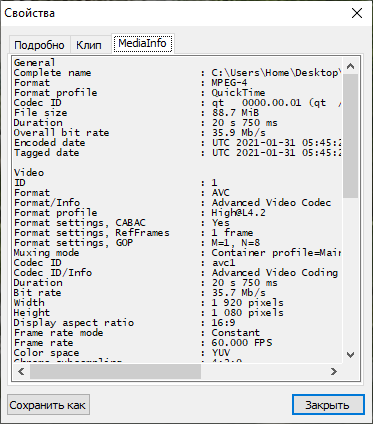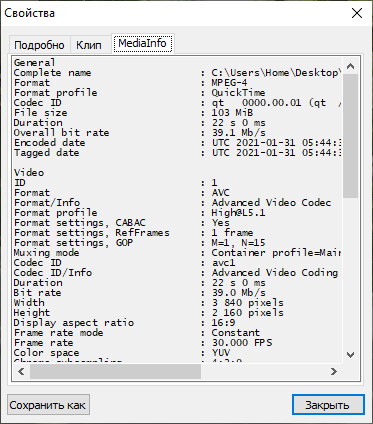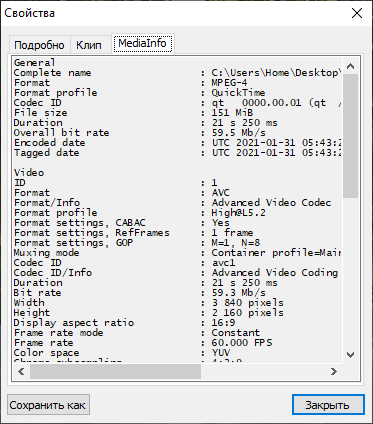 Video clips.
Rolls without stabilization aren't as smooth, but they allow you to take advantage of 1080P@120fps resolution.
In conclusion, I would like to say that demanding honest 4K from a camera for 4K (very symbolic) is at least wrong. But if you look at the action camera in terms of its cost, everything is not bad here: although the stabilization is digital, it works, and the shooting quality is quite good for a weak sensor. Of course, you can complain about multiple noises when shooting at night, but still do not forget about the cost of the device. Therefore, I recommend that you still download full snippets and watch them on the big screen.
Shopping Links:
city ​​link
Yandex Market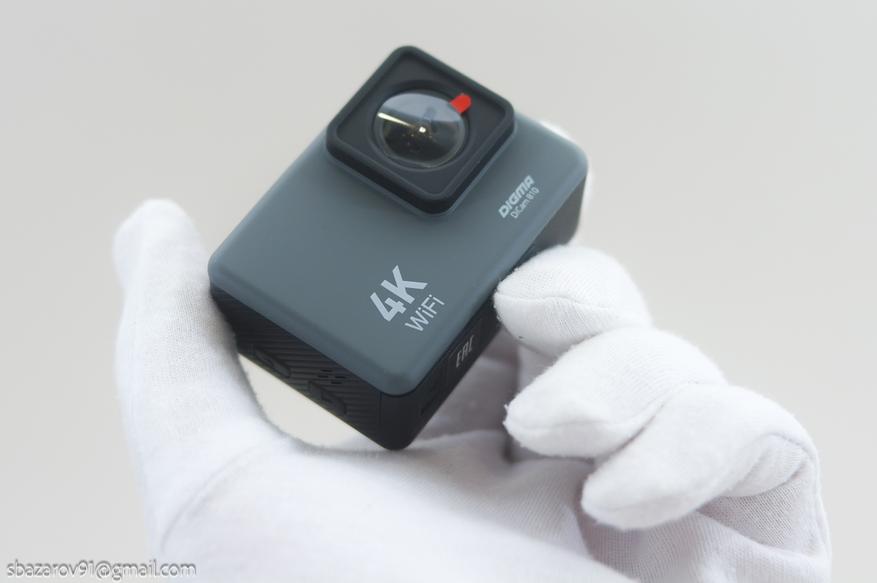 In the age of computer games and a wide variety of plastic toys, wooden figures have lost their popularity, but are still just as interesting. There was a time when wooden toys produced in…
In the review, the AGM Glory G1S smartphone protected to military standard IP68 / IP69K MIL-STD-810H with InfiRay's iRay ELF3 thermal imaging module will be evaluated from two positions: from the price position of a similar…
In a previous review, I introduced you to the Digma Techno city scooter, which received excellent brakes and a comfortable frame design. This time I propose to consider a different two-wheeled model …
Continuing on the theme of the endless Mozabrick photobuilder, I want to introduce you to this summer's novelty: the Color set. Its distinctive feature is the presence of 6 primary colors and…
Last month, Infinix introduced the long-awaited new product called INBOOK X2. This device is a laptop with a high quality 14 inch IPS screen, M2.NVME…
Digma DiCam 810 is a cheap action camera with features for adults: digital stabilization, zoom, wireless WiFi connection, good autonomy and shooting with…
Source: IXBT