A CreativityProud to celebrate its 9th anniversary as a global pioneer in 3D printing in april. In the last nine years, Creativity With the latest technology and innovative products such as the CR-10 and Ender-3 Series FDM 3D printers, it has revolutionized the 3D printing industry, expanded its footprint to more than 100 countries and regions, and selected by over 3.5 million users worldwide.
To celebrate this special occasion and further democratize 3D printing technology, Creality is launching its latest products to take the user experience to new heights. At the 9th Anniversary and Spring Event titled "Reflect and Refresh", Creality launched the K1 series, HALOT-MAGE series, Sermoon D3 Pro, Creality Falcon2 40W, CR-Scan Ferret, Creality Nebula Pad+AI LiDAR and other accessories. intelligence and high speed. In addition to new products, Creality has also launched a series of 3D-printed shoe solutions for wearers who embrace change and futuristic fashion.
"3D printing has long been favored by people with engineering backgrounds who love to code, model and proofread. But for those who want to turn their creativity into reality, operating a 3D printer still requires a grueling learning curve and that's it." Creality CEO Ao Danjun said, "Leaving complexity to ourselves and giving simplicity to users is our understanding of being user-centered. Stop here and we're already planning a future where every home can enjoy the convenience of 3D printing technology."
The ceremony brought the announcement of the following proposals:
K1 Series: King of Speed
The K1 Series, Creality's flagship FDM product, including the K1 and K1 Max, is a line of professional grade CoreXY 3D printers with print speeds of up to 600mm/s and build volumes of up to 300x300x300mm. It has an innovative motion system that uses a lightweight print head weighing only 190 g to provide fast motion. Creality Lab data shows that the K1 series achieves a maximum speed of 600mm/s in just 0.03s with an acceleration of 20,000mm/s2, and printing a 3DBenchy only costs 13 minutes, 12x faster than the average 3DBenchy printing.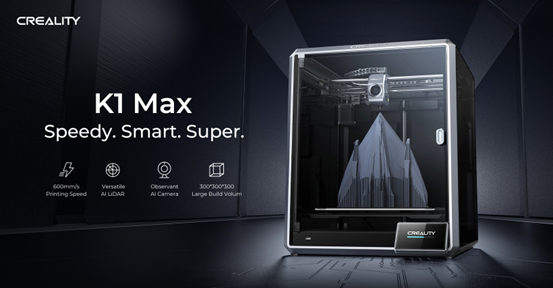 It is equipped with next-generation Creality OS, running on 1.2 GHz dual-core CPU and providing powerful computing power for high-speed printing. With a network connection, the K1 series can be remotely controlled or monitored via Creality Print or Creality Cloud. Clustered control is also supported when many K1 series printers are online. When printing is finished or a printing problem is detected, a notification is sent to the user's phone or PC.
Slicing software is essential for high-speed printing, and the K1 series uses Creality Print 4.3, a self-developed next-generation slicing software that optimizes nozzle movement and adds more algorithms to increase productivity.
For platform leveling, the K1 Max specifically uses fully automatic leveling with an array of tension sensors. Another way is to level with 1μm AI LiDAR, a new type of non-contact measurement method that rapidly scans the created surface with a laser beam to create a virtual million-dot surface. Each of the two methods guarantees a good leveling and when combined it is easy to achieve a perfect finish and print a perfect first layer.
The K1 Max also has an AI camera that provides real-time print monitoring at 1080p resolution. AI Camera and AI LiDAR can be purchased separately for K1 users. Both the K1 and K1 Max use G sensors to solve the resonance problem and eliminate hum or ghosting patterns on the surface of the models caused by high speed.
HALOT-MAGE Series: A new era for smart resin printing
The HALOT-MAGE series, including HALOT-MAGE and HALOT-MAGE PRO, is Creality's next-generation solution for intelligent resin printing. HALOT-MAGE PRO is one of the fastest resin 3D printers on the market and is ideal for miniatures, jewellery, dentistry, crafts, etc. Specially produced for. With a print speed of up to 170mm/s, it's 3 to 5 times faster than other printers while maintaining excellent print quality.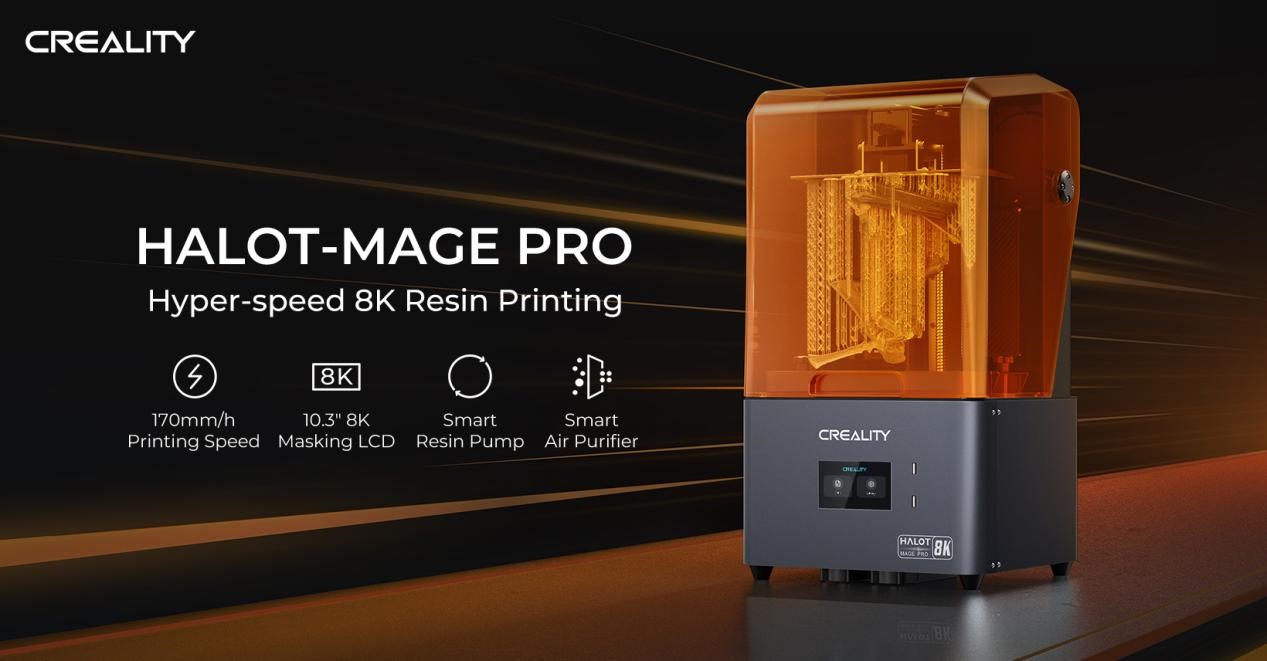 HALOT-MAGE PRO features an agile "Dynax" motion system; this allows the build platform to be continuously raised and lowered in just 1.2 seconds, ready to print the next layer. In addition to the hardware, the motor speed can reach 100mm/s with its own developed motor algorithm, which increases the printing speed in terms of software. The next iteration of the HALOT BOX slicing software adds robust support to the models.
This 3D printer also features a large 10.3 inch 8K LCD screen for more refined print quality. Creality's latest resin technology – Integral Light Source 3.0 promises consistent quality no matter where the print is placed on the build platform. Users can operate this printer remotely via RJ45 cable and take advantage of smart features such as automatic resin filling and emptying, smart air cleaner and replaceable activated carbon filter for a more efficient printing experience.
The "MageArch" screw cap on the HALOT-MAGE PRO is easy to open and close with one hand and does not need to be placed on its side. The orange tint is practical to block 99.89% of ambient UV light for minimal interference.
A smart and cost-effective resin printer for miniature makers to unleash their creativity, HALOT-MAGE also features a 10.3 inch 8K LCD display with air purification system and "MageArch" rotating cap.
Sermoon D3 Pro: Solid performance and high productivity
Sermoon D3 Pro inherited the industrial stability of Sermoon D3 sold in Brazil. Print speeds of up to 300mm/s and features such as LAN printing and multi-material compatibility make it suitable for industrial production, prototyping and education.
Sermoon D3 Pro uses a dual extrusion system that adds support printing capability while providing stable support structures. It has undergone rigorous validation and supports more than 20 material types and 30+ material combinations, such as water-soluble and metallic filaments.
Sermoon D3 Pro's active heating function improves print quality, while its constant temperature chamber design effectively eliminates internal model warping. It also uses an intelligent auto-leveling system that requires a single button press to complete, saving you time and effort.
Creality has also partnered with BASF Forward AM to unlock an FDM-based metal stamping and press additive manufacturing solution for the Sermoon D3 Pro. Using BASF's metal filaments, support and global sintering service with the Sermoon D3 Pro 3D printer, this solution can save users half the time to print samples and increase production efficiency by more than 80%.
Creality Ecosystem Products
Creality Falcon2 40W: The most powerful laser engraver ever in the Creality series.
CR-Scan Ferret: 3D scanner designed to make modeling easy and accessible for everyone.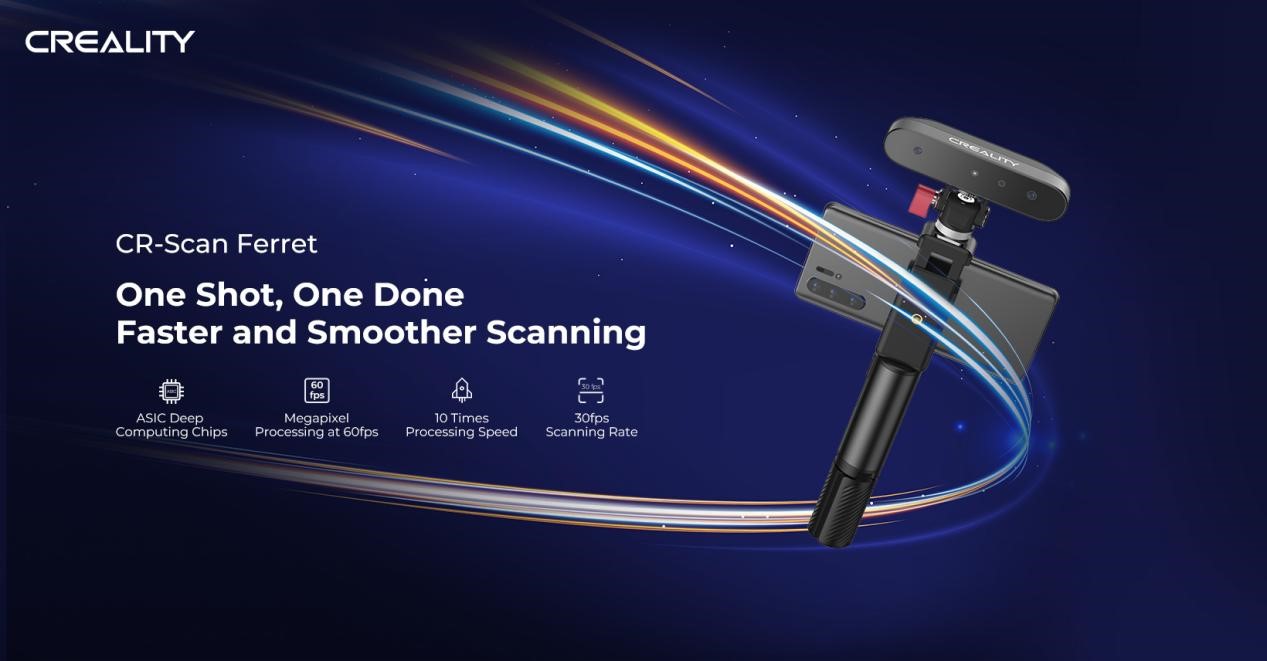 Creality Nebula Pad+AI LiDAR: All-in-one smart interactive terminal that delivers faster, higher quality printing anytime, anywhere.
3D Printed Shoe Solution: Unleash Your Style
Creality is introducing a range of FDM printed shoe solutions for the first time for wearers who embrace change and futuristic fashion. Creality has developed a professional quality "Sprite" extruder for soft materials with a range of 3D shoe models. This package appeals to those seeking custom shoe design, such as street fashion enthusiasts, and is suitable for medical institutions that want to print custom shoes and orthotic insoles for diabetics.
At the ceremony, where 200 pairs of 3D-printed shoes were showcased on stage, a shoe model design competition is held to encourage users to submit their work through the Creality Cloud and let their imaginations run wild.
Source: Tec Mundo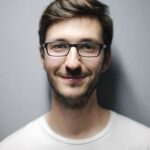 I am a passionate and hardworking journalist with an eye for detail. I specialize in the field of news reporting, and have been writing for Gadget Onus, a renowned online news site, since 2019. As the author of their Hot News section, I'm proud to be at the forefront of today's headlines and current affairs.