celebration Samsung Unpackaged It leaves us a lot of news. Among them, the Galaxy S23 announcement, which is expected to be the new flagship family of the company in the field of smartphones, came to the fore. But the tech firm didn't stop there and took a giant leap forward in competing in the laptop market. It's a very complex market, but one that will revolutionize with these devices.
Samsung has just introduced Galaxy Book3 and divided them into five models that we will analyze in this post. The five models are:
Galaxy Book3 (14)
Galaxy Book3 Pro
Galaxy Book3 360
Galaxy Book3 Pro 360
Galaxy Book3 Ultra
The latter is undoubtedly one of the biggest surprises of Samsung Unpacked. Although it looks small, thin, beautiful, compact and aesthetic… A real beast! Next, we proceed to break down the features of each device.
Samsung Galaxy Book3 (14)
These are the features Samsung Galaxy Book3 (14):
Display: Dynamic AMOLED 14-inch (2,880 x 1,800 pixels | 16:10, 500 nits, 120 Hz)
Processor: Intel Core i5 13th Gen | Intel Core i7 13th Gen
Graphics card: Intel Iris Xe
Memory: 8/16/32GB (LPDDR5)
Storage: 256GB/512GB/1TB PCIe 4.0 SSD
Connectivity: Wi-Fi 6E | Bluetooth 5.1
Ports: 2 x USB-C (Thunderbolt 4) | 1 x USB-A (USB 3.2 Gen 2) | 1 x HDMI 1.4 | 1 x 3.5mm mini-jack | microSD reader
Audio: 4 AKG speakers (5G x 2.2G x 2) | Dolby Atmos
Webcam: 1080p | dual microphone
Battery: 63Wh | Universal 65W USB-C adapter
Dimensions: 312.3 x 223.8 x 11.3mm
Weight: 1.17kg
Operating system: Windows 11
Samsung Galaxy Book3 Pro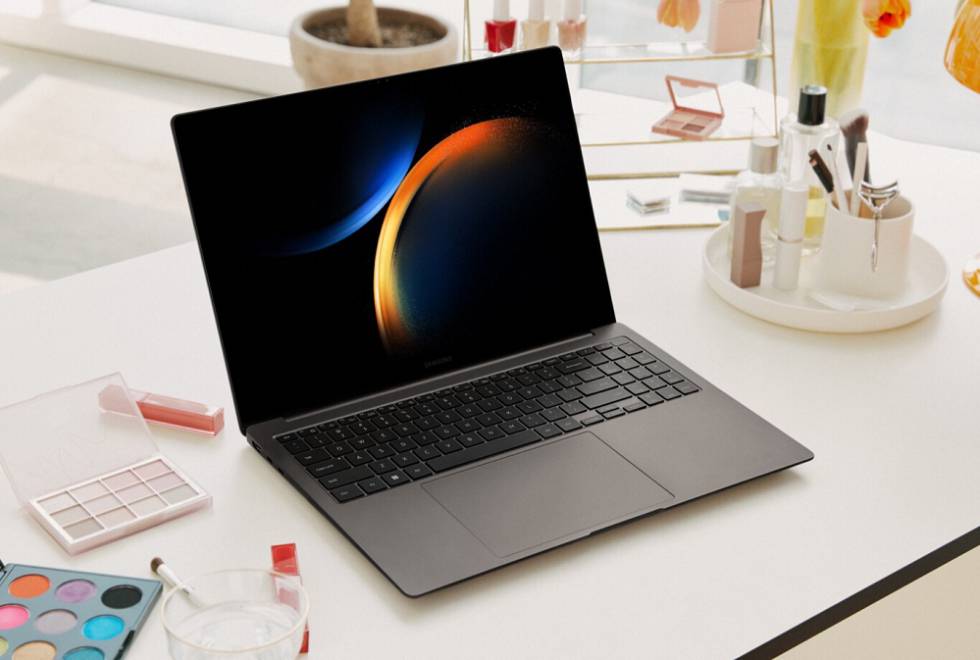 These are the features Samsung Galaxy Book3 Pro:
Display: Dynamic AMOLED 16-inch (2,880 x 1,800 pixels | 16:10, 500 nits, 120 Hz)
Processor: Intel Core i5 13th Gen | Intel Core i7 13th Gen
Graphics card: Intel Iris Xe
Memory: 8/16/32GB (LPDDR5)
Storage: 256GB/512GB/1TB PCIe 4.0 SSD
Connectivity: Wi-Fi 6E | Bluetooth 5.1
Ports: 2 x USB-C (Thunderbolt 4) | 1 x USB-A (USB 3.2 Gen 2) | 1 x HDMI 1.4 | 1 x 3.5mm mini-jack | microSD reader
Audio: 4 AKG speakers (5G x 2.2G x 2) | Dolby Atmos
Webcam: 1080p | dual microphone
Battery: 76Wh | Universal 65W USB-C adapter
Dimensions: 355.4 x 250.4 x 12.5mm
Weight: 1.56kg
Operating system: Windows 11
Samsung Galaxy Book3 360
These are the features Samsung Galaxy Book3 360:
Display: Dynamic AMOLED 14-inch (2,880 x 1,800 pixels | 16:10, 500 nits, 120 Hz)
Processor: Intel Core i5 13th Gen | Intel Core i7 13th Gen
Graphics card: Intel Iris Xe
Memory: 8/16/32GB (LPDDR5)
Storage: 256GB/512GB/1TB PCIe 4.0 SSD
Connectivity: Wi-Fi 6E | Bluetooth 5.1
Ports: 2 x USB-C (Thunderbolt 4) | 1 x USB-A (USB 3.2 Gen 2) | 1 x HDMI 1.4 | 1 x 3.5mm mini-jack | microSD reader
Audio: 4 AKG speakers (5G x 2.2G x 2) | Dolby Atmos
Webcam: 1080p | dual microphone
Battery: 63Wh | Universal 65W USB-C adapter
Dimensions: 355.4 x 252.2 x 12.8mm
Weight: 1.71kg
Operating system: Windows 11
Samsung Galaxy Book3 Pro 360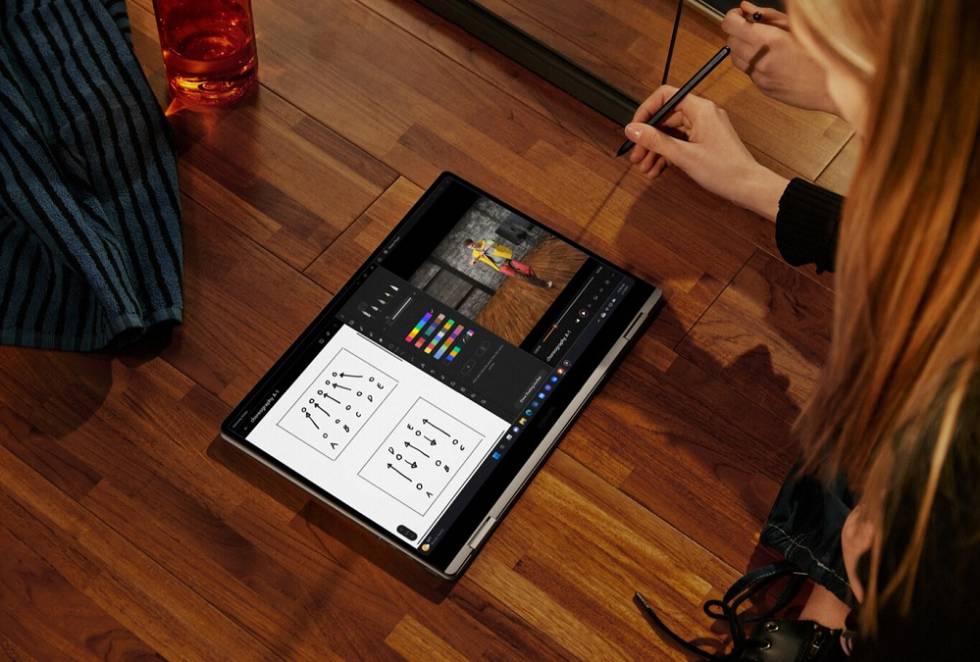 These are the features Samsung Galaxy Book3 Pro 360:
Display: Dynamic AMOLED 16-inch (2,880 x 1,800 pixels | 16:10, 500 nits, 120 Hz)
Processor: Intel Core i5 13th Gen | Intel Core i7 13th Gen
Graphics card: Intel Iris Xe
Memory: 8/16/32GB (LPDDR5)
Storage: 256GB/512GB/1TB PCIe 4.0 SSD
Connectivity: Wi-Fi 6E | Bluetooth 5.1
Ports: 2 x USB-C (Thunderbolt 4) | 1 x USB-A (USB 3.2 Gen 2) | 1 x HDMI 1.4 | 1 x 3.5mm mini-jack | microSD reader
Audio: 4 AKG speakers (5G x 2.2G x 2) | Dolby Atmos
Webcam: 1080p | dual microphone
Battery: 76Wh | Universal 65W USB-C adapter
Dimensions: 355.4 x 252.2 x 12.8mm
Weight: 1.71kg
Operating system: Windows 11
5G
S Pen
Samsung Galaxy Book3 Ultra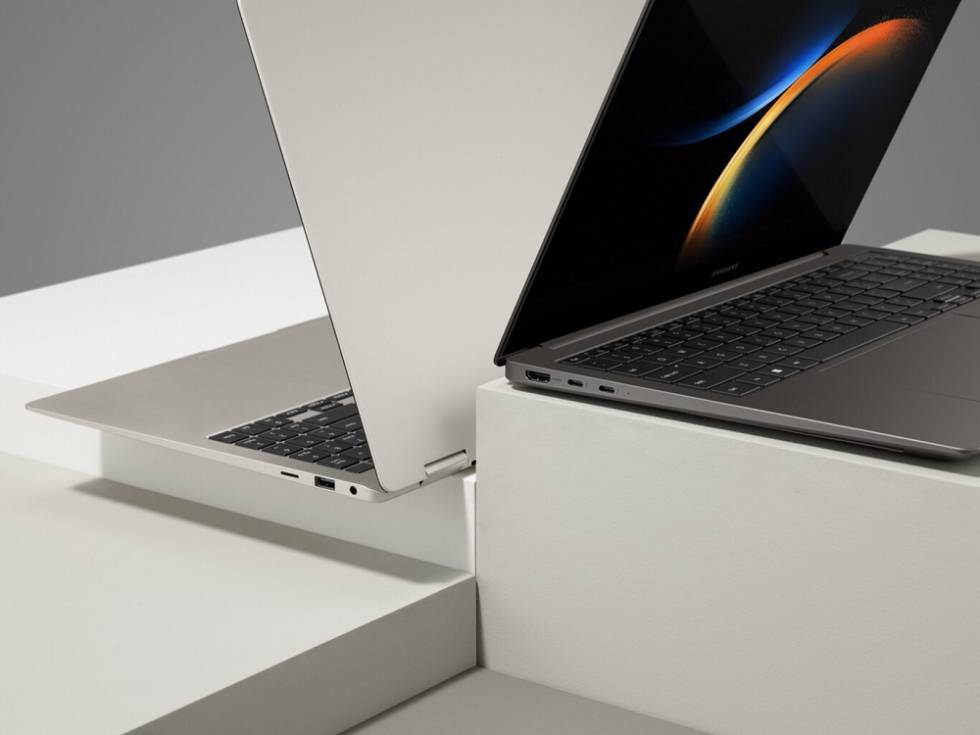 These are the features Samsung Galaxy Book3 Ultra:
Display: Dynamic AMOLED 16-inch (2,880 x 1,800 pixels | 16:10, 500 nits, 120 Hz)
Processor: Intel Core i5 13th Gen | Intel Core i7 13th Gen
Graphics: Intel Iris Xe | NVIDIA GeForce RTX 4050 | NVIDIA GeForce RTX 4070
Memory: 16/32GB (LPDDR5)
Storage: 512GB / 1TB PCIe 4.0 SSD (Additional Drive Slot)
Connectivity: Wi-Fi 6E | Bluetooth 5.1
Ports: 2 x USB-C (Thunderbolt 4) | 1 x USB-A (USB 3.2 Gen 2) | 1 x HDMI 1.4 | 1 x 3.5mm mini-jack | microSD reader
Audio: 4 AKG speakers (5G x 2.2G x 2) | Dolby Atmos
Webcam: 1080p | dual microphone
Battery: 76Wh | Universal 65W USB-C adapter
Dimensions: 355.4 x 250.4 x 16.5mm
Weight: 1.79kg
Operating system: Windows 11
Source: Cincodias Elpais