Can you imagine a faster tractor than a sports car? JCB is an English manufacturer that has succeeded. To do this, they developed a modified version of their JCB Fastrac One, which they called the Fastrac Two. It is capable of speeds of 218.72 km/h, with a top speed of 247.47 km/h.. In fact, the speed of this tractor is so impressive that it is listed in the database. Guinness Book of Records.
Of course, to test the power of this version of Fastrac Two, they had to hire a professional racer. Entering the cab of the tractor, the driver moved at maximum speed along the runway of the Elvington airfield in the UK.
"It was a huge job… many thanks to JCB and their engineering teamwho absolutely handled this tractor," says Guy Martin, a former race driver who previously set JCB records.
JCB took the creation of ultra-fast tractors as a banner. In fact, This is not the first time they manage to break several Guinness records.. In June 2019, the company achieved a landmark achievement with its Fastrac One tractor, capable of an average top speed of 166.73 km/h.
Fastrac Two becomes the fastest and most impressive tractor in the world
To develop such a fast tractor, JCB modified its first version of the Fastrac, giving life to the Fastrac Two. It is a much more aerodynamic model, with a diffuser that improves air penetration by 25%, according to the company. In addition, an important factor was their weight reduction, Weight has been increased from 8.5 tons on the standard model to 5 tons on this Fastrac Two model..
How did they manage to lose weight so drastically? How detailed, this was due to a change in some of the materials of its construction. For example, steel parts have been replaced with aluminum and carbon. Both materials are much lighter than steel.
Fastrak Two It was powered by a 7.2 liter 6-cylinder Dieselmax engine., which reaches up to 1016 CV. Modifications to the engine allow it to have a turbocharger capable of being powered by an electric supercharger. Likewise, the exhaust system was completely redesigned to improve combustion flow.
Although the engine of this Fastrac Two runs on vegetable oil, JCB used a high-performance diesel in high-speed tests. This allowed him to reach his full potential.
It takes a lot of organization to break a Guinness World Record.
As always, many of the important elements that helped JCB break Guinness records are not hidden under the hood. And that's what the company He had to arrange a whole fair of elements to avoid accidents. and give your Fastrac Two every opportunity to achieve this achievement.
An FIA-certified roll cage was created and installed on the tractor. This ensured that Guy Martin would be safer. if something went wrong during testing. In addition, a braking parachute was installed to help slow down the car after reaching maximum speed.
The tires of this Fastrac Two They have also been modified to handle speeds up to 260 km/h. without tire wear. Initially, the originals could barely reach 80 km/h, which is a fairly small fraction of the speed JCB wanted to achieve with their ultra-fast tractor.
From my side, JCB is more than satisfied with the results achieved.. After all, getting a five-ton tractor to move at such a speed and stop again without endangering anyone is a real achievement.
Fastrac One has shown us that there is no limit to what a young and dynamic team of engineers can achieve. Therefore, we pushed the boundaries and ideas and analyzed all aspects of the project in order to find solutions and make improvements.

Tim Burnhope, director of innovation and development, JCB
Source: Hiper Textual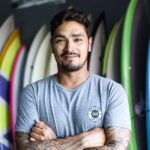 I'm Blaine Morgan, an experienced journalist and writer with over 8 years of experience in the tech industry. My expertise lies in writing about technology news and trends, covering everything from cutting-edge gadgets to emerging software developments. I've written for several leading publications including Gadget Onus where I am an author.