The era of Windows 11 has just arrived and many users have already encountered a very common problem in other versions: data loss.
Is it possible to recover permanently deleted photos and videos?
The good news is that it is possible to recover permanently deleted photos and videos in Windows 11 using the same tried and tested techniques that you may already be familiar with in previous versions of Microsoft's operating system.
However, if you are not yet familiar with these techniques, this article will be very useful for you. In this article, we provide three methods to recover your deleted photos and videos on Windows.
Three Methods to Recover Deleted Photos and Videos
#one. Free download programs to recover permanently deleted images and videos (Easiest method has highest success rate)
In this article, you will learn about 4DDiG program to recover deleted data from recycle bin. After testing several times, Tenorshare 4DDiG is the recommended permanently deleted image and video recovery software.
Tenorshare 4DDiG is a famous program in the field of data recovery with the advantages of high recovery rate and extremely simple operation. According to professional surveys, 4DDiG has one of the highest data recovery success rates in the industry to recover data from all data loss scenarios.
Job:
Recover 1000+ file types:
No matter what you lost, 4DDiG can seamlessly restore lost files including pictures, videos, music files, email, office documents and compressed files.
From laptop/PC, external drive, USB flash disk etc. recover data.

Recover all lost data in different scenarios:
Formatting, lost partition, corruption, affected system, virus attack, computer crash, etc. Recover files lost due to
Repair videos and photos:
Sometimes photos and videos are no longer available due to corruption. Currently 4DDiG has added the feature to repair photos and videos.
Is it safe to recover photos and videos with 4DDiG?
Ditto. Clear. Tenorshare 4DDiG ensures your data is 100% safe. It will not collect your information for illegal purposes.
How to recover deleted pictures and videos from your computer with 4DDiG
Step 1: Choose the recovery location
After download and open Tenorshare 4DDiG Windows Data Recovery, you will be presented with the home interface. To recover your files, select the disk drive where you deleted/lost your data and click "Start" to continue.
Step 2: Scan the device
4DDiG quickly checks the selected driver for missing information. After checking, you can see the result showing the documents found.
If you cannot find the information you need, click "Deep Scan" – this function may take more time but has a higher success rate in recovering files.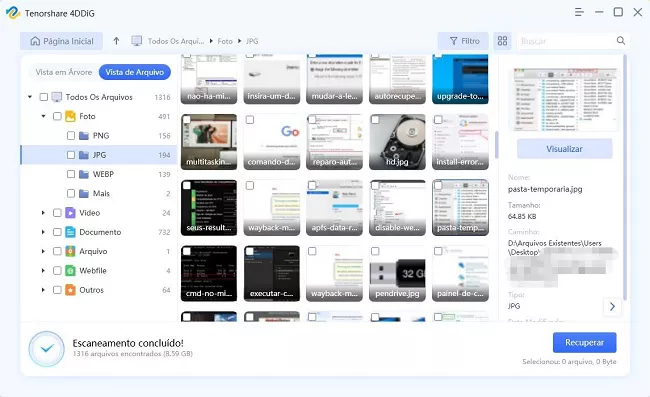 Step 3: Restore files
The software can view and recover different types of files: photos, audio recordings, videos, PDFs or any file type you can think of. You can click on " when you have finished checking.To get better"To restore the file to your hard drive.
after clicking "To get better", a dialog will open. Set the location where you want to restore documents and click "Alright".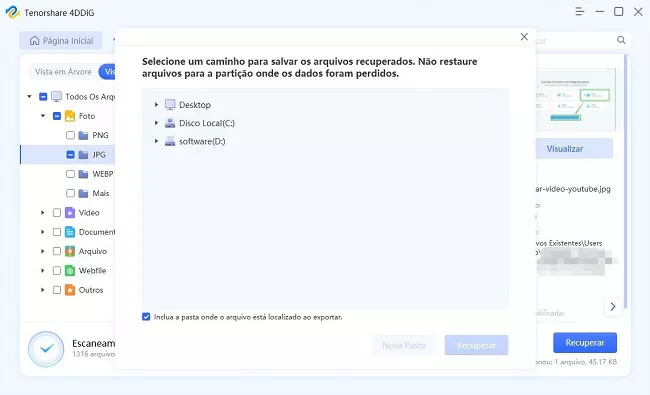 #two. Method 2–Restore from Windows Backup
Go to the start menu, right-click and select "Settings".

Then go to "Update & Security", find the "Backup" tab and select "Restore files from an existing backup".

Select the desired file, click "Next" and follow the prompts provided by the system to recover lost files.
#3. Method 3–Restore from a previous version of the file
Select the folder/drive where your data was lost, right click and select "Properties";

Click on the "Previous Versions" tab in a pop-up window;

Select the folder versions and click "Restore/Restore…" to recover your deleted files.
Solution
Data loss remains a big problem for home and business users even after the release of Windows 11.
The good news is that almost all data recovery features and tools that users are familiar with in older versions of Windows are already supported and can provide excellent results.
By following the tips we shared in this post, we are confident that you can recover the file you want. And with Tenorshare 4DDiG, there is always a solution for you to permanently recover deleted photos and videos from recycle bin or other data loss scenarios.
Source: Tec Mundo