Arm announced on Tuesday the launch of the next-generation Cortex-X3 processor along with the next-generation GPU architecture, codenamed Immortalis. Arm also said that the new Cortex-X3 will provide 34% more laptop performance than its current architecture.
In particular, Arm has released Cortex-X3 as a next generation performance core designed for both smartphones and PCs. Arm also announced the Cortex-A715, as well as the low-power Cortex-A510 core, part of a "big-small" architecture that spreads the workload of the PC or smartphone between powerful "big" cores and "big" cores. small" low consumption.
Arm also announced Immortalis, a next-generation line of graphics processors. Immortalis will be defined by a new feature for Arm GPUs, hardware ray tracing, which will put smartphone GPUs alongside AMD and Nvidia GPUs in terms of their native hardware capabilities. The executives also added that there is a possibility of a discrete Immortalis GPU if partners show interest.
Paul Williamson, general manager of Arm Accounts, told reporters that the new Cortex and Immortalis chips will arrive later this year and product shipments will begin in early 2023.
Arm is what the semiconductor industry calls an intellectual property provider, licensing its designs to silicon partners for production and sale. Company executives declined to comment on the plans of these partners, leaving the question of the exact implementation of the Cortex and Immortalis line up in the air. However, usually partners like Mediatek, Samsung and Qualcomm take Arm developments and mostly implement them directly.
Arm has spent a lot of time showing off its new chips for virtual/augmented reality architectures, kicking off the launch by talking to famed game designer John Romero on Rec Room, a virtual chat app. However, Arm computers simply can't keep up with computers made with X86 processors, and Williamson admitted it.
"I think it's a reasonable observation that… the Windows devices on the Arm weren't as capable, but they showed interesting alternatives in terms of form factor and battery life as key differentiators," Williamson said. However, Williamson added that Arm's roadmap also shows an increase in scalability, so the number of cores could be increased to 12.
"Now there's even the ability to fully utilize Cortex-X with single-threaded performance, which is really attractive compared to similar architectures in the field," added Williamson.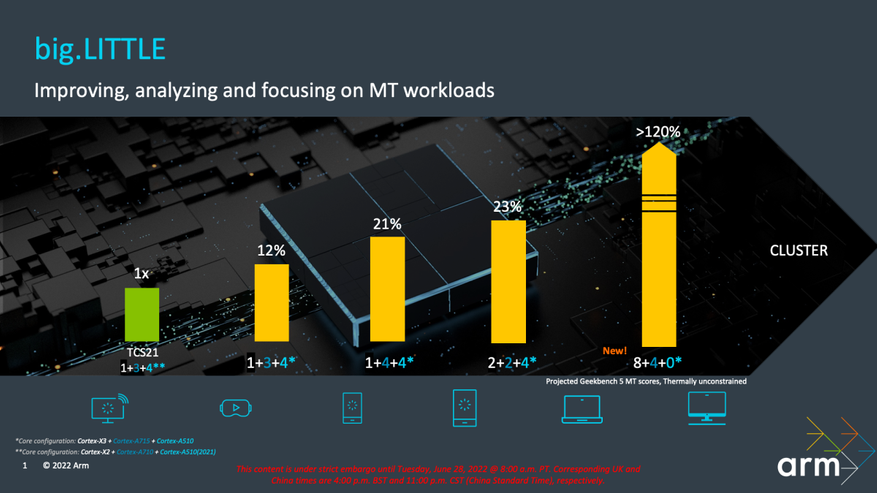 Cortex-X3 and new Arm processors

Arm's new Cortex line is the second implementation of Armv9 processors, released about a year ago when Arm first promised that ray tracing would be in the architecture. Arm reported that the 64-bit Cortex-X3 will provide a 25% performance improvement over the current generation of Arm smartphones and a 34% improvement over current Arm laptops. While Arm didn't provide actual specs, the company used an Arm Cortex-X3 clocked at 3.66GHz and 16MB of L3 cache for comparison.
Williamson called the -X3's performance improvement, which has increased by double digits over the last three years, "a phenomenal step forward". He added that the new CPU cores offer twice the machine learning capabilities for greater intelligence and a better user experience. Arm also adds additional security features such as facial recognition and face unlock capabilities.
Williamson also said that the new Cortex-A715 will be 20 percent more energy efficient and that the Cortex-A510 will consume 5 percent less power than its predecessors. Combined with the Immortalis line, this will result in a 28% improvement in gaming performance over the previous generation of CPU/GPU, which Arm calls a "total computing solution."
Arm also provided a brief overview of the company's processor roadmap: The Cortech-A715 performance core and A510 efficiency core will give way to the "Hunter" performance core and "Hayes" efficiency core, followed by by "Chaberton" and "Hayes". .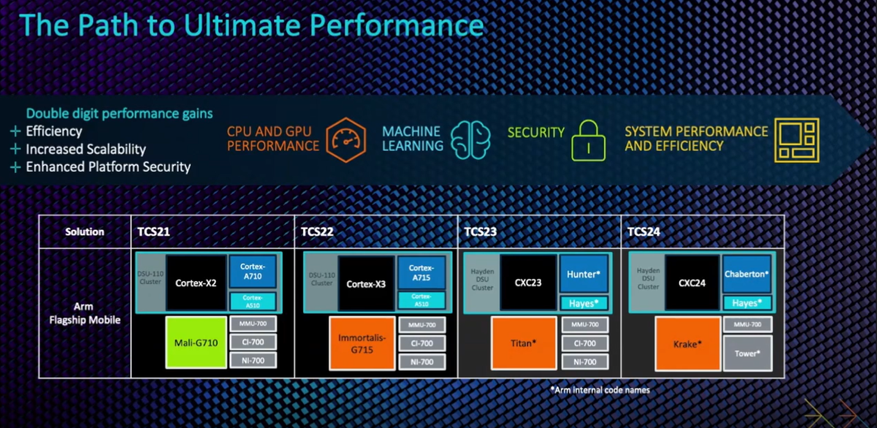 New GPU Immortalis

According to Williamson, the new Immortalis GPU will "charge the Android gaming ecosystem with unmatched performance" based on Mali GPUs. The new GPUs will include both the Immortalis-G715 and the legacy Mali-G715 and Mali-G615 models. The Immortalis line will offer hardware ray tracing. Designed for mid-range smartphones, the Mali-G715 will include variable rate shading, Williamson said, while the G615 version will be offered for more mainstream devices.
Arm has promised that the new GPUs will offer a 15% performance improvement over the previous generation. If that's not enough, Arm also showed off what's coming next: GPUs codenamed "Titan" and "Krake."
I think everyone found themselves in a situation where a USB flash drive was desperately needed, but either wasn't available or was sent to the next world at the wrong time. In this article you will learn how…
The xDuoo Link Mobile DAC was released in 2020 and frankly, it made a lot of noise among portable audio lovers. The manufacturer, as we know, is very serious, the latest,…
Content Packaging Specifications: Package content: Assembly of the scooter Aspect of the scooter Use of the scooter Video Advantages: Summer is a…
Although I have my own bike, for many years I have been paying for seasonal access to bike rentals and using rental bikes constantly. There are some tricks and hacks that not everyone knows…
Good afternoon, dear friends! Today I would like to show you a compact screwdriver set from Ugreen. Such kits are not uncommon, but this one is made quite…
As of July 1, by order of the Ministry of Internal Affairs, an online service is launched to check drivers for fines and traffic violations. How does this threaten drivers and should you be afraid that your data will fall into this database? How…
Source: IXBT