On the eve of the presentation of the new realme GT2 Explorer Master smartphone, the Chinese manufacturer decided to show a photo of the device.
Apparently, the new gadget will have an interesting Travel Trunk style design. The device will have flat edges and a leather back panel, an unusual solution. Such an interesting design was developed by designer Jae-joon. He previously collaborated with The North Face and Ralph Lauren.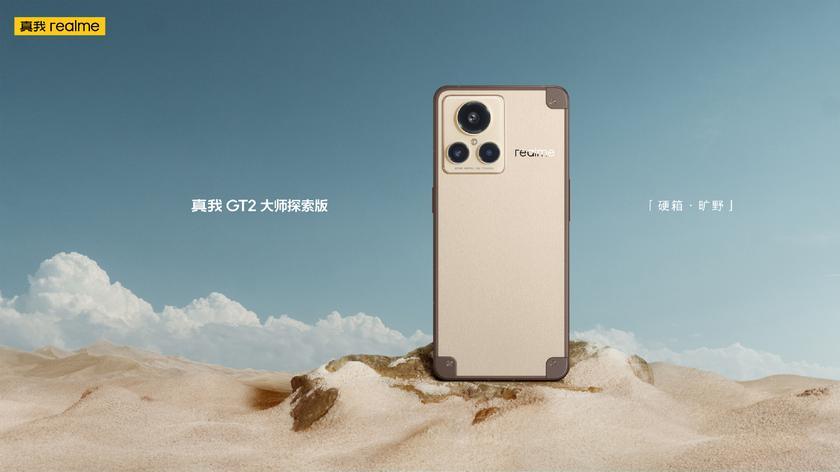 Well, about the features of the novelty, so far it is known that the device will be equipped with one of the best Snapdragon 8+ Gen 1 processors. The device will also have a 6.7-inch AMOLED screen, which will have a further upgrade. Speed. Likewise, the novelty will have a battery with a fast charge of up to 150 W, 12 GB of RAM and also ROM with a capacity of up to 512 GB.
The Android operating system is becoming increasingly demanding on smartphone resources such as random access memory (RAM) and onboard storage (ROM). Therefore, for a long time familiar …
In early June 2022, Microsoft banned users from the territory of the Russian Federation from downloading the latest versions of its Windows operating system, and after a while, completely…
Today, 3D printing has become very closely integrated into our daily lives, and everything that is possible is already printed on a 3D printer: cars, houses, spare parts, mechanisms, etc. Naturally, I was wondering if…
The TRN MTE wired headphones complete a series of five budget model reviews. The MTEs have a familiar shape, unlike the TRN CS3 Micro, as well as a sound that is quite suitable for listening to music…
Hardly anyone lives in this city, all the roads are blocked, the air is full of smoke, this place has no zip code, most of the plants withered or withered, the asphalt cracked on the roads. Under…
A fairly large and unique park of Russian fairy tales is located on the outskirts of Domodedovo. "Children's Dream Space" is an ecological park with a petting zoo, children's games, museums,…
Source: IXBT