The HIPER brand entered the domestic market of a line of smart LCD TVs running a software platform from Yandex, and one such TV fell into my hands: HIPER U43YQ2200GR with a diagonal of 43″.
At a cost of 19,990 rubles, this one belongs to the Smart TV category: it connects to the Internet, runs Yandex TV, created on the basis of the Android operating system, and allows you to use applications from various online movie theaters from the built-in catalog.
Plus, the HIPER U43YQ2200GR has a built-in Alice voice assistant, so you can simply ask the TV to find a particular movie or video. You need to speak directly on the remote control, and this is much easier, more convenient and faster than soon to say in the search for something like "pirates of the caribbean".
It is only important to remember that Alice's voice search works with YouTube and KinoPoisk. In the applications of other online cinemas, such as Ivi, Alice does not yet know how to search.
What's inside the HIPER U43YQ2200GR, as shown by other interesting information and impressions further.
Filling and characteristics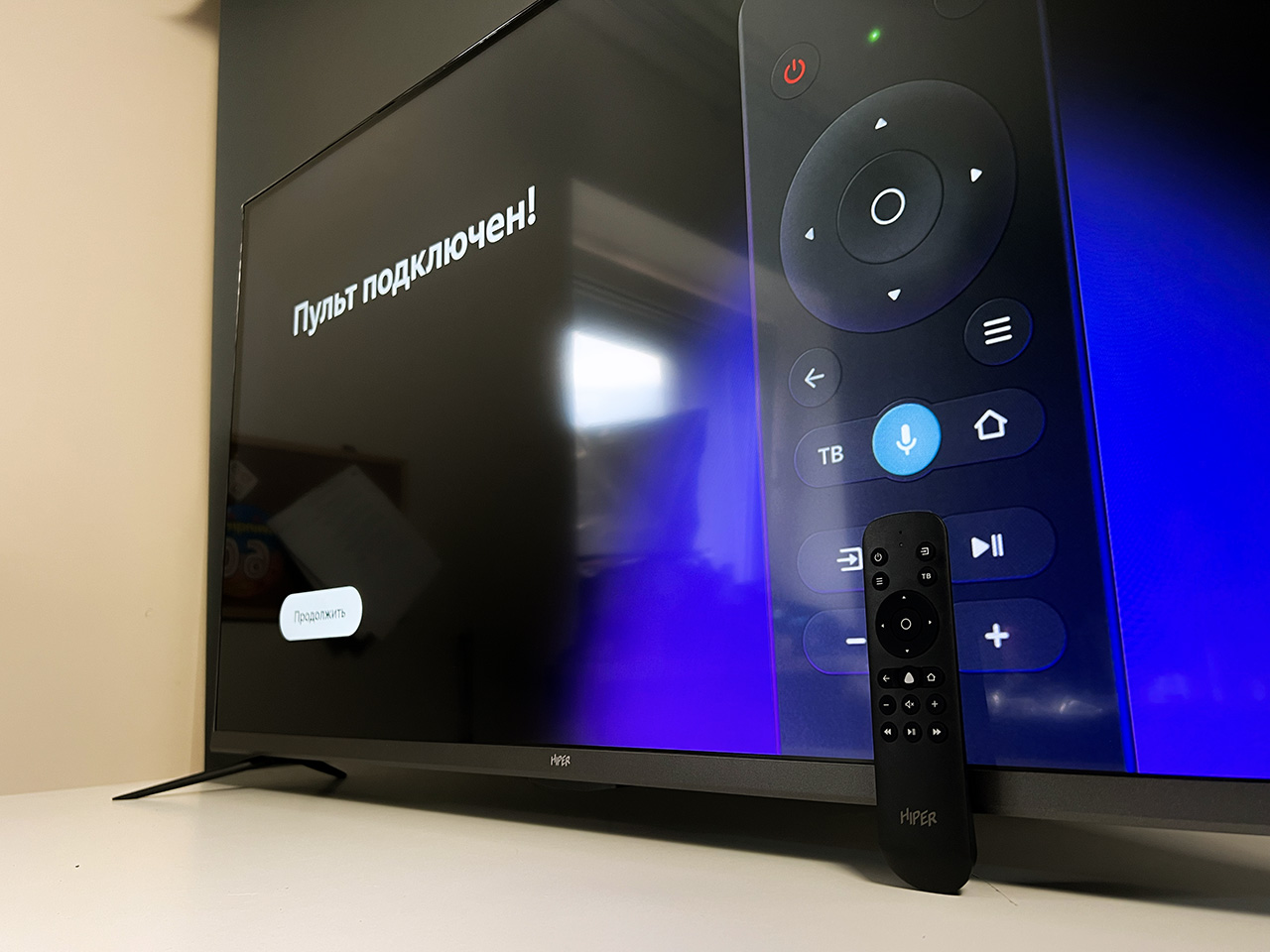 In total, there are six models in the line, which are limited by the screen diagonal (24″, 32″, 43″, 50″, 55″ and 65″), modern technical knowledge and price. In short, two models with a diagonal of 24 ″ and 32 ″ have a resolution of 1366 x 768, and all the others already increase the screen magnification of 3840 x 2160. So you can watch movies and videos on YouTube in 4K.
The HIPER U43YQ2200GR screen is made using IPS technology, so I can note the natural color rendition, the absence of flashes in bright sunlight, wide viewing range and high image contrast.
Of the minuses – insufficient black depth and slightly increased response time compared to more expensive matrices. True, as regards the time response, the number of milliseconds is taken into account, so it is almost impossible to detect this parameter without a direct comparison.
If you look at a completely angle, the white color begins to change to bluish, but to get such a result, it is necessary to approach the device almost taken. From these vantage points, no one is watching TV, so you will rarely notice color distortion. Most likely you never will.
In general, the screen did not cause any negative impressions. The contrast ratio is 1200:1, on a sunny day the picture remains clear and does not fade, thanks to Direct LED technology, you will not notice any changes in brightness even with dynamically changing frames.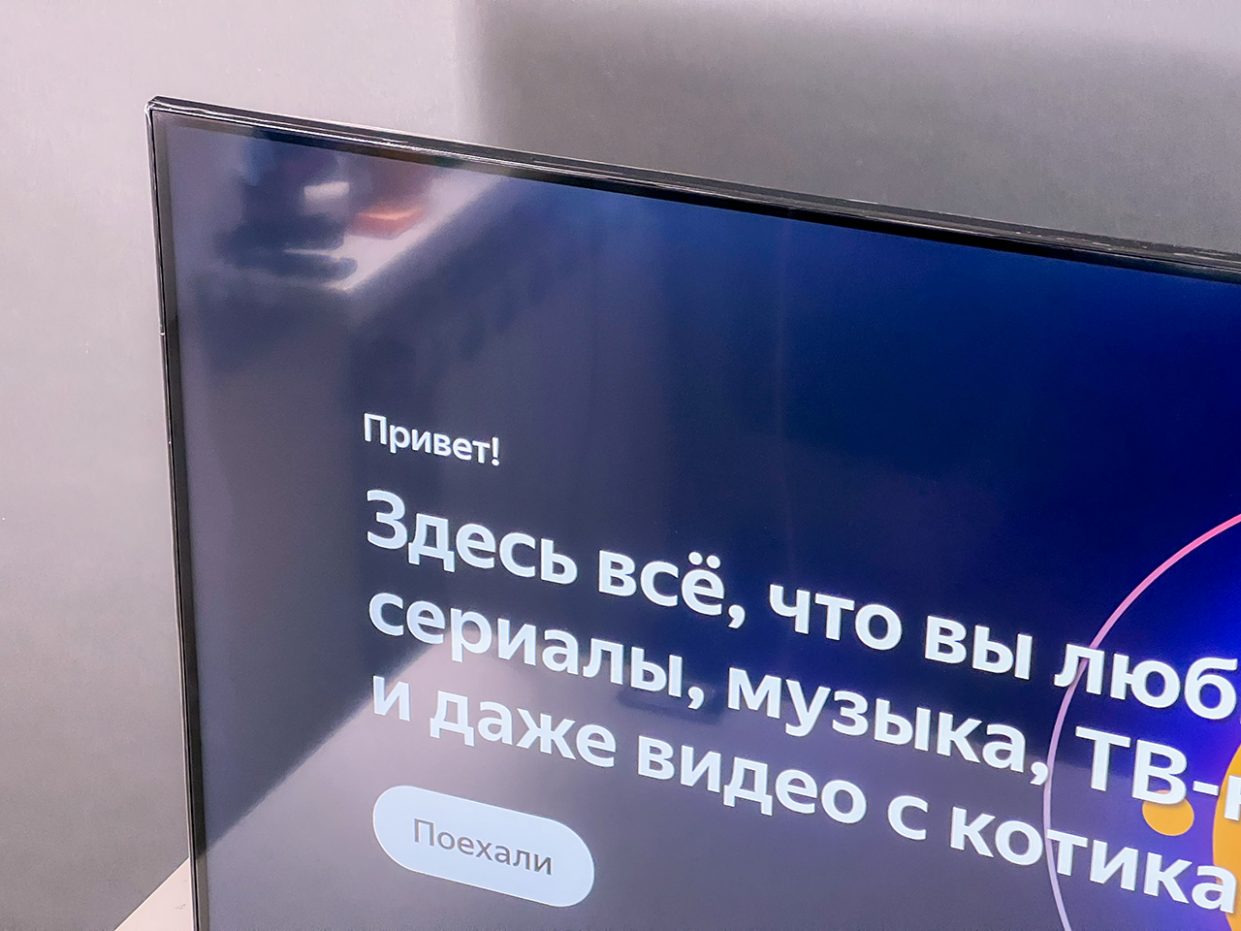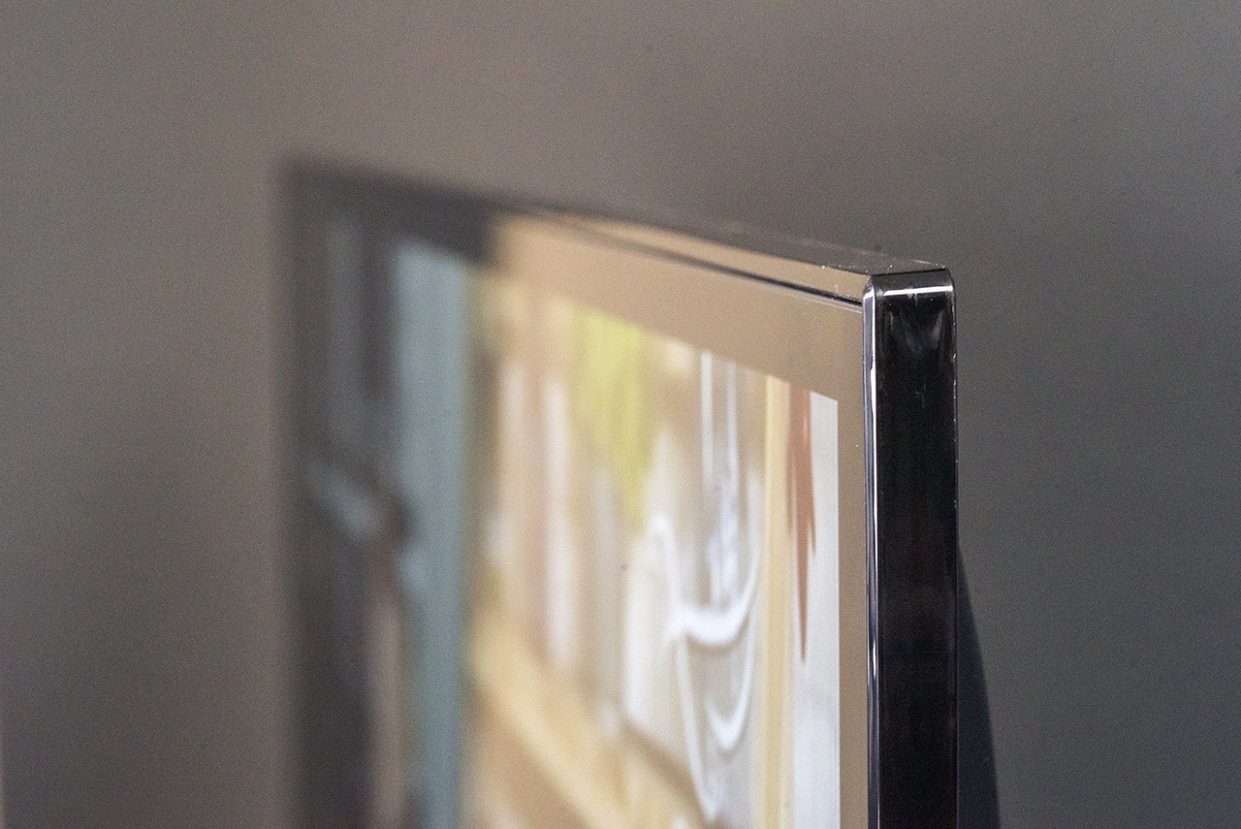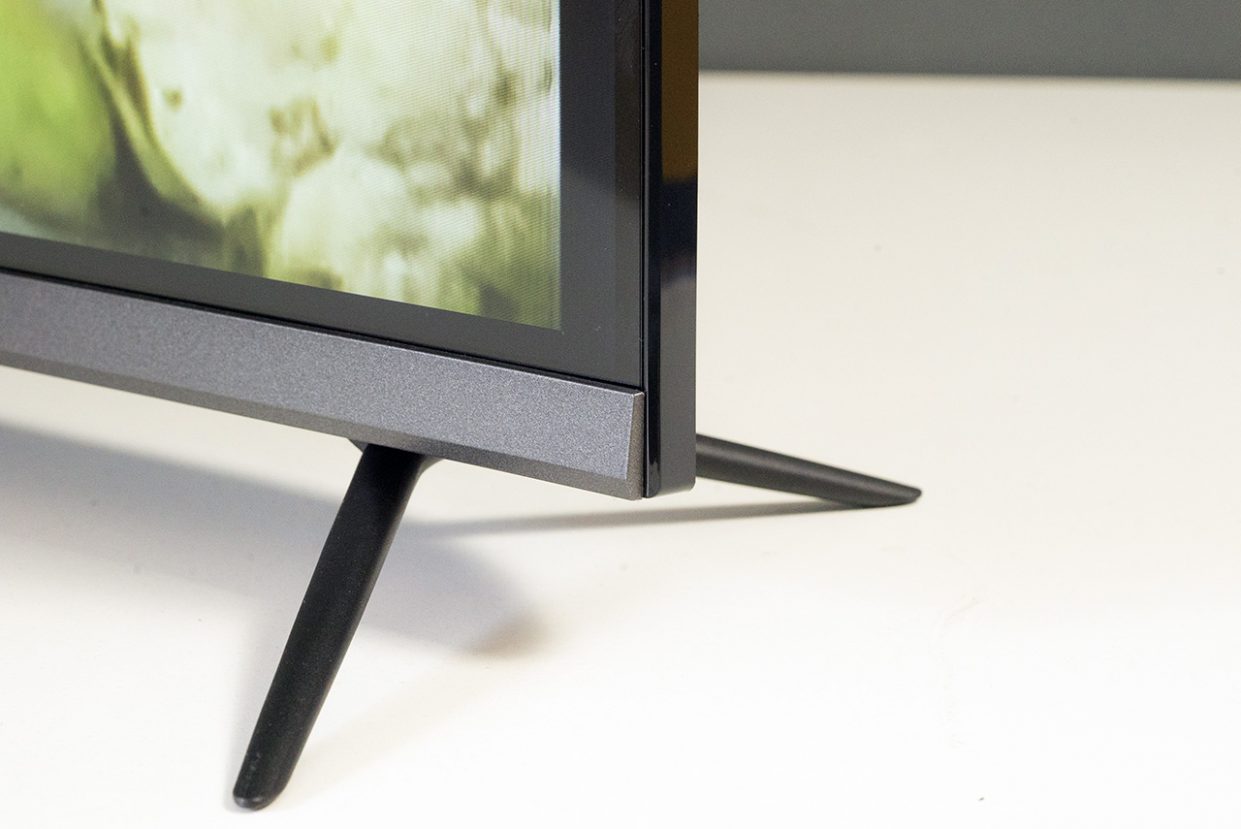 Inside the case of matte plastic hides a quad-core processor, 1.5 GB of RAM and 8 GB of internal memory. The TV supports Wi-Fi 802.11 a / b / g / n / ac at 2.4 GHz and 5.0 GHz, there is also Bluetooth 5.0 and a modern HDMI 2.1 port.
Built-in speakers are responsible for the sound, each with a power of 10 watts, with support for Dolby Digital + technology. The sound is normal, powerful and voluminous, albeit not too "deep bass".
The TV has all the necessary ports for connection:
▪️ AV input
▪️ Ethernet connector
▪️ Three HDMI 2.1 ports
▪️ Triple composite video feed
▪️ KI/KI+ slot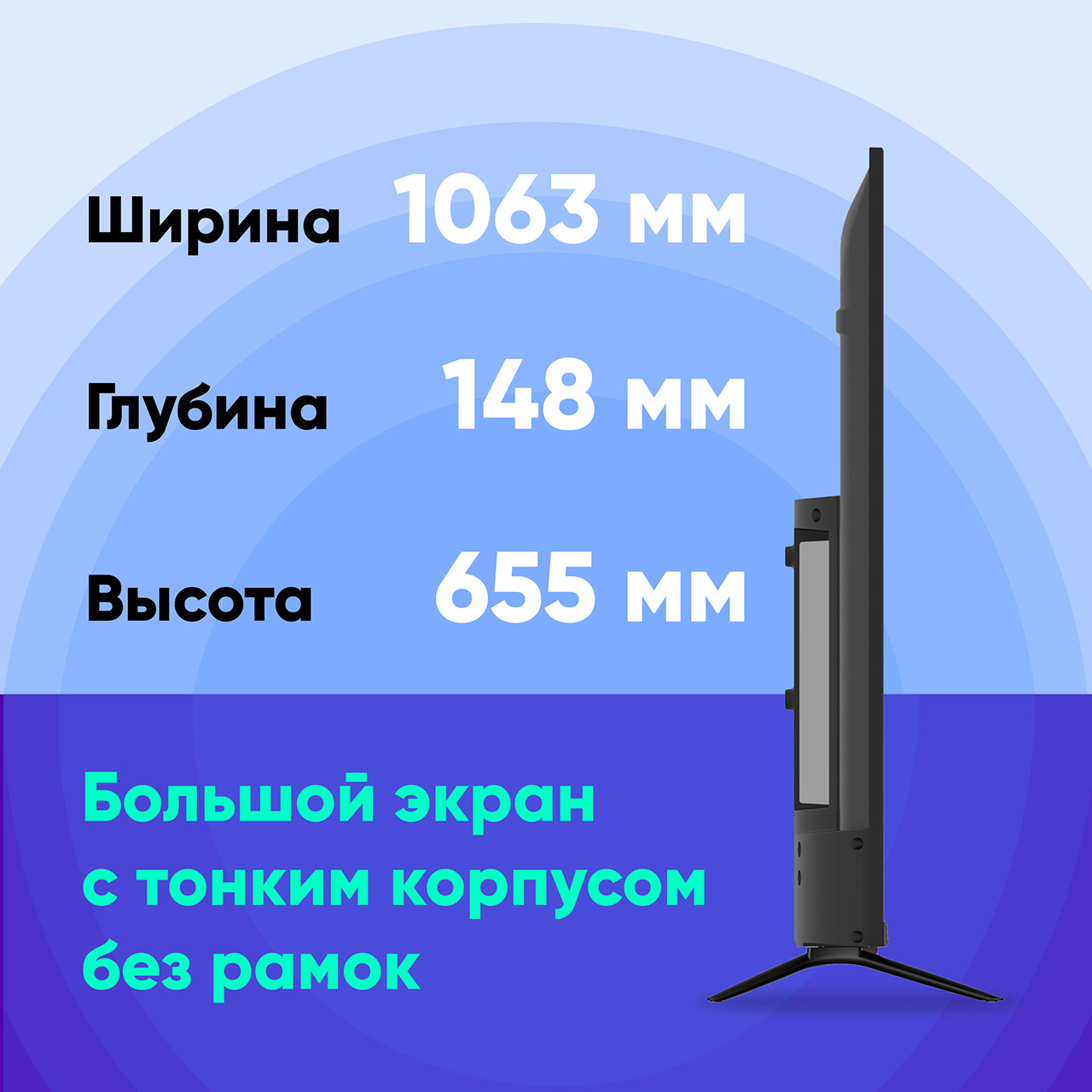 Dimensions HIPER U43YQ2200GR, clearly.
The complete remote is powered by two AAA batteries.
When you turn on the TV for the first time, request the activation of the Bluetooth pairing between it and the remote control, so that you can activate Alice at any time with a separate button and give devices voice control.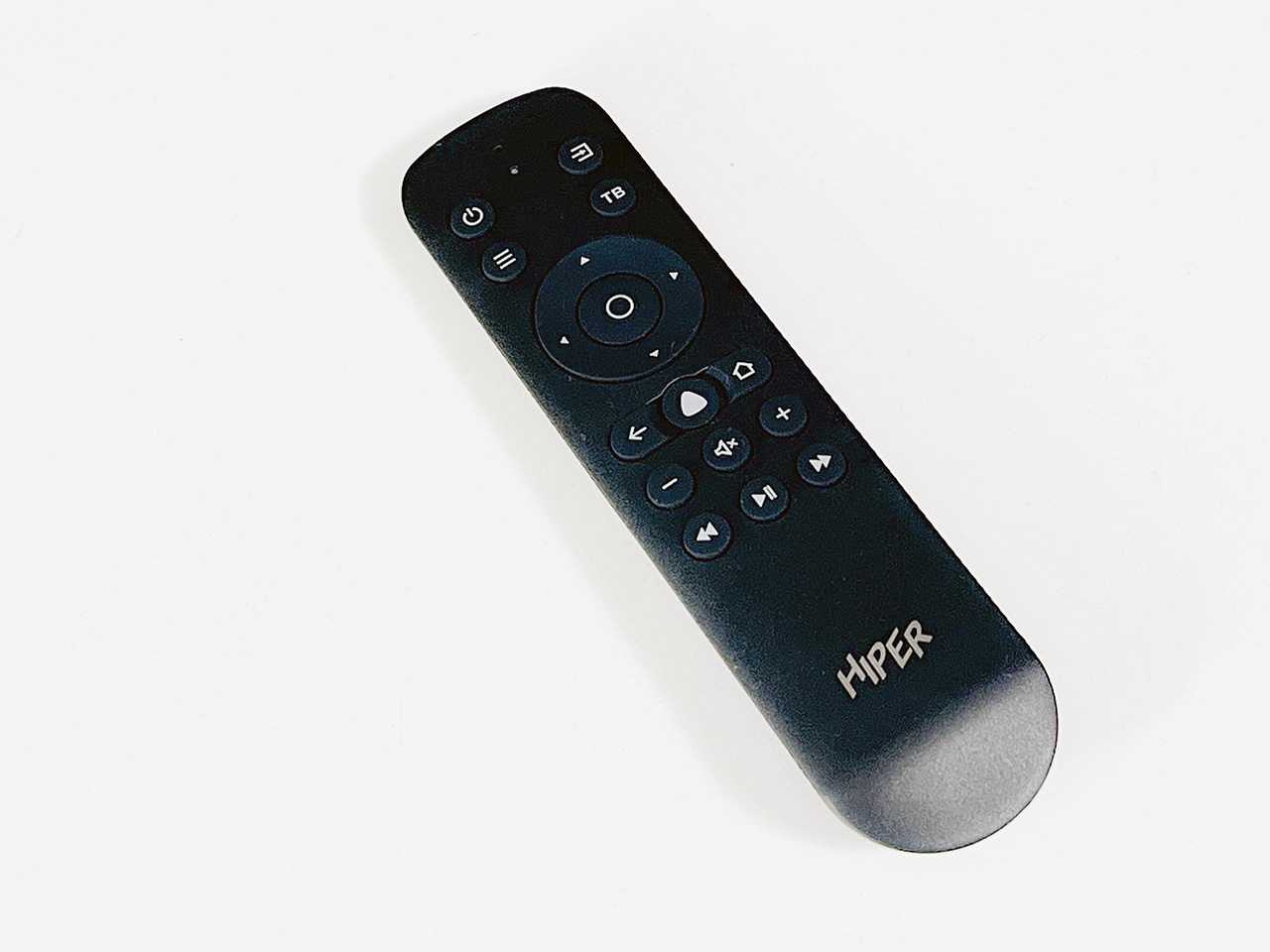 The remote control is made of black matte plastic, the buttons are pressed without a pronounced click, the size of the buttons is quite large.
The kit includes legs that can be screwed to the TV case with supplied screws. Screwdrivers are not included, this must be borne in mind. There are rubber washers at the ends of the legs, so that the device will not slide on the shelf or nightstand on which you place it.
| | |
| --- | --- |
| Retail price: | from 19 990 rubles |
| Contrast: | 1200:1 |
| Screenshot: | 3840×2160 pixels, 4K UHD, 60Hz |
| Brightness, km/m2: | 260 |
| Viewing angle, in degrees: | 178 |
| Installed TV Tuners: | DVB-T/T2/S/S2/K |
| VESA mount standard: | 200×100 mm |
| Multimedia support: | AVI, HEVC (H.265), MKV, MP3, MPEG4 |
| Weight, kg: | 8.9 |
| Dimensions H x W x D, mm: | 1063 x 148 x 655 |
The frames of the HIPER U43YQ2200GR are glossy and colored, such a device can be safely called "frameless". Impressions of a good assembly, the case does not creak, the complete knives are made of matte metal.
The overall design of the TV is minimalistic, it fits perfectly into any interior. There is nothing superfluous on the body, and even the HIPER logo on the bottom frame is not striking.
Yandex TV, KinoPoisk and other services
When you turn on the HIPER U43YQ2200GR for the first time, you will be asked to enter your username and password from your Yandex account. So if you have a KinoPoisk HD subscription, it will also be available on your TV.
Immediately after connecting the account, the TV will pull up all the channels and videos that the account owner watches on YouTube, as well as load the entire history and lists of films and series in KinoPoisk.
If you do not yet have Yandex Plus account settings, then you can create it right in the HIPER U43YQ2200GR process. If you do this, then you will receive the first three months of using Yandex Plus as a gift.
I recommend Switzerland with this offer, especially since Yandex TV is a smart neural network that selects your preferences and over time will begin to offer films and series that will be of interest to you.
If you prefer to watch movies and series in ivi or Okko, you can install a suitable online client service from the built-in catalog of available applications. Installation takes place in just two clicks: just go to the application store on the TV using the remote control, scroll to the desired service, click on it and install the installation.
Now in the menu you will have a tile with the Ivi logo, which you will find in the personal account of this online service.
Also available is a list of TV channels that do not need to be configured – just select the desired one using the arrows on the remote control and watch. In general, everything looks exactly the same as if you connected to the TV through the Yandex TV module. The only difference is that for any other TV this module needs to be purchased separately for 5990 rubles, and in the HIPER U43YQ2200GR it is already built in out of the box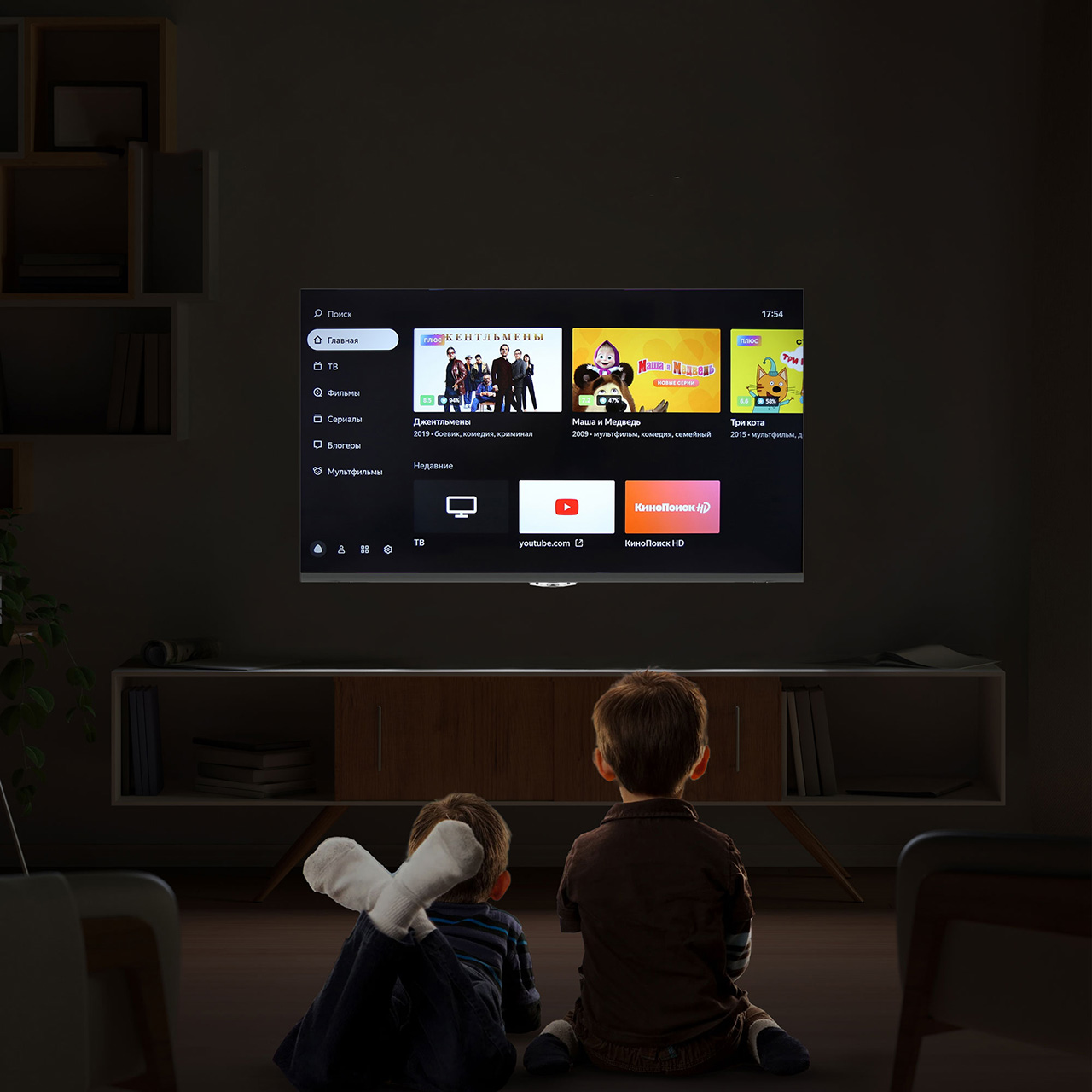 The Yandex TV interface is smart, nothing freezes, Alice searches for movies and videos, KinoPoisk shows selections for you, everything works as it should.
I tried to connect my game console to this TV and was pleasantly impressed with the response speed in dynamic shootouts and races. The refresh rate of the picture is excellent, it is easy to play.
Summarizing my impressions, I was satisfied with the taste of HIPER U43YQ2200GR after a detailed study. A device with eye-pleasing color reproduction, a good matrix without flasheswith loud speakers and a fairly large diagonal for 19,990 rubles worthy of appreciation a place of honor in the country, in the nursery, in the kitchen or even in the living room, if you are not too pretentious and do not chase after some incredible "chips" on TVs for hundreds of thousands of rubles .
In general, a TV is a gadget that you don't buy too often. Nevertheless, it is difficult to overestimate the significance of this device: even if you have not watched for a long time TV channels, the TV is probably used as a monitor for a home PC, laptop or game console. I think that HIPER U43YQ2200GR will perfectly cope with this task. For all money.

Source: Iphones RU