For several months now, I have been launching Apple Music less and less, because the number of new music in this streaming service for Russia is very high. diminished.
If earlier you could just go to the page with releases and see that a couple of albums of fresh news from the group that I like have appeared, now this section is full of melancholy for me personally. I haven't seen anything good there for a long time.
The same goes for other online music providers: with the departure of Western labels fresh albums of Nickelback, Disturbed, The Pretty Reckless and many others are simply impossible to listen to by subscription. So I often launch an offline player instead of Apple Music and listen to music downloaded to my smartphone in advance.
Like the good old days.
Next, I'll talk about the five most convenient, free and functional applications, each of which can be used comfortably, listen to pre-loaded music without any other stuff. subscriptions, registrations and sms. Applications are downloaded from the App Store, but I think you yourself know where to get fresh albums from your favorite bands.
1. Flukbox. The most sophisticated free player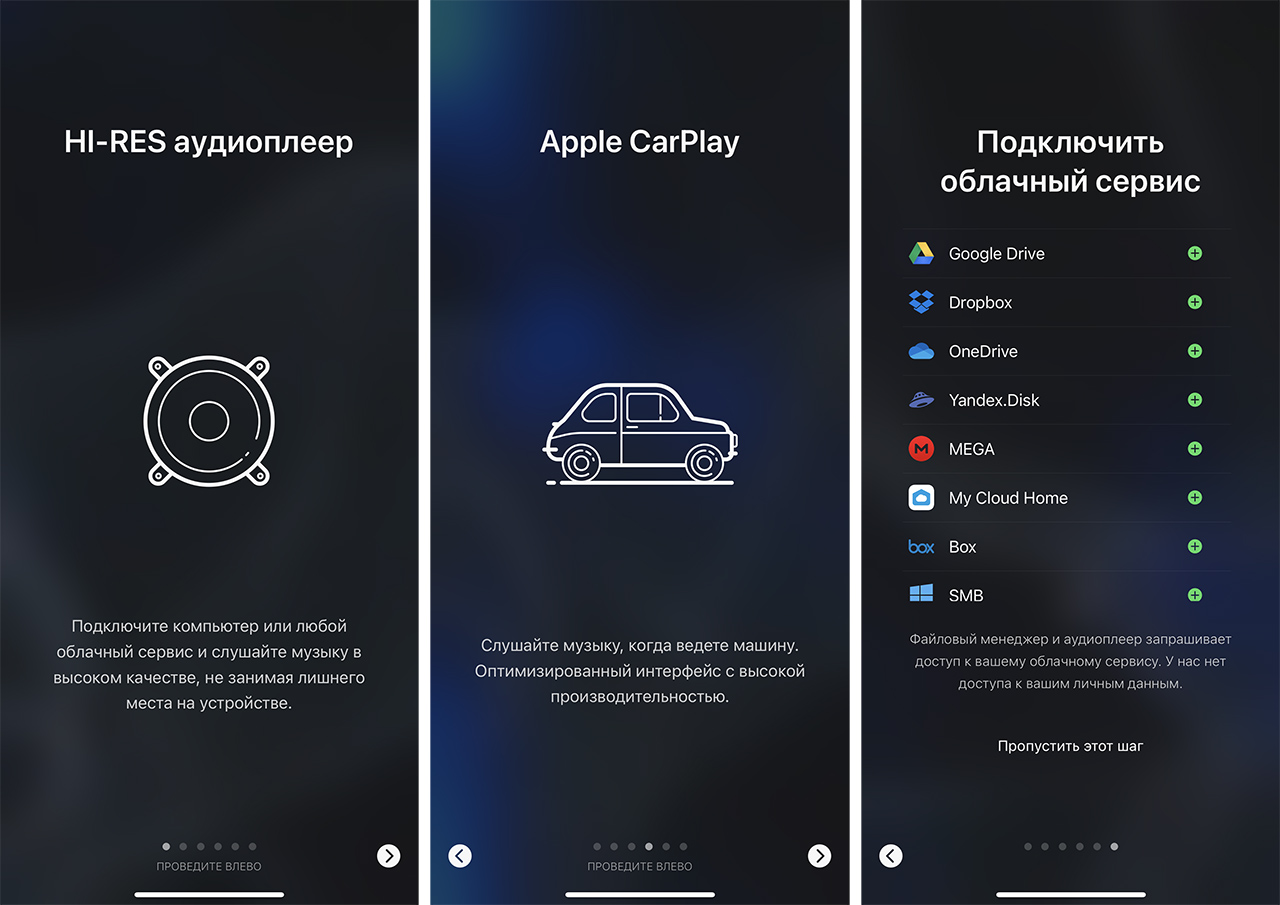 Despite its name, the Flacbox player plays almost all popular audio formats, be it wav, flac or mp3. I use this player more often than others and I plan to leave it soon only, since the free functionality is more than enough.
In particular, Flacbox can block both music recorded on a smartphone and tracks from Apple Music: you just need to link your streaming service account.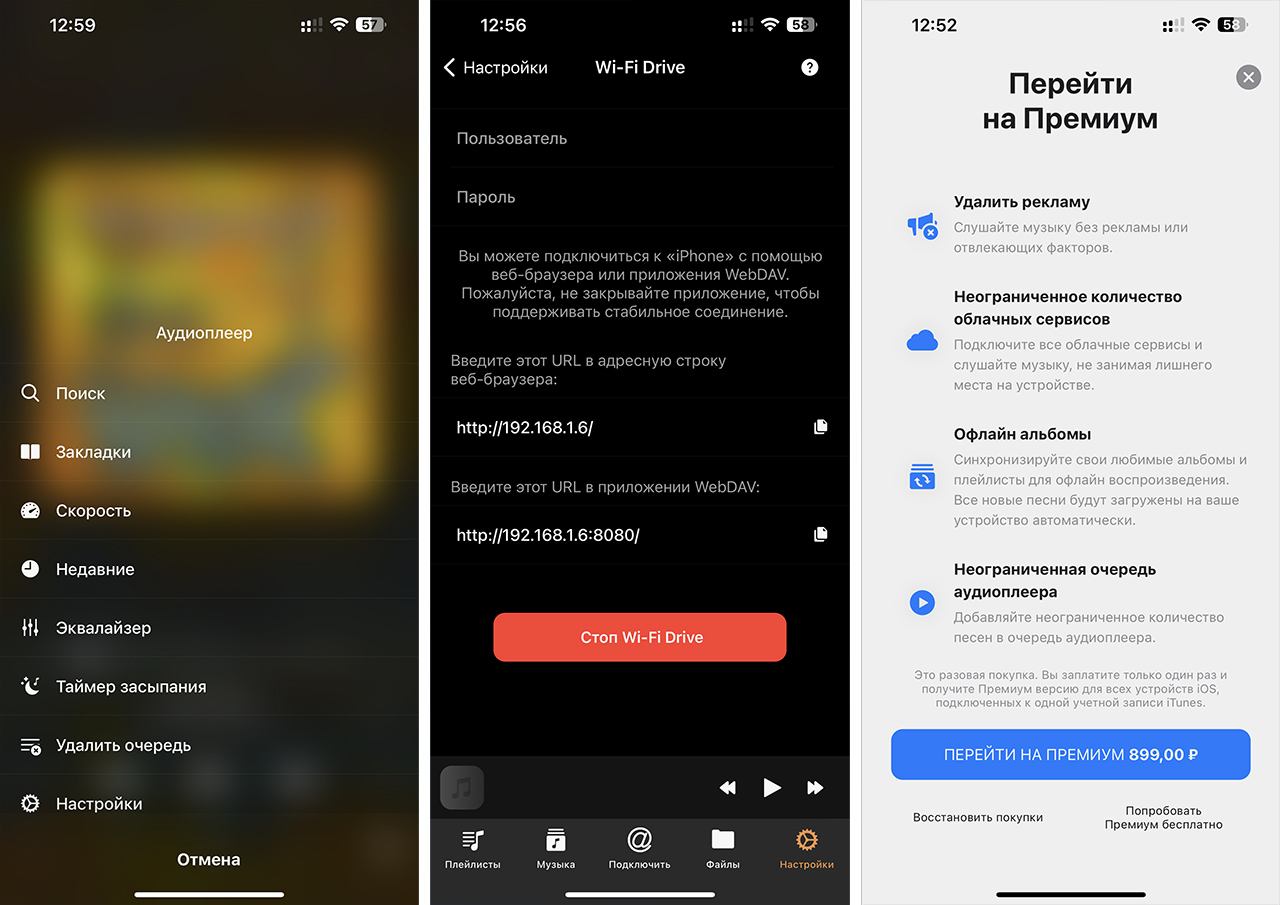 You can also connect any popular cloud storages to Flacbox and stream music from the outside. This will be especially convenient for owners of large audio libraries and iPhones with low memory speed. Just upload your entire media library to the cloud and implement your personal streaming service.
Possible cloud cover:
▪️ Google Drive
▪️ Dropbox
▪️ One Drive
▪️ Yandex.Disk
▪️ MEGA
▪️ My cloud home
▪️ Box
▪️ SME
In the player's action, you can set the order of use, set a sleep timer, activate the background mode or sort tracks by albums, artists and other parameters. Throw in CarPlay and AirPlay support and it's almost perfect. musical harvester.
Flacbox has the ability to subscribe for money, but only if you need to use the equalizer. All the rest of the above is available immediately after downloading the applications for free.
🔘 Download Flacbox for free
2. Offline player. Audio and video combine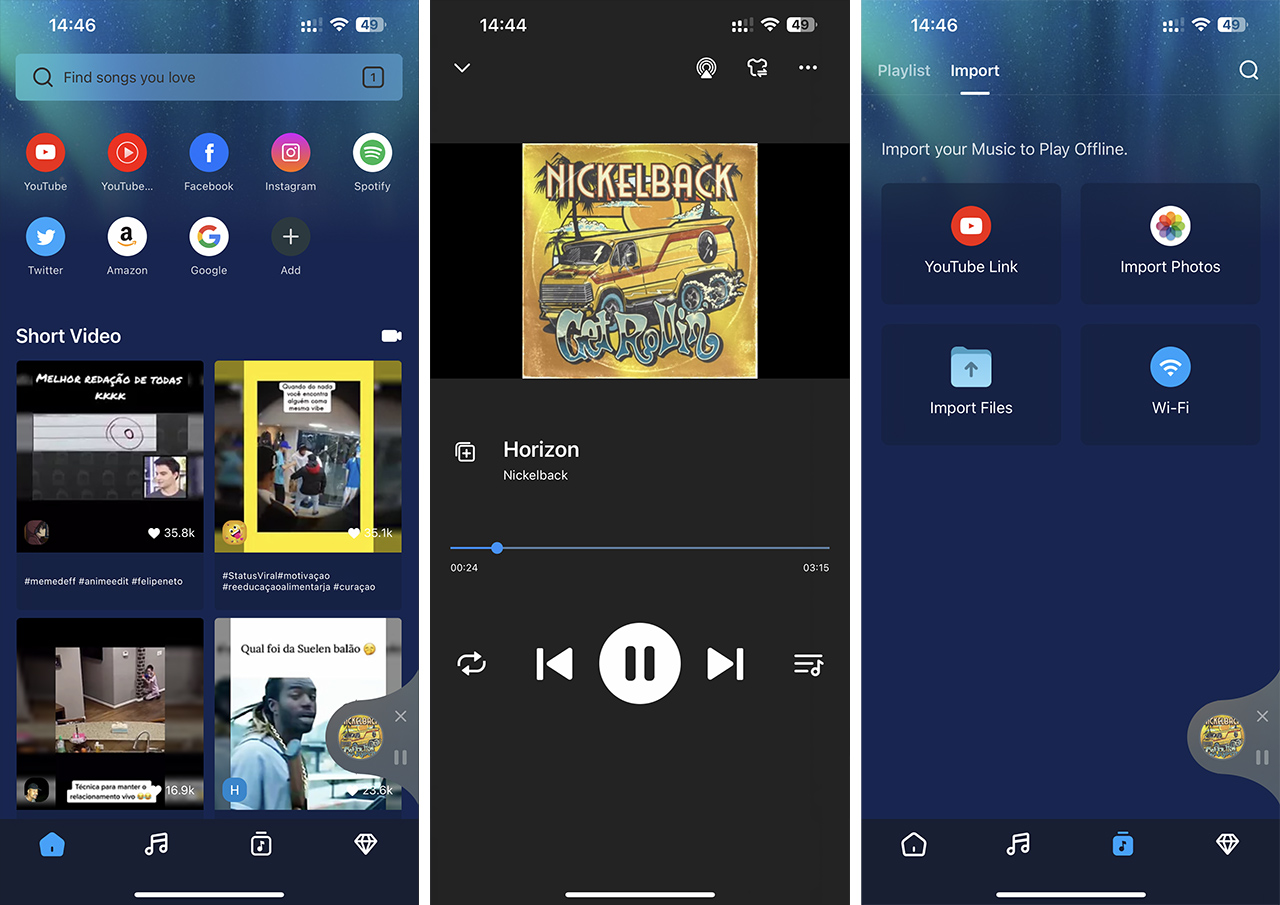 This application is not even a player, a requested library in which you can automatically search for tracks from all sources. In addition, there is support for direct download of your audio files using Wi-Fi Direct, a nice interface and pluses in the form of a sleep timer and the ability to include your own covers for tracks.
You can pay for a subscription, but its advantages are only in the possibility of changing the "skins" of the player, so it is not necessary to purchase it. In other players, you can simply turn on music from the Internet, without any subscriptions and registrations.
🔘 Download Offline Player for free
3. JetAudio. The most beautiful player with basic features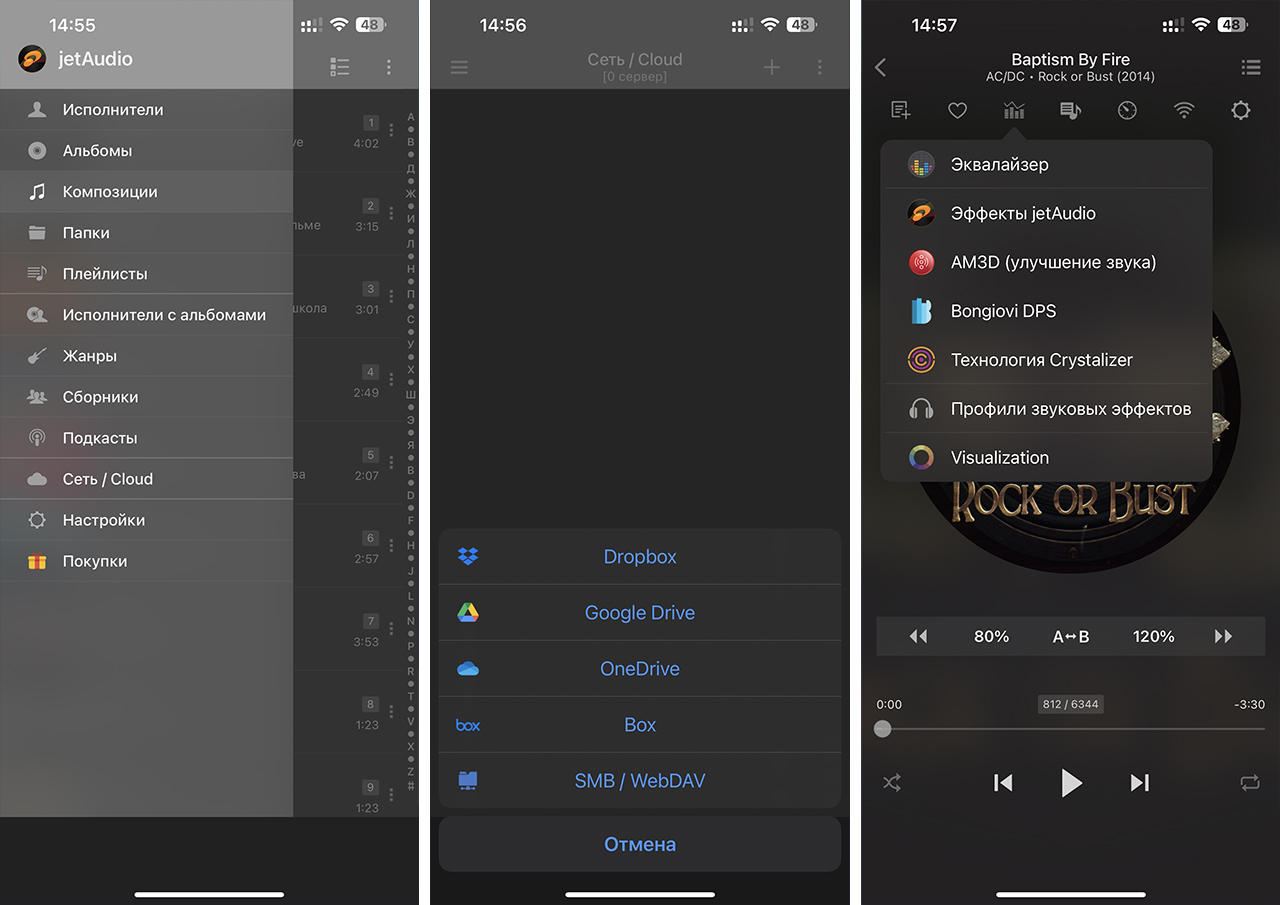 The creators of jetAudio have chosen a strikingly pleasant color scheme for the player, despite the presence of only two colors, gray and green. On the maximum display of points, the control opens clearly, the formats Flac, mp3, Wav, Ogg and several others appear.
Of the features, we can distinguish settings for increasing the sound, increased from an improved equalizer, gradually increasing with patented "improvers". True, all this splendor becomes reversed if you pay for a subscription.
Occasionally open advertising in a certain version, but it is completely unobtrusive. After paying for the subscription, external interfaces, sound signals, and several trading parameters began to change. In general, a convenient and concise player that is worth a try.
🔘 Download jetAudio for free
4. VLK. Video player that plays great audio as well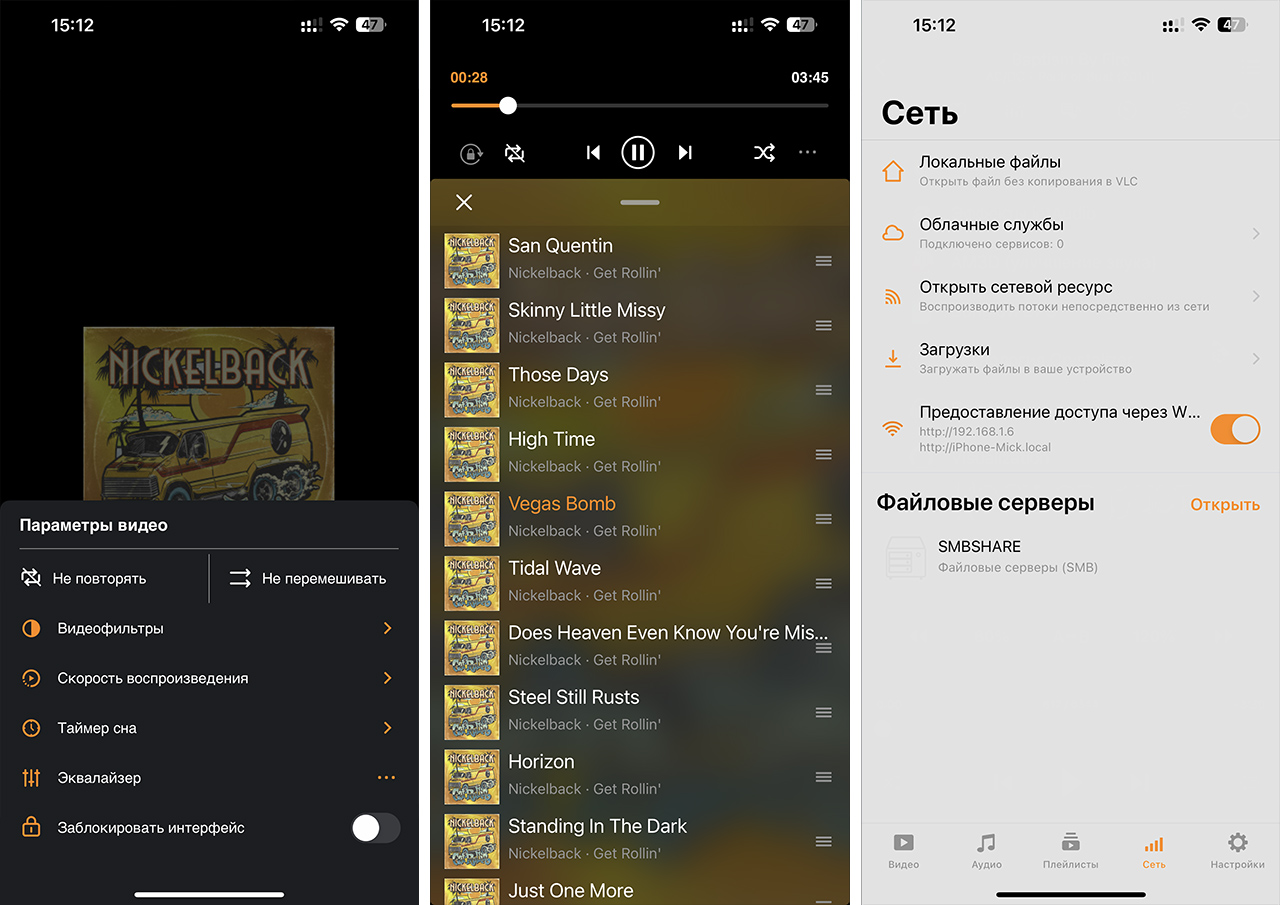 The proven video player for iOS is also great for use as an audio player. Support for all popular formats, no restrictions in a particular version, and in general – there is no paid version in principle.
This media processor will store your movies and music on iPhone and sort them into categories. There are dozens of fine-tuning audio and video, a concise interface, support for effects from Dropbox, GDrive, OneDrive, Box, iCloud Drive, iTunes, direct by link, via shared Wi-Fi, as well as file streaming from SMB, FTP, SFTP, NFS. UPnP/DLNA media servers and the Internet. Convenient and simple.
Although this is the only player in this collection, which is still more tailored for video than audio, its functionality and complete set free without in-app purchases allows you to compete with food products.
🔘 Download VLC for free
5. FLAC player+. The most concise audio player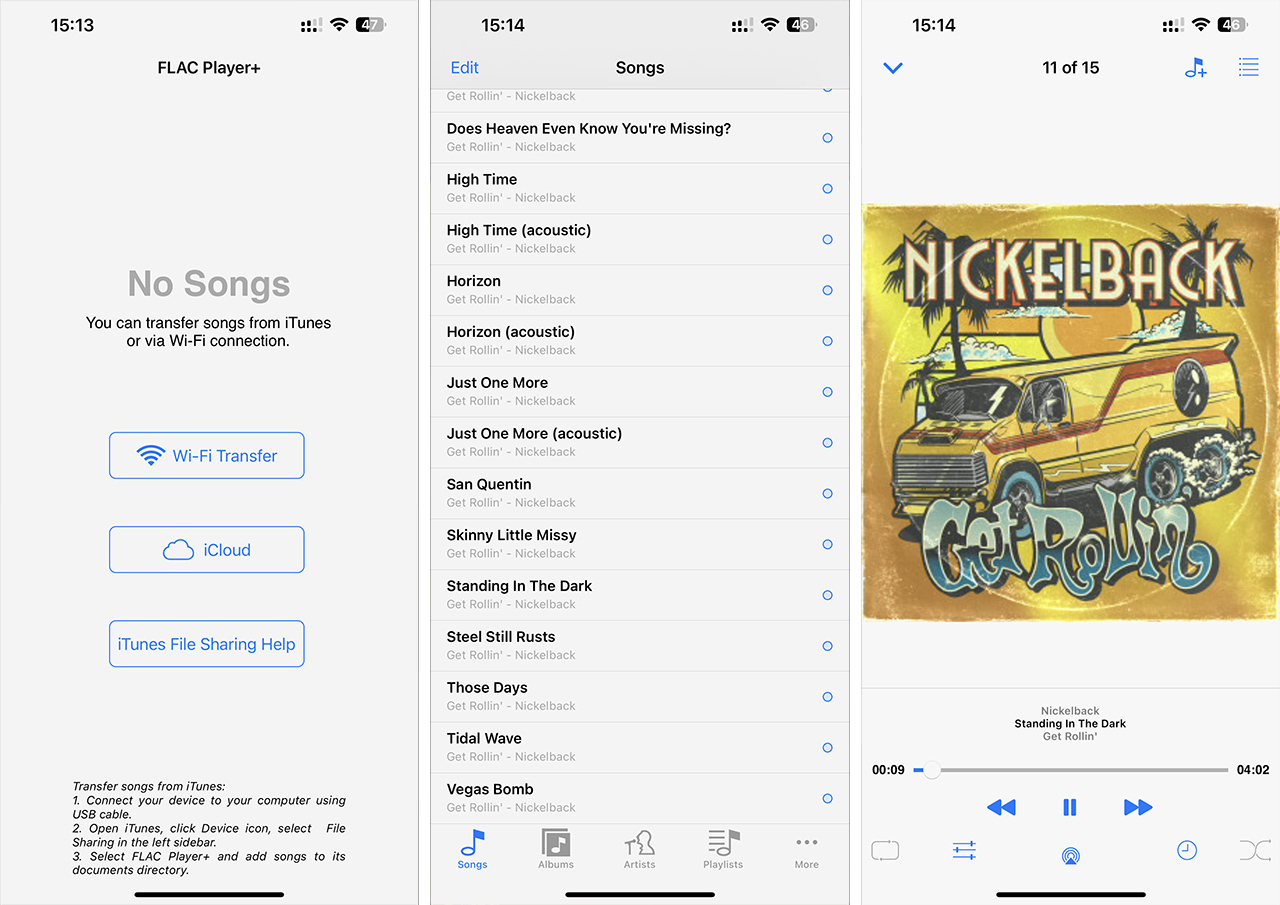 This free player supports AAC and mp3, but the main thing is that it easily digests music in uncompressed Flac formats. Of the features – it is possible to put a "bookmark" in the track to turn on the load from a dangerous place.
In addition, the application has a full-fledged equalizer and easy navigation through the media library.
FLAC Player+ has a stronger influence on everyone who is similar to Apple Music. See the path to the audio files on the images or start the synchronization of songs from the clouds, that's all. In the regular version of the player, there are no restrictions, only ads are found. But it can be experienced for the sake of music in studio quality.
🔘 Download FLAC Player+ for free
This turned out to be the top 5 audio players that will soon (if not already) settle in your iPhones. For myself, after several weeks of testing and comparison, I prefer the Flacbox player, although you can use any other. Try, test, and most importantly – respect good music in spite of all restrictions.
Art should carry the world, and nothing else.

Source: Iphones RU