The MacBook Air with the M1 processor got quite a stir when it came out in 2020.
But two years have passed since then, and this year the MacBook Air with M1 turns three years old. For any laptop, this is already a respectable age, so the logical question arises, is it worth buying a MacBook Air with M1 in 2023 at all, or should we look at other preferences.
Personally, I answered this question for myself a long time ago (yes, you can and should buy), now I will try to convince you of this.
1. Design is still on point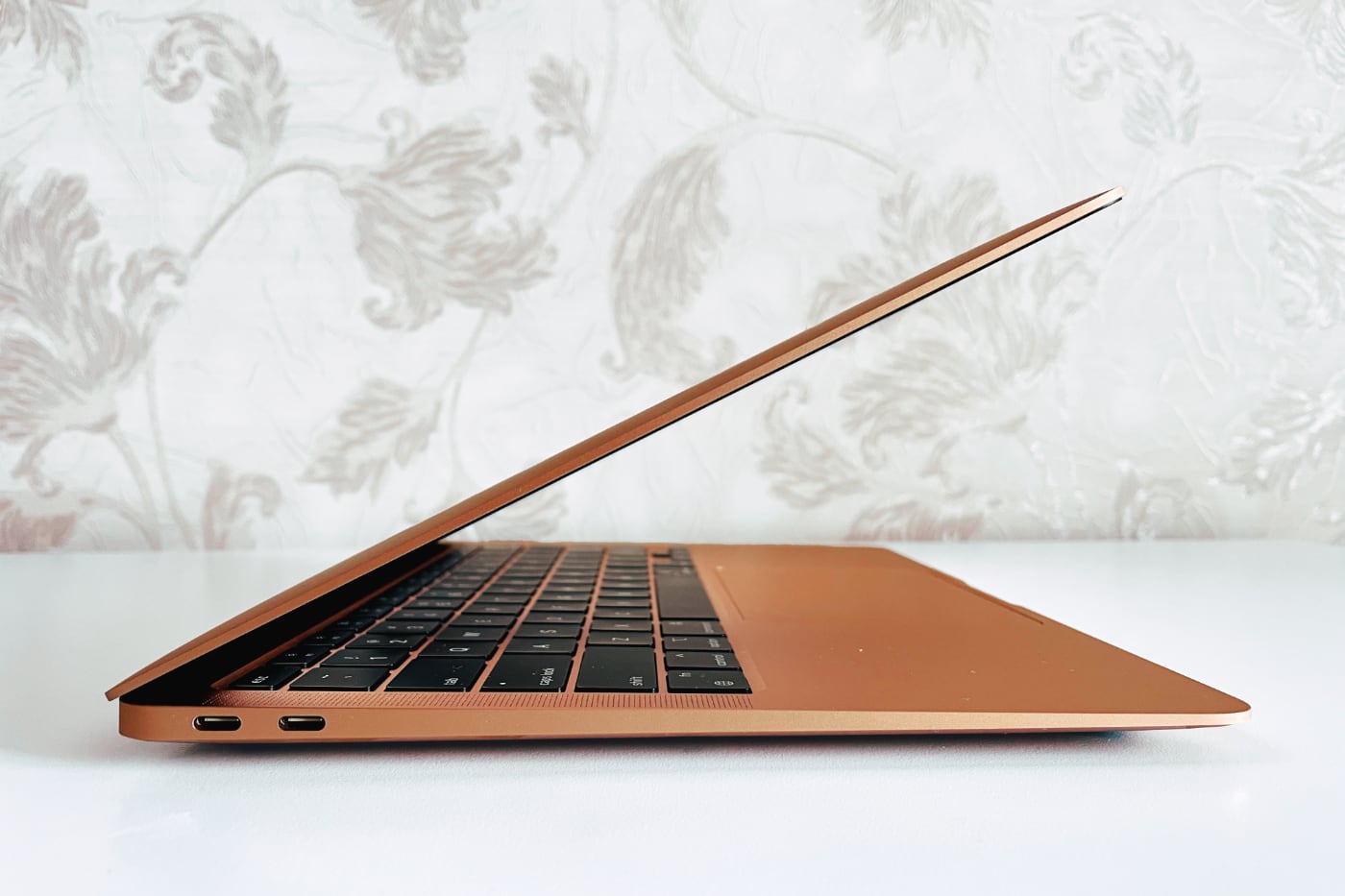 Apple will make it so that one design is relevant for several years, and the MacBook Air only implements this. The design of the laptop hasn't changed in any way since 2018, but that doesn't make it bad.
The wedge-shaped case design has been a hallmark of the MacBook Air for 14 years. This is a simple but very effective design that is familiar to anyone who is not even very interested in technology.
In 2023, it is safe to say that design is still relevant. Only other Macs and a few Windows laptops can compete with the look of the MacBook Air.
As for the quality and assembly of materials, they are on top. Despite the thin design, the keyboard does not flex and the hinge holds the screen very firmly in any position.
The only thing that gives away the age of the MacBook Air is the bezel around the screen. For 2023, they are very wide, but not so much that it causes discomfort. Besides, this "flaw" exists only in words. In the process of using the frame does not attract attention.
2. The screen is good, but …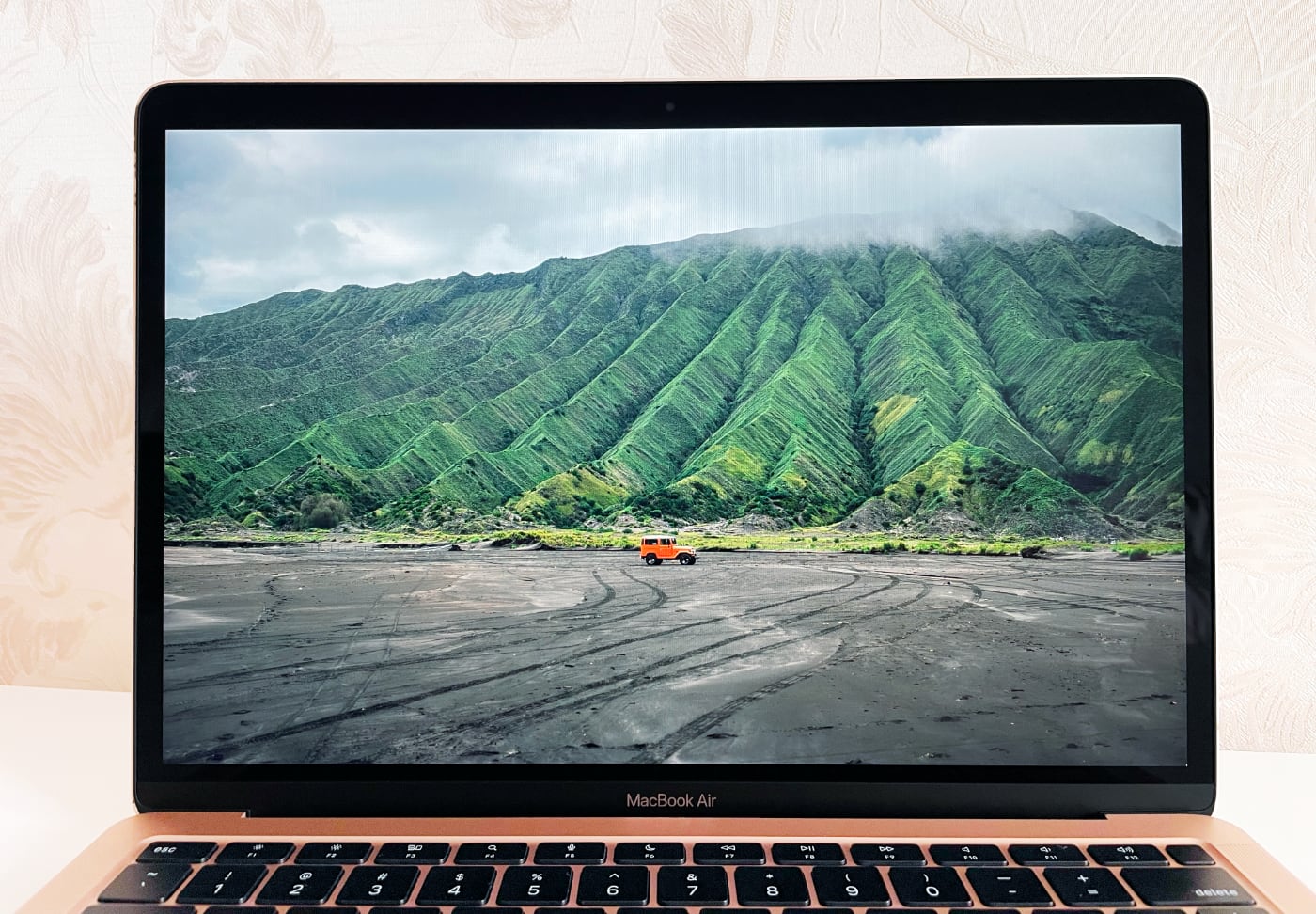 Brightness may not capture someone. I switched to MacBook Air after MacBook Pro. The screen brightness was 500 nits on the firmware and 400 on the Air, and this difference is very noticeable at first, especially if you are used to using a laptop at altitude.
Sometimes, when working at a computer, you want to increase the brightness, but after it is on the appropriate details, it is obvious that this is already the maximum. However, after a few days, the eyes adapt and everything becomes normal.
Otherwise, there are no complaints about the screen. Color quality, as well as resolution, does not raise questions. For normal use, such a display is more than enough. Even if you need a good screen at work, the MacBook Air will not disappoint you.
How long will the display last? It is difficult, but I am sure that 5 years for sure. It has good characteristics, which are not found in all modern laptops.
3. The performance margin is enough for several years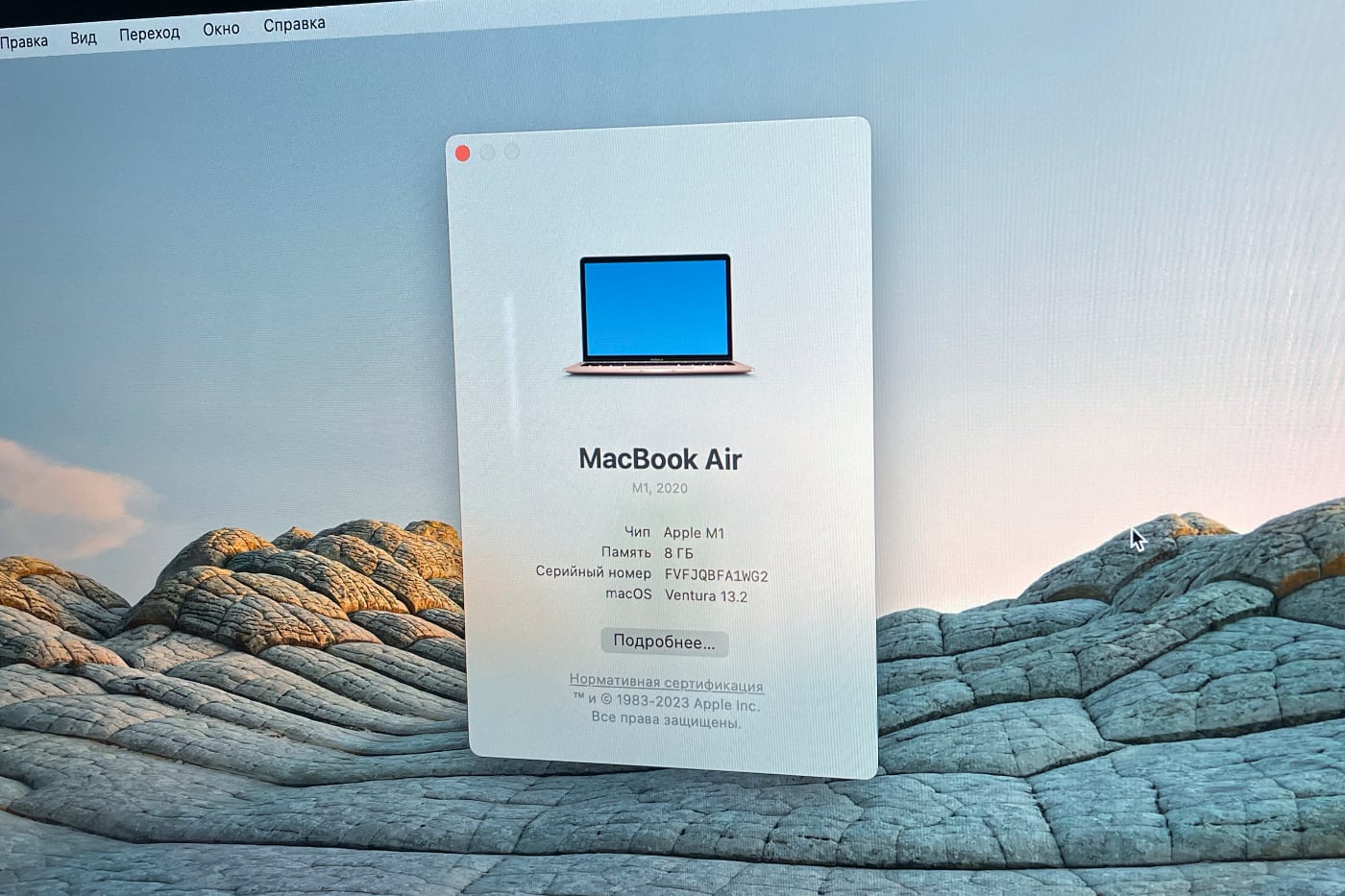 The MacBook Air with the M1 processor appeared in 2020, and Intel and AMD only discovered the discovered chips in 2022.
Apple has made a toy leap with the M1. More than two years after the introduction of the laptop, it still works great. Honestly, I still haven't been able to get my MacBook Air to slow down.. At the same time, I have a basic configuration with 7-core graphics, 8 GB of RAM and a 256 GB SSD.
I can confidently open 30 tabs in Google Chrome, the same number in Safari, the Final Cut Pro app, open the next couple of photos in Pixelmator Pro, as well as Telegram, Spotify, iA Writer, Transmission and several popular applications, and the laptop fixes the work without lags. No brakes at all! On hold with my old 2017 MacBook Pro, the difference is cosmic.
Let me remind you that macbook air no fanswhile heating the sun. The lack of coolers for me was one of the main arguments in concluding the Air. A very unusual feeling when the laptop does not buzz and you don't have to worry about overheating.
To be honest, there is nothing more to add pro-production, because it will be enough for most everyday tasks.
4. One charge is enough for 8 hours of work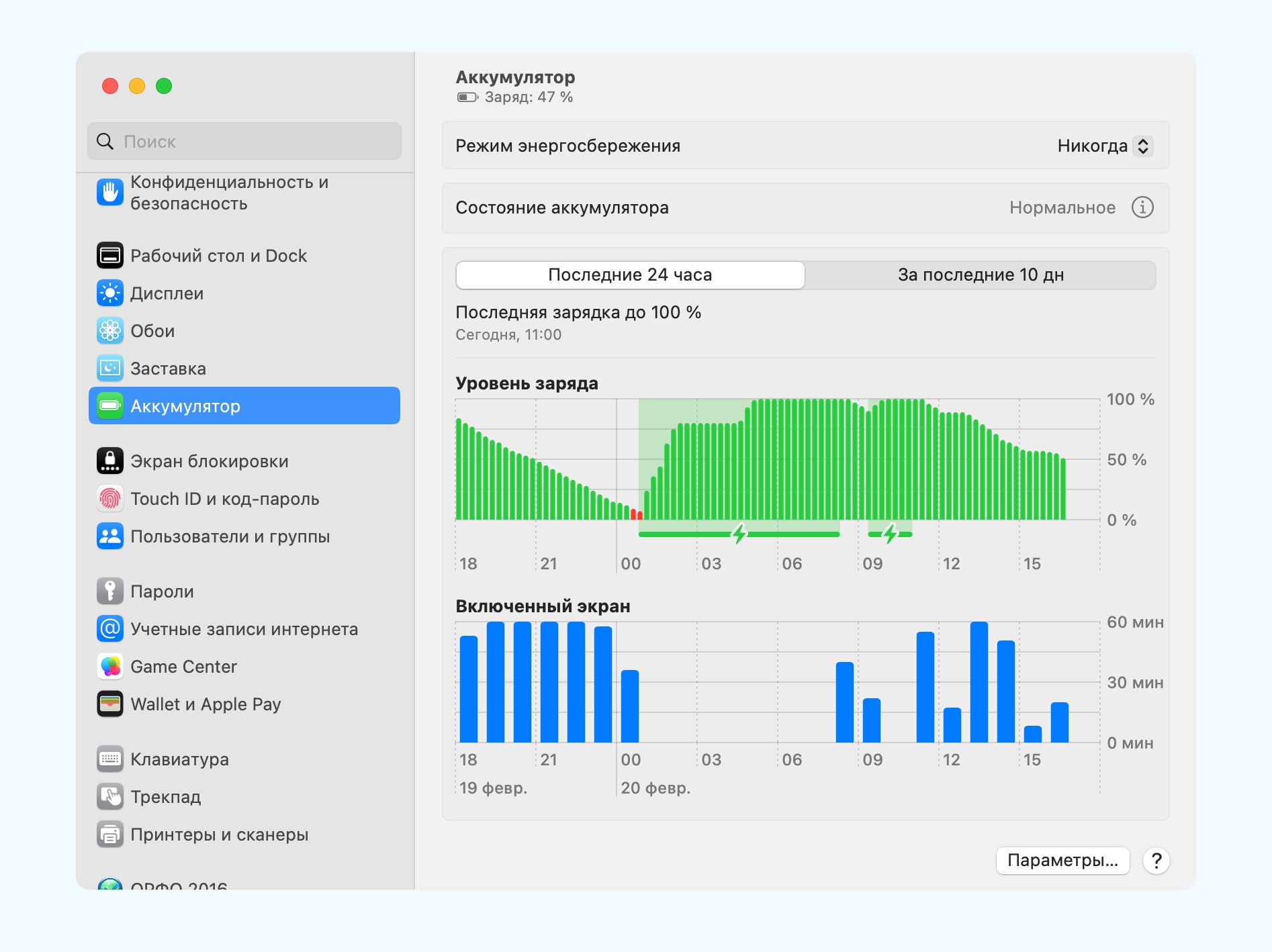 What's particularly good about the MacBook Air, aside from performance, is battery life. I have long been accustomed to the fact that a large laptop cannot work, but Apple simply broke this rule.
In my work protocol (I listed the software above) MacBook Air lasts 7-8 hours and it happens with developments. If you reduce the brightness by 30% as much as possible, then you can add a minimum hour of work.
The most interesting thing is that nothing else needs to be done for such results. You just work as usual, the laptop can last all day on one charge. Yes, after 8 hours of work, most likely, the charge will be less than 10%, but the laptop will not suddenly sit down.
5. Keyboard, sound and microphones are also on the level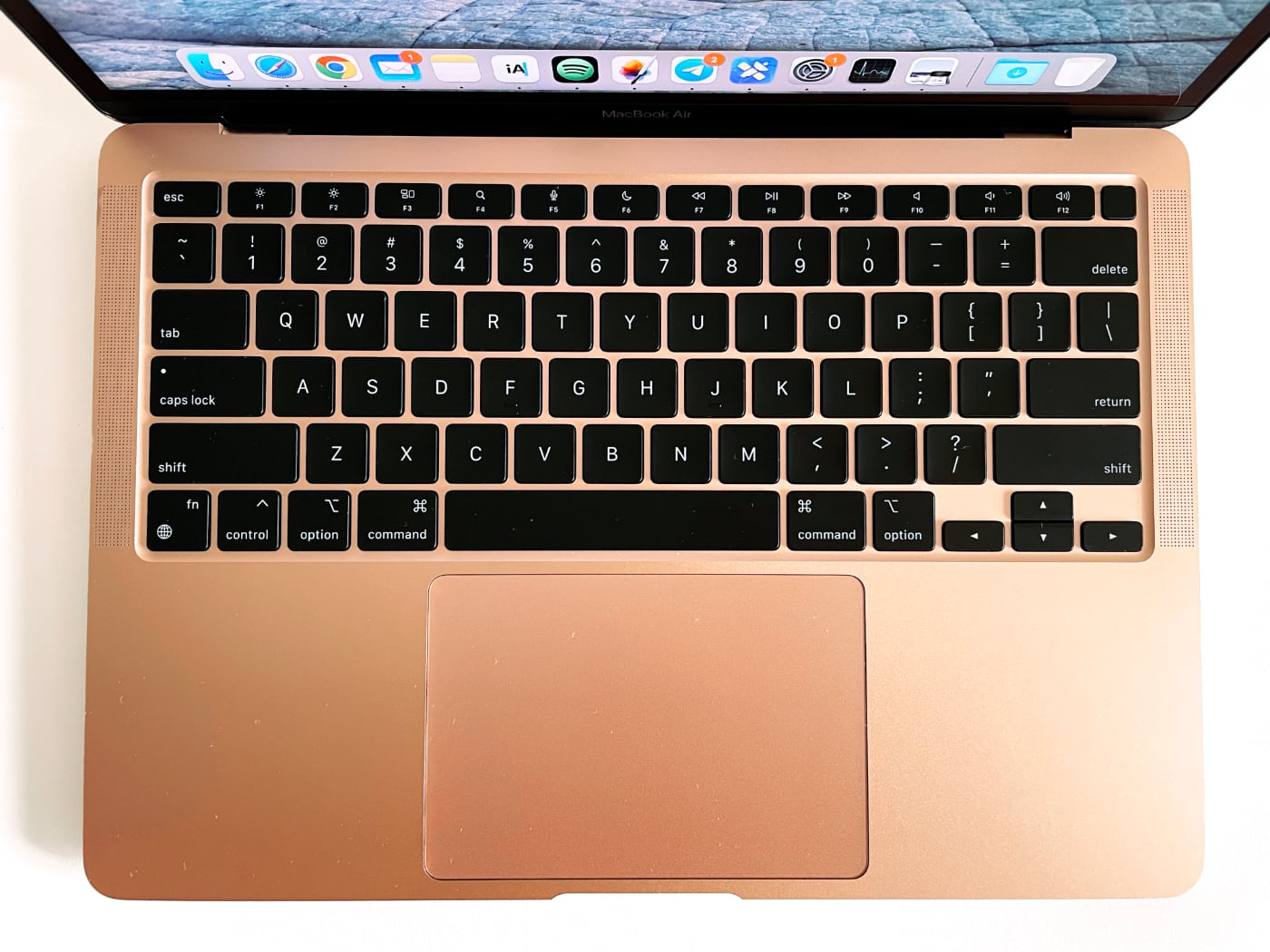 The MacBook Air has a durable keyboard with a classic scissor mechanism, so you don't have to worry about its reliability.
The MacBook uses a butterfly mechanism. I really liked the short key travel, but the reliability of the design created much to be desired. The buttons could stick, and this could only be fixed by replacing the remote control. With "scissors" there is no such problem.
If you switch to a MacBook Air with an older MacBook Air or Pro with a butterfly keyboard, you will immediately notice a difference in key play, but you will adapt to the new keyboard in a couple of days.
It's also worth noting that the MacBook Air c M1 doesn't have dedicated backlight adjustment points, but on macOS you can just bypass that.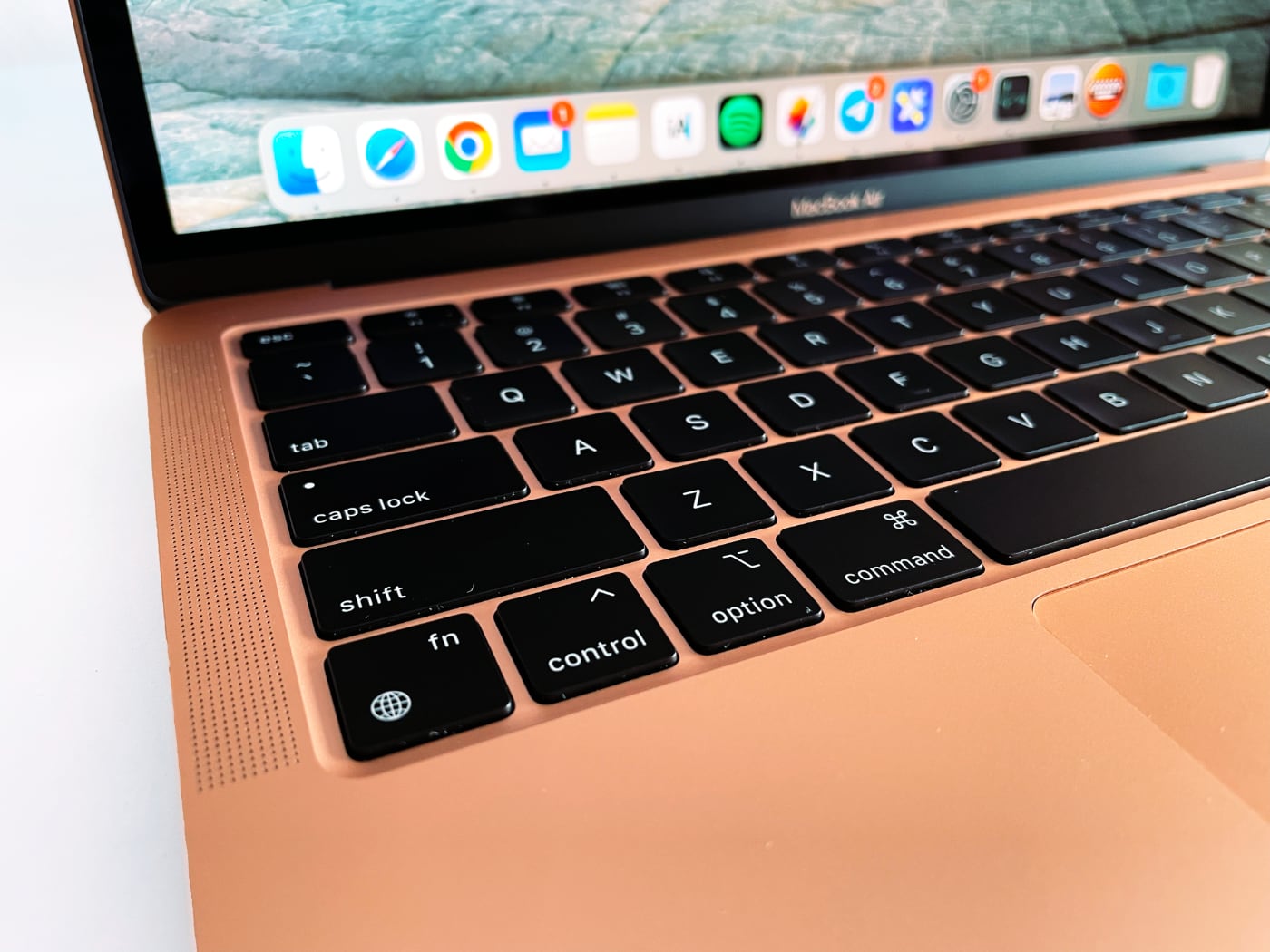 I can also advise you to buy a MacBook with a calculated layout, so that it is clear, and the left Shift is waiting. This arrangement of dots is better than the vertical Enter and short Shift in the European and Russian layout, although the taste and color.
If you are suggesting switching to a MacBook Air with a Windows laptop, then everything that has been said above, with the exception of the layouts, is irrelevant to you. MacBook Air has a comfortable and reliable keyboard, and that's all you need to know about it.
The same can be said about the sound and microphones. Apple has always paid great attention to the audio preparation of their devices. The MacBook Air with the M1 has very good sound, even better than my old MacBook Pro because the Air has more bass.
I compared the sound of the MacBook Air with the M1 and M2. Surprisingly, Air with M1 sounds much better. It has a much larger and louder sound than the M2 version.
MacBook Air with M1 will be relevant for a few more years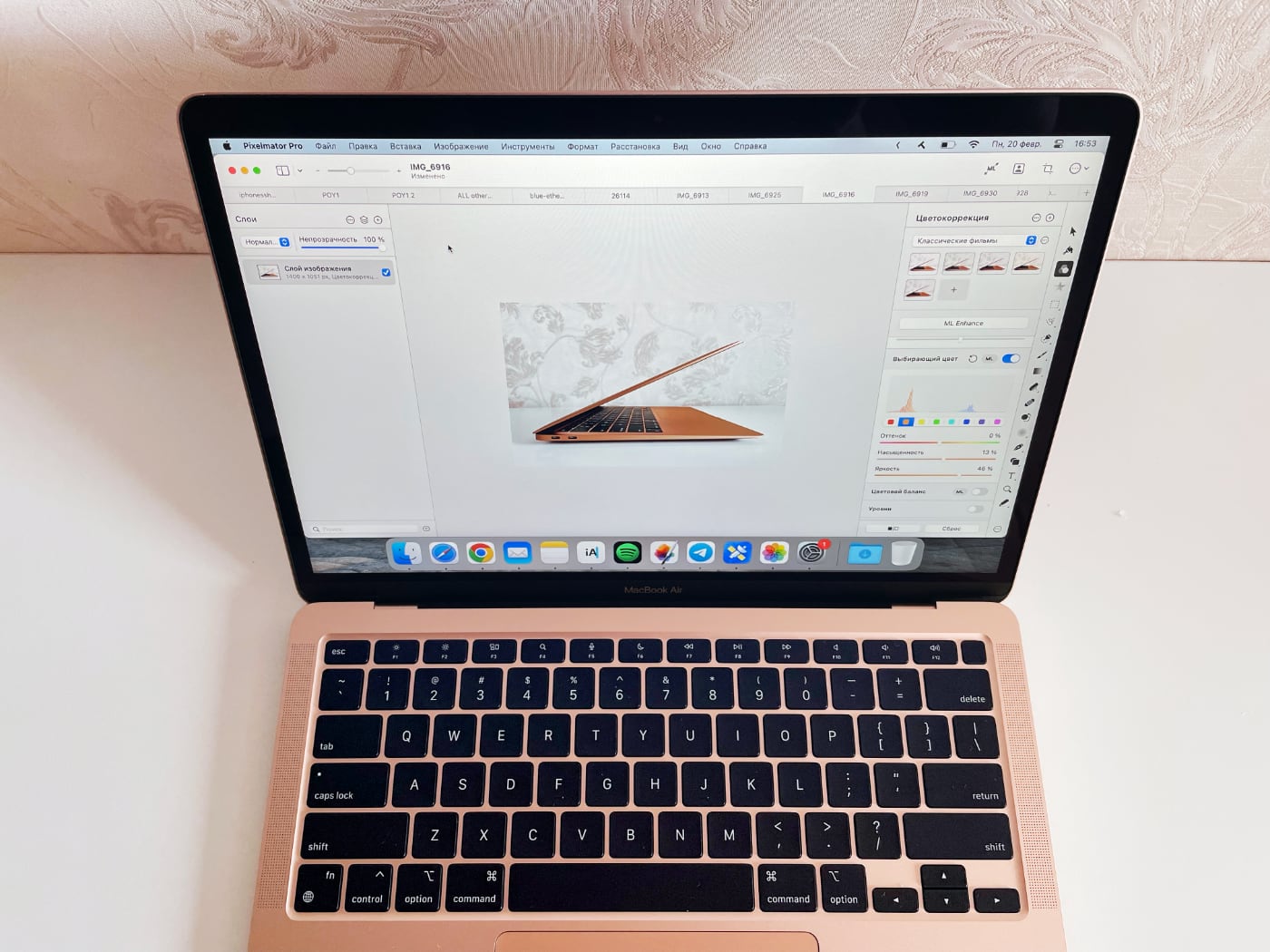 A 2020 MacBook Air with an M1 processor is safe to buy in 2023. The main issue that may, but should not interest users is performance. Everything is in order with her, even in the layout. There is nothing more to add.
Seriously, anything you use your laptop for, the MacBook Air will do faster. But you should immediately understand that this is not a universal machine for everyone. If you do a lot of photo and video projects, music recording, creation or 3D modeling, then you better take a closer look at the MacBook Pro. However, you already know this.
In terms of options, the MacBook Air is the laptop Apple has come to expect, with a beautiful design, good selection, and a comfortable keyboard.
And the last equally important advantage of the MacBook Air is the price. There simply isn't a laptop today that will offer an alternative price alternative.

Source: Iphones RU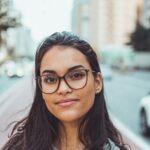 I am a professional journalist and content creator with extensive experience writing for news websites. I currently work as an author at Gadget Onus, where I specialize in covering hot news topics. My written pieces have been published on some of the biggest media outlets around the world, including The Guardian and BBC News.