Earlier this week, Apple announced the release of the long-awaited next version of its mobile operating system. Certainly, during the presentation, all the new features of iOS 17 were shown soon, and soon after the official site was updated to include many other unmentioned features.
However, while the list of devices compatible with iOS 17 is quite extensive, it has some features that will not reach all terminals. The reason is processing power, namely that many of them need features that are only available for a certain generation.
Today we have come to bring you list of all iOS 17 features available for each iPhone model. Just find yours and see what Apple has in store for you.
iOS 17 features are exclusive to iPhone 14 Pro.
Standby mode. This feature will be available on the iPhone 14 Pro with the iOS 17 update. To activate standby mode, you must place your mobile phone horizontally and connect it to a MagSafe or Lightning charger. After that, the calendar and clock will be displayed on the always-on display, available only on this model.
Features available with iPhone 12 and later
3D Reactions in FaceTime. iOS 17 has a rather interesting new feature integrated. iPhone will recognize your gestures and allow you to send appropriate reactions to each one. So you can send anything from hearts to fireworks to confetti. Of course, you will need an iPhone 12 or higher.
improved autocorrect. Another new feature coming with iOS 17 is a major improvement to AutoCorrect. Apple wants to make it more personalized and accurate, and will use machine learning to do so. You will also need an iPhone 12 or later to do this.
keyboard hints. iOS 17 will be able to predict words in your sentences and automatically complete them by pressing the space bar. In addition to requiring an iPhone 12 and up, it's limited to English, at least as of this writing.
Point and speak. This function reads the inscriptions on the surrounding objects for blind or visually impaired users. They just need to point the iPhone and the LiDAR reader will do the trick. This feature is limited to the Pro models of each family, which are the only models equipped with a scanner.
iOS 17 features available for all supported iPhone models
FaceTime on Apple TV. As we've already told you, tvOS 17 comes with the ability to make FaceTime calls from your TV. You can run them on your iPhone and cast them to your TV. Of course, you'll need an Apple TV 4K 2nd generation or later.
NameDrop. This iOS 17 feature allows you to share phone numbers by simply pairing the phones. It will be available on all iPhone models compatible with the new version.
AirPods adaptive sound. During WWDC 2023, Apple announced the new products of its stellar headphones, which we have already told you about. This feature will be available on all iPhone models, although it will only make it to the second-generation AirPods Pro.
siri command. Starting with iOS 17, Apple is integrating a feature that makes it easy to wake up its ecosystem's virtual assistant by simply saying "Siri". Although it is only available in English at the time of writing, it is compatible with all iPhone models.
blocking history. iOS 17 features include history of locks, doors, alarms, and sensors for the last 30 days in the Home app. It works with any iPhone model that is compatible with the new version of the operating system.
Source: Hiper Textual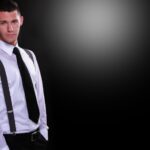 I'm Ben Stock, a highly experienced and passionate journalist with a career in the news industry spanning more than 10 years. I specialize in writing content for websites, including researching and interviewing sources to produce engaging articles. My current role is as an author at Gadget Onus, where I mainly cover the mobile section.