Nobody likes to be negatively surprised, right? While doing trips, hikes and other daily activities, we are exposed to some external dangers such as robbery, theft or even accident. Usually we can solve these possibilities easily, but some situations can be more complex.
If you're an Apple user and want to avoid surprises and have more peace of mind, it's worth knowing about iPlaceCare and contracting with AppleCare Services when purchasing your iPhone, a protection and support service that can provide numerous benefits for consumers.
However, you can rest assured of your device, considering that you have a 12-month coverage against theft and aggravated theft, i.e. 24 months against accidental breakage, including the manufacturer's warranty if the device is broken. Preventing the crime from happening.
Would you like to know more about this? Check out all the details below!
iPlaceCare: understand how it works and key benefits
When you subscribe to iPlaceCare, you can get unlimited Apple support from anywhere in the world, whether by phone, online chat, Apple Authorized Service Centers or Apple Stores.
In case of accidental breakage of your device, it is checked and repaired by expert and certified technicians using original parts within 24 months. For example, the screen can be changed up to four times, twice a year. For this to happen, simply send your device to one of the worldwide iPlace stores with Apple-authorized Technical Assistance.
In case of theft or theft within 12 months, simply submit the police report in one of the service channels to get a new iPhone or get 80% back of the amount paid for the device.
There is also an extended warranty for another 12 months after the factory warranty expires. Besides these issues, there are other benefits that deserve mention.
For example, with iPlaceCare it is possible to make replacements and repairs. Replacing the battery (with less than 80% of maximum capacity) is free, while replacing the entire unit or just replacing the screen has a much cheaper additional cost.
Check out the complete diagram with the benefits of iPlaceCare.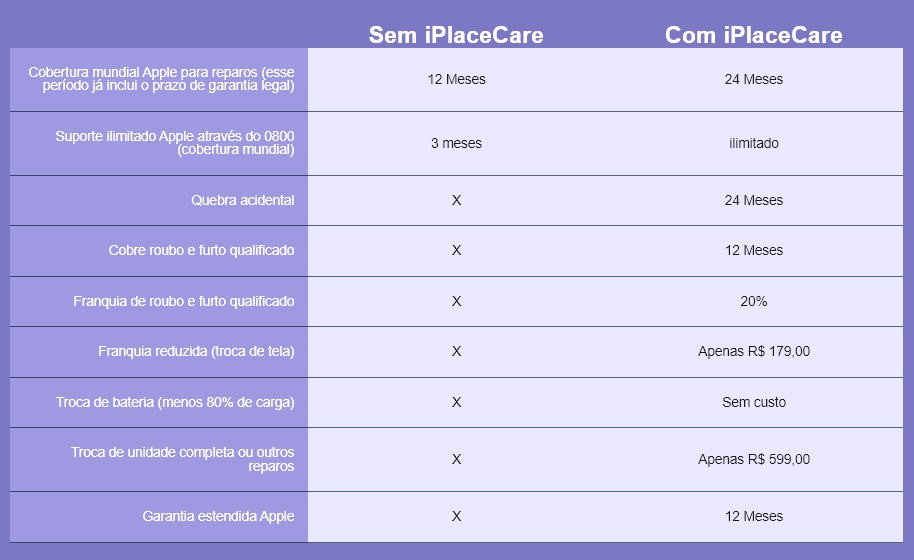 It is worth noting that the service does not cover simple loss and theft. For this reason, it is necessary to pay attention to the general rules in order to fully meet the offered tools and to feel truly safe with iPlaceCare.
Currently, there are already very advantageous options for contracting iPlaceCare on new iPhone models. So be sure to check availability to have more security and priority in resolving potential everyday issues.
Did you like the content? So be sure to learn more iPlaceCare Right now with AppleCare Services!
Source: Tec Mundo