After many attempts, Razer Edge finally has an official release date. The new portable console will launch in the United States on January 26, in collaboration with Verizon. This console will be sold in 5G and Wi-Fi versions, so it's up to you to decide if you want a console for playing with cellular connectivity or if Wi-Fi is more than enough.
This Razer Edge Wi-Fi It will sell for $400. for now, Razer Edge 5G It will be exclusive to Verizon. This unit will sell for $600, but users will be able to get it for $360 through a contract where you pay $10 per month for 36 months. You can also buy a 5G smartphone with the console, and that brings the price of the Edge down to $180. We'll see how it's marketed in Europe.
Razer Edge console specifications and features
Razer Edge is offered as an alternative to Nintendo Switch and Steam Bundle. Of course, it has some limitations. For example, a new console Qualcomm Snapdragon G3x 1st Gen which is it based on Snapdragon 888. As a mobile device, you won't have the same games natively as Steam Deck. The alternative is to use one of the many streaming services available for the handheld.
Razer Edge has active cooling that provides high performance during long gaming sessions. CPU, up to 8GB LPDDR5-RAM and 128GB storage UFS 3.1, expandable up to 2TB with microSD card. Console comes with a controller Kishi V2 Pro and can be disassembled. One of the biggest advantages is the gorgeous screen AMOLED 6.8 inches with a resolution of 2,400 x 1,080 pixels. It has a 20:9 aspect ratio and offers a 144Hz refresh rate. Both the Nintendo Switch and Steam Deck have much larger 7-inch screens. One of the key oledon the Steam Deck LCD standard. However, both consoles only have 720p resolution and run at 60 Hz.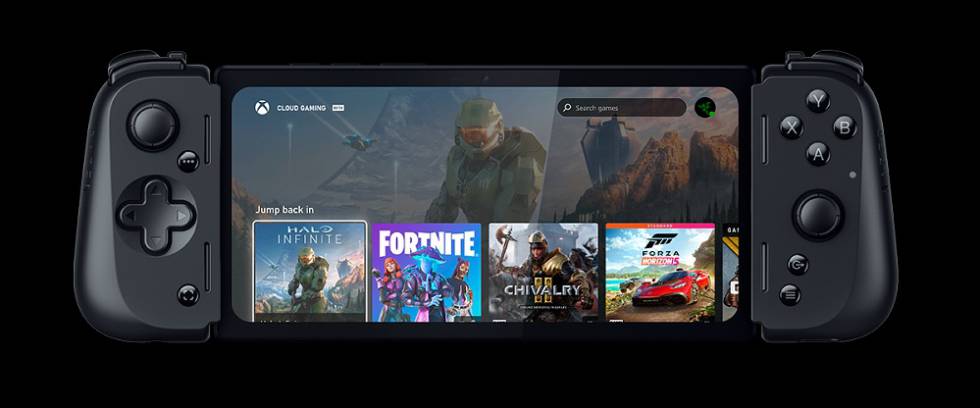 Obviously, you won't be able to play AAA games natively as you can on the Steam Deck. Despite this, you can still enjoy streaming services such as: Xbox Cloud Gaming by Microsoft anyone NVIDIA GeForce Now to enjoy many console games. Also, speaking of playing games on Android, you can run anything on Android. Google Play store No problem. The Razer Edge is also an excellent device for emulation. There are dozens of classic console emulators for Android, even Nintendo Switch emulators.
Other details about the portable console to consider
In terms of connectivity, Razer Edge is also a great option. It comes with the fastest Wi-Fi 6E standard, and 5G supports both sub-6Ghz and mmwave. The console has almost no lag in all scenarios to reduce latency to zero. Also, it comes with Bluetooth 5.2 and a 3.5mm audio jack that lets you use wired or wireless headphones. The console also features natural sound thanks to 2-way speakers. THX Spatial Audio. It has 2 microphones for voice chat and 5 MP front camera for video calling.
Razer Edge is powered by a 5,000mAh battery. This would be great for a smartphone, but we don't think it's too much for a portable console. Razer could have been more generous in terms of capacity, offering 6,000mAh, 7,000mAh or more. However, it is a device to be used only for demanding tasks that make the most of it. The device weighs 264g without controller and 540g with controller.
Source: Cincodias Elpais