Smart watches are among the most popular technological accessories in recent years. Popular with consumers who want to monitor their health, stay connected and simplify their daily work, these products also stand out for their elegant looks and more intuitive in every generation.
Among the most popular brands are Apple and Samsung. Both feature top-of-the-line models that offer features like physical activity tracking, message and call notifications, music control, voice assistant, and app support.
But in what ways are they different? TecMundo presents the main features of each company's latest models below: Apple Watch Series 8 and Galaxy Watch 5 Pro. To look:
Design and Size
Design and size are two key aspects when choosing a smartwatch. And both models had little change compared to the previous generation. However, it was the Apple Watch Series 8 that preserved the main features the most.
It has an aluminum or stainless steel case and has a stylish design that is standard in the devices of the brand. Available in different versions ranging from 41mm x 35mm to 45mm x 38mm and weighing from 32g to 51.5g.
Galaxy Watch 5 Pro offers a more classic and robust design. Unlike Apple, Samsung chose to launch its flagship version in one size. Its traditional round case measures 45.5 x 45.5 mm and weighs 46 g.
Both models have interchangeable wristbands that allow the user to customize the device to their liking.
Screen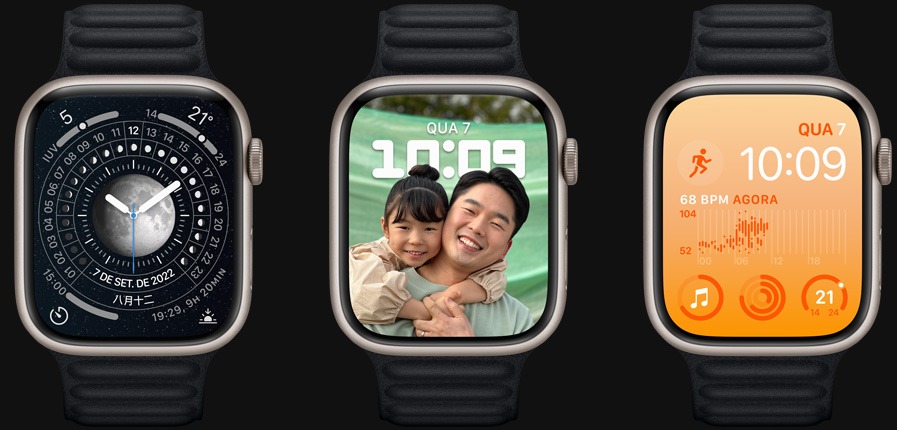 Despite the differences in size, Apple Watch Series 8 has an excellent quality Retina display in all editions. Both image quality, brightness and contrast provide comfortable use in different usage conditions. The screen is 1.57 inches and is protected by a layer of sapphire crystal that makes it more resistant to scratches and drops.
Galaxy Watch 5 Pro, on the other hand, has a 1.4 inch Super AMOLED display (450 x 450 pixels) that offers excellent image quality and brightness. Drop and scratch protection is provided by Gorilla Glass DX technology, which makes it scratch and drop resistant.
Both models have an always-on display; this means users can quickly check information without raising their wrists or touching the screen.
Battery
The battery is one of the main villains of smartwatches. Different configurations and usage modes may require them to be charged more often than expected. To avoid this, Samsung has invested in a larger battery for its new model. With a capacity of 590 mAh, the company claims that it has a usage autonomy of up to 80 hours.
Apple Watch Series 8 has up to 18 hours of battery life depending on usage. For those who want to keep them away from the charger for a longer time, it is possible to activate the Low Energy mode. However, it is possible to extend the charge up to 36 hours.
In both cases, battery life may vary depending on how the device is used. Users who use the smartwatch for intense activities such as exercise tracking and voice calls will experience more intense battery consumption.
To compensate for this, both models offer power saving features such as battery saving modes and automatic screen off when your wrist is down. In addition, both devices have a fast charging feature, which allows the battery to be charged in a few hours.
Health and Fitness Resources
Monitoring physical activities and health on a daily basis are among the most important features of smart watches. In addition to having a more accurate measurement, it is possible to monitor and improve your well-being. Galaxy Watch 5 Pro offers various features for this, such as heart rate monitoring, ECG, pulse oximetry, sleep monitoring and physical activity tracking.
Apple Watch Series 8 has the same features, but the most important feature is Respiration Rate, which measures the respiratory rate during sleep. It also has a fall sensor that sends a message to emergency contacts if the user falls.
Highlights of the Galaxy Watch 5 Pro are features such as Body Composition Measurement, which measures body mass index (BMI), body fat percentage, and muscle mass, and Blood Pressure Monitor, which measures blood pressure.
In addition, both devices have fitness training features to track physical activity, such as Apple Fitness+ for Apple Watch Series 8, which offers virtual classes of different types of physical activity, and Samsung Health for Galaxy Watch 5 Pro, which offers personalized training. plans and virtual classes of different types of physical activity.
Which one to choose?
Both the Apple Watch Series 8 and Galaxy Watch 5 Pro are feature-rich high-end smartwatches. The choice between models can take into account certain characteristics or preference of a brand. If you are an iOS user, the Apple model may be the best choice. Just as Android users can extract more features from the Galaxy Watch 5 Pro, but both models can be integrated with competing devices.
For those who prefer smaller models for aesthetic reasons or because their wrists are smaller, you'll find a wider range of sizes in the Apple Watch Series 8. Its main downside is that it lacks battery life even in Low Energy mode. Lower autonomy compared to Galaxy Watch 5 Pro.
Both are quite complete for monitoring physical activities, are waterproof and can be used to track the progress of dozens of sports. The Apple Watch Series 8 has an edge in the trackable range of workouts, while the Galaxy Watch 5 Pro has a slightly more solid frame.
buy your favorite
Smart watch Apple Watch Series 8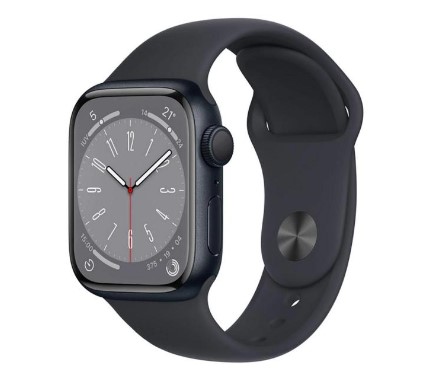 It has 32GB internal memory, GPS connectivity, NFC, Bluetooth and various functions to monitor your health.
Smart watch Samsung Galaxy Watch5 Pro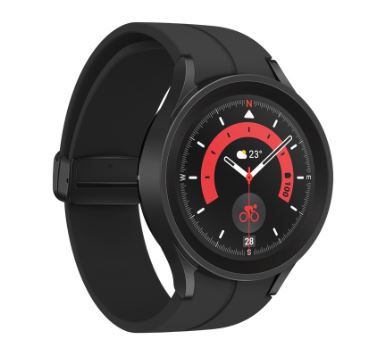 Complete and sophisticated smartwatch from Samsung, ideal for tracking physical activities and bringing more practicality in some integration functions with mobile phone.
Source: Tec Mundo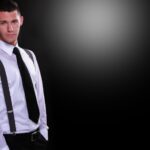 I'm Ben Stock, a highly experienced and passionate journalist with a career in the news industry spanning more than 10 years. I specialize in writing content for websites, including researching and interviewing sources to produce engaging articles. My current role is as an author at Gadget Onus, where I mainly cover the mobile section.