Apple sent a curious novelty: Final Cut Pro and Logic Pro Coming to iPad. Video and music creation tools will be available on Apple tablets starting this month. Those from Cupertino aim to provide a set of powerful tools with an updated interface to take advantage of the device's touch screen.
Interestingly, both Final Cut Pro and Logic Pro will be available on the iPad. like a subscription. This means that users will have to pay a monthly or yearly fee to access each application.
"We're excited to bring Final Cut Pro and Logic Pro for iPad to empower creators to unleash their creativity in new ways and in more places," said Bob Borchers, Apple's vice president of marketing.
It's important to note that Final Cut Pro will only work with iPads that use the M1 and M2 chips. While Logic Pro will have a slightly wider scope, as it will also be available on models with the A12 Bionic processor. In terms of software, both applications will require iPadOS 16.4regardless of device type.
Capturing and editing video from iPad with Final Cut Pro
Apple's goal is for video creators to be able to complete entire projects directly from the iPad thanks to Final Cut Pro. The Cupertino staff explained that users will be able to shoot video – in both portrait and landscape mode – right from the app. edit them on the fly. If you have an iPad Pro with an M2 chip, you can even record in ProRes format.
The app also supports multi-camera editing, as well as using quick features to change the aspect ratio of an image, remove background noise from an audio track, or remove a scene's background by highlighting an object, among other things. It also allows you to create and apply graphics, titles, sounds, and various types of effects. And with Live Drawing, you can use your Apple Pencil to write or draw directly on the video being edited.
Other accessories that can also take advantage of Final Cut Pro on the iPad are the Magic Keyboard and Smart Keyboard Folio. In both cases, they allow for easier editing through keyboard shortcuts.
This article is under development…
Source: Hiper Textual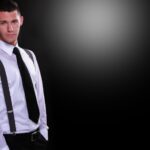 I'm Ben Stock, a highly experienced and passionate journalist with a career in the news industry spanning more than 10 years. I specialize in writing content for websites, including researching and interviewing sources to produce engaging articles. My current role is as an author at Gadget Onus, where I mainly cover the mobile section.