Just six months after American astrophotographer Andrew McCarthy posted one of the most detailed images of the Moon ever taken worldwide, he is back on social media with an even more compelling recording of our natural satellite. Posted on Reddit on Sunday (5), image 183 megapixels, against the 174 MP of the previous post.
He also shared the photo on his Twitter account, "I took an obscene high-resolution photo of the moon on Wednesday. [dia 1º]. Zoom in and check the details!" The social network explained that due to posting restrictions imposed by Twitter, it is only possible to upload 25% of the original image size.
On Wednesday I took an obscene high-resolution photo of the moon. Zoom in and check the details!

(Only 25% of original image size uploaded due to Twitter image size limits) pic.twitter.com/pMrwWS1aeQ

—Andrew McCarthy (@AJamesMcCarthy) March 5, 2023
Featured with detailed images of the Sun, an image of Mars appearing behind the Moon, and an impressive recording of The Pillars of Creation galaxy with a telescope costing just $500, McCarthy became famous and made his work famous. documentary: Moon Gravitypublished last month.
How was the new photo of the moon taken?
According to Andrew McCarthy, the new photo is the result of overlaying 180,000 16-bit images and over 600 GB of data. According to him, the capture took place via an 11-inch telescope on an equatorial mountain, one of which is parallel to the Earth's axis (the Polar Axis), and the second is a two-axis system that allows movement from 0º on the Earth's axis. Equator.
The entire operation took 45 minutes, but McCarthy was not happy with the result: "I am not very happy with the result due to the changed viewing conditions. The atmosphere was stable in the first half of the photo, but conditions deteriorated during the capture process."
Fortunately, he decided to post it anyway, realizing that "it was wrong not to share images just because of my strict personal standards".

Source: Tec Mundo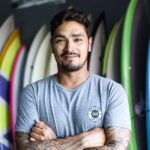 I'm Blaine Morgan, an experienced journalist and writer with over 8 years of experience in the tech industry. My expertise lies in writing about technology news and trends, covering everything from cutting-edge gadgets to emerging software developments. I've written for several leading publications including Gadget Onus where I am an author.