By all indications, smart home appliances are truly enduring. Few companies that are increasingly considering having a home that is comfortable and at the same time integrated with numerous appliances are investing in research and technological development, especially when it comes to connectivity, this is an already existing trend around the world. The routine of thousands of people.
According to data analyzed by Fortune Business Insights, investment in connected homes with smart technologies could reach US$622.59 billion in approximately 4 years. The future has never been closer to us, has it? This means that by 2026, technology will be even more present in every room of a home, being responsible for turning on lights, closing doors and doing various household chores.
And all this was developed just with the thought of giving users more practicality and agility in their daily life. Currently, working outside the home consumes people's time, so having technological resources at home can be crucial. And that link even got to the laundromat.
Curious? So stay tuned because below you will be able to learn more details about Lava e Seca Smart LG. Enjoy!
Connectivity in the laundry room: Get to know the Lava e Seca Smart LG
Imagine being able to wash your laundry with high performance, efficiency, agility, comfort, lavender scent and why not technology! Lava e Seca Smart LG consists of a device with Artificial Intelligence that can be very useful in various contexts. As if there really was someone helping you with this housework.
Generally speaking, the machine has some interesting features and one of its purposes is to promote benefits, including economic ones, for users who invest in it.
Lava and Dry Smart LG are extremely agile in processes that disinfect clothes in all layers and details, as well as energy-saving tools, water and washing products.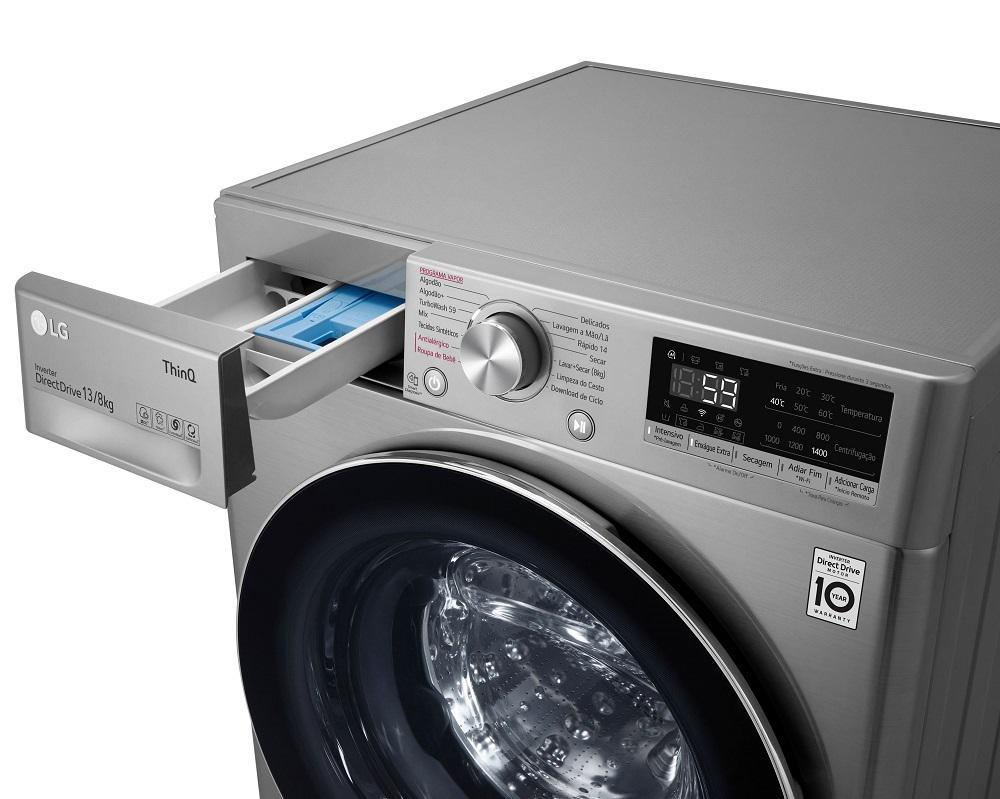 For users who have more autonomy when washing their clothes, all this happens very easily. Since the machine is connected to the LG ThinQ app, you can remotely monitor the entire process from start to finish without worrying about interrupting your activities to control the device.
Another great advantage of the application is that it manages the device, which includes download cycles and general monitoring, for example providing energy consumption reports. Extra functions are also available which are very useful in the operation of Lava and Seca. So keep notifications on to receive all alerts and activate commands via your voice assistant.
Artificial intelligence in your favor
Lava e Seca Smart LG's artificial intelligence system AIDD™, very interestingly and efficiently, before starting any operation, performs an analysis in a bank of 20 thousand different types of washing to find out which combination of movements is best. . for the garment mix in question – factors such as the type of fabric and the number of pieces are taken into account. This helps protect clothes up to 18% more than conventional models, resulting in an efficient, damage-free wash.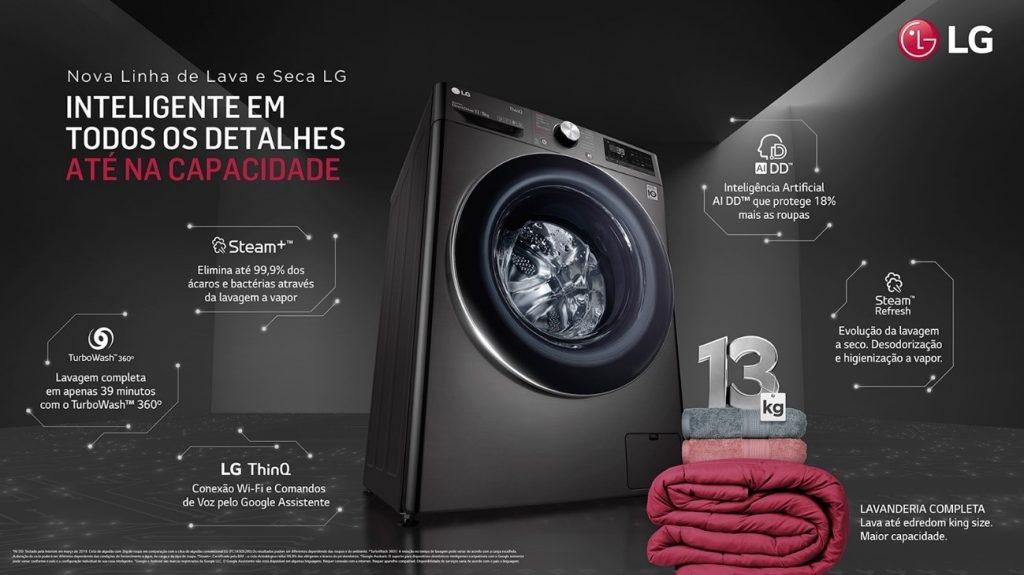 The product also features the TurboWash 360° mechanism, which guarantees more agile cycles and time savings. The integration of 4 jets in three dimensions (3D) and 6 different washing movements means that all care is given to your clothes every second of the process. After all, we want it all to be really soft and fragrant when it's all over, right?
If this has already caught your eye, wait until you realize that the TurboWash 39 program can wash 5 kilos of laundry in just 39 minutes. Undoubtedly, this time saver will pay off well!
The LG Smart Washer & Dryer also features LG's Steam™ technology, which uses steam to sterilize the parts inside the machine and eliminates 99.9% of bacteria, germs and viruses that cause health problems.
LG Smart Washer & Dryer has an elegant and modern design
Visually, the Lava and Seca Smart LG's design and premium finish stand out, especially with their compact size. For example, the 13-pound models are the same height and width as the 11-pound models, allowing you to have a high-capacity machine in a small environment. The motor is directly connected to the drum, which contributes to greater stability and product safety and makes washing quieter.
In addition, the tempered glass door and child lock offer greater safety and durability to the product, as well as high resistance to impacts and temperatures. It is important to note that LG also provides a 10-year warranty for the Inverter motor with Lava and Seca Smart, in addition to the one-year warranty on the product.
Did you like this news? So don't miss the opportunity to learn more about LG products right now!
*Check the availability of features by model on the LG website.
Source: Tec Mundo