The long-awaited correction of the bitcoin bearish wave has occurred, but the rebound cannot be called joyful. If we consider the drop since March 29 (by 63% right now from the ~48k peak), the correction from the bottom (~17.5k) today was 23%.
Correlation of funds

The S&P500 index continues to fall, accelerating momentum. The slope of the current trend line is already -65 degrees, which is close to the "critical" values ​​of history. On the one hand, it may seem like the bottom is already near, and literally the next push will give us a bounce, but the macro situation continues to deteriorate, hinting to us that we are, at best, somewhere in the middle of the decline. Personally, I wouldn't be surprised if we hit 2020 covid lows in the medium term.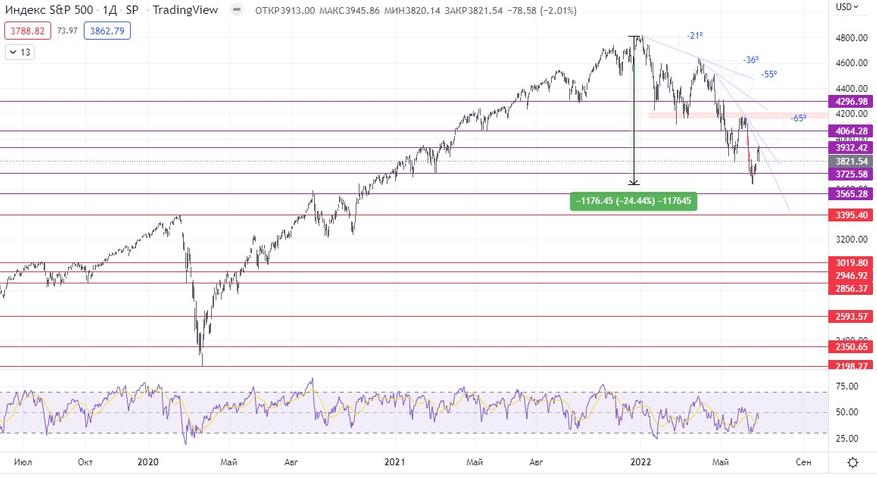 For the NASDAQ and RUSSEL2000 indices, the situation is completely similar, the correlation of the indices is at its maximum values, so it makes little sense to consider them.
End of the alternate mini-season?

During this short-lived bounce, alt-values ​​rose more than Bitcoin and BTC's dominance waned. Let's look at the graph. We hit a strong level at 42.25, we have been testing it for a week and we are building momentum to the upside. The RSI is also showing strength. I look forward to a test of the 44.15 level and then a test of the sloping trend line from below. Alts will, of course, lose capitalization during this period.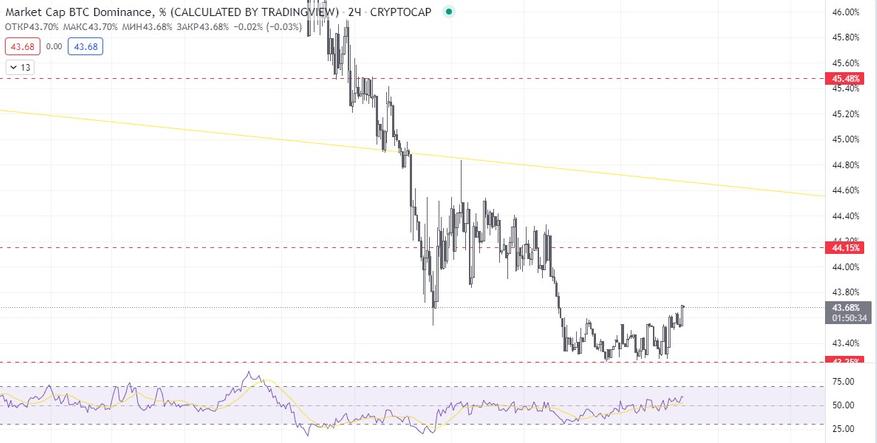 Commercial plan

In the coming days, I expect an acceleration in the decline of the indices, which will drag the cryptocurrency down with them. Work priority – short. Our next significant supports for the white ball are in the 19.2k-18.5k area. I post more precise goals and entry points on my Telegram channel, the link to which you can find in the profile description.
The long-awaited correction of the bitcoin bearish wave has occurred, but the rebound cannot be called joyful. If we consider the drop since March 29 (by 63% right now from the ~48k peak), the correction from below…
The QCY HT03 wireless headphones surprised me, like the Tecno HiPods H2, but not because of the sound, but because of the capabilities. For 1500 rubles. QCY headphones have noise cancellation, equalizer adjustment and…
Walking around the city sometimes you want to travel with the breeze. But a bicycle is not a very compact means of transport, so it does not fit in the trunk of a car. What cannot be said about the DIGMA electric scooter…
Why do you need a Wi-Fi camera? Show what's happening in your home on your smartphone. Send an alarm about baby crying or strange movements. Through the loudspeaker, say "Get out!" or "Enough…
Cryptocurrencies are slowly but surely ceasing to be an exclusively speculative asset. In the reality of sanctions, cryptocurrencies have become an effective alternative to traditional payment systems. Now…
Our life is unthinkable without a phone and other devices, and these, in turn, cannot function without regular recharging. To do this, we use family memory for all of us, which…
Source: IXBT