Users can enable the "Mature Theme" button to restrict access to minors.
TikTok users will soon be able to allow only adults to watch live streams.
According to TechCrunch, TikTok is testing a setup that provides streamers with a "adult themewhich, when enabled, restricts its streaming to adults only.
Based on screenshots from analytics firm Watchful.ai posted by TechCrunch, the new setting is not an invitation to explicit content. Rather, it is a way to prevent minors from coming across adult or uninteresting videos. The TikTok Community Guidelines include a policy on nudity, sexual activity, and violence, and they still apply even with the adult settings turned on.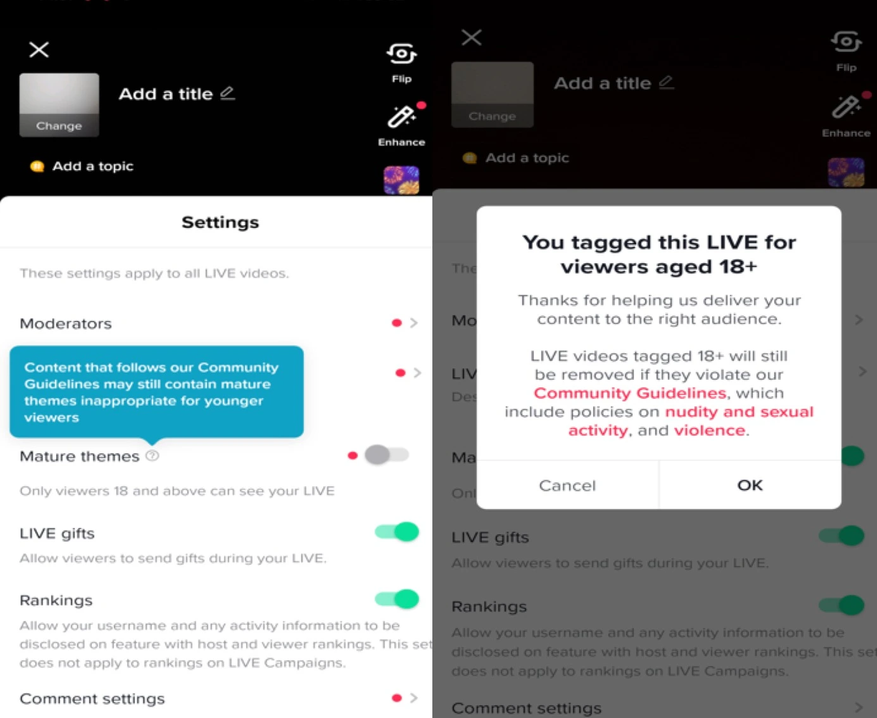 "We hear directly from our bloggers that they sometimes have a desire to only reach a certain adult audience. So, for example, maybe they create a sitcom with adult humor or offer some boring job advice that is relevant only to adults. Or maybe they're talking about a very difficult life experience," Tracey Elizabeth, TikTok's US policy director, said in February. "So, given the variety of topics, we're testing ways to help bloggers better reach audiences. target for your specific content."
The video-hosting platform is testing a variety of new features, from Repost and Dislike buttons to Delete mode and playback history, which organize the screen and help you find previously watched videos. At the same time, there is a threat that the platform will become unavailable after FCC Commissioner Brendan Carr asked Apple and Google to remove TikTok from their app stores last week.
The Android operating system is becoming increasingly demanding on smartphone resources such as random access memory (RAM) and onboard storage (ROM). Therefore, for a long time familiar …
In early June 2022, Microsoft banned users from the territory of the Russian Federation from downloading the latest versions of its Windows operating system, and after a while, completely…
Today, 3D printing has become very closely integrated into our daily lives, and everything that is possible is already printed on a 3D printer: cars, houses, spare parts, mechanisms, etc. Naturally, I was wondering if…
The TRN MTE wired headphones complete a series of five budget model reviews. The MTEs have a familiar shape, unlike the TRN CS3 Micro, as well as a sound that is quite suitable for listening to music…
Hardly anyone lives in this city, all the roads are blocked, the air is full of smoke, this place has no zip code, most of the plants withered or withered, the asphalt cracked on the roads. Under…
A fairly large and unique park of Russian fairy tales is located on the outskirts of Domodedovo. "Children's Dream Space" is an ecological park with a petting zoo, children's games, museums,…
Source: IXBT