Apple could go beyond Touch ID and Face ID and offer a new full body recognition system, something like Body ID. The company has published a patent titled "Electronic Devices with Body Composition Analysis Circuits" detailing how an external device or even an iPhone it can even scan specific body parts to provide health data and analysis, among other things or identify the user.
Apple specifies in the patent that in order to perform a body scan, "data may be captured body scan from head to toe", or "by capturing the entire body in one image frame and/or by capturing multiple image frames of various body parts such as the face, neck, waist, legs, etc.," the patent describes.
The body scan can also be done from the front or side. The company also says that you can shoot sequences of images or videos to show breathing, for example.
While the fact that we can get health-related results from a single whole-body analysis could be an important advance, Apple notes that Scanning certain parts of the body is necessary to reveal different body compositions.
"Because body fat tends to be stored in certain fat pockets, such as the cheek and neck areas, these areas may be more indicative of body composition than other areas. For example, the shape of a user's forehead may not change much as the user's body fat changes, while parts of the cheeks and neck may have noticeable changes that correlate directly with changes in body composition."
Apple continues to care about health
This body scan, we repeat, will allow throw away data related to the user's health, such as body weight, weight, etc., and allow Apple to offer a more personalized diet or exercise for each individual. The company also emphasizes that this feature will allow the collection of data from multiple users for analysis and further research.
Of course, we must not forget that this is a patent, so it is not clear if we will see this feature in future devices. In any case, Apple has focused on working on features related to the health of users for years. The Cupertino-based firm even wanted to set up its own clinics using health data from the iPhone or Apple Watch, though the company decided to put the project on hold.
Source: Hiper Textual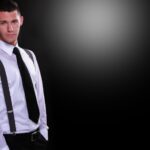 I'm Ben Stock, a highly experienced and passionate journalist with a career in the news industry spanning more than 10 years. I specialize in writing content for websites, including researching and interviewing sources to produce engaging articles. My current role is as an author at Gadget Onus, where I mainly cover the mobile section.