When Tesla announced price cuts for the Model 3 and Model Y in Europe, it was only a matter of time before other manufacturers did the same with their electric vehicles. The latest to join us is Ford, who recently reported that Mustang Mach-E will receive a discount of up to 11,616 euros.. No doubt a no small number and whose mission is to boost SUV sales in the region.
Obviously, the price reduction of the Ford Mustang Mach-E will depend on the version chosen. The Standard Range RWD, the base SUV model, wins the most, with the aforementioned €11,616 deduction. For its part, the reduction will be minimal in the GT; only 1210 euros. Full table with updated costs below:
| | | | |
| --- | --- | --- | --- |
| Vehicle | New price | Previous price | decline |
| Standard RWD Range | 53,072 euros | 64,688 euros | 11,616 euros |
| Standard all-wheel drive | 67 847 euros | 70 872 euros | 3025 euro |
| Extended RWD range | 69 633 euros | 72,658 euros | 3025 euro |
| All-wheel drive with extended range | 74,042 euros | 77,067 euros | 3025 euro |
| GT | EUR 85,052 | EUR 86,262 | 1210 euros |
So it's clear that Ford is trying to make the entry-level Mustang Mach-E Standard Range RWD the most attractive option in the lineup.
There is also a discount for this manufacturer. you must add a MOVES plan. With a significant price reduction on the base model Ford Mustang Mach-E, you can once again benefit from this program. So, The Standard Range RWD will cost €46,072..
Ford says its updated pricing is part of its ambitious strategy to become the benchmark for electric mobility. This same vision led them to increase production of the Mustang Mach-E to meet global demand. This discount will surely attract more customers.
"The increase in production is a key part of Ford+'s plan, highlighting the company's commitment to leading the electric vehicle revolution by adding value to its vehicles for customers, positioning the Mustang Mach-E as an attractive option for those looking for an electric SUV. . Ford has provided batteries and raw materials for scale production in 2023."

Ford.
Ford is following in Tesla's footsteps
Early in the year, Ford's announcement of a possible price cut for the Mustang Mach-E was somewhat confusing. In January, they reaffirmed their intention to lower the cost worldwide. However, after a few weeks, they backed down, saying that there would be no change in this regard.
Now, finally, they have decided to fulfill the original promise. The fact that the Ford Mustang Mach-E is dropping in price is also related to the recent drop in the price of the Tesla Model Y, one of its direct competitors.
Those led by Elon Musk have reduced the base Tesla Model Y from 51,200 euros to 48,200 euros. However, unlike the Ford Mustang Mach-E, they gave a significant discount on more expensive models. In particular, the long-range Y model has risen in price from 65,990 euros to 53,400 euros, while the Y Performance model has risen to 59,990 euros (previously 70,000 euros).
Source: Hiper Textual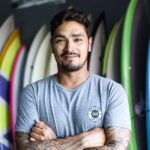 I'm Blaine Morgan, an experienced journalist and writer with over 8 years of experience in the tech industry. My expertise lies in writing about technology news and trends, covering everything from cutting-edge gadgets to emerging software developments. I've written for several leading publications including Gadget Onus where I am an author.