In a study published earlier this month, researchers at the Nanoscience Technology Center at the University of Central Florida (UCF) in the United States have created an unprecedented ink that doesn't use any pigments. Baptized as plasmonic ink, the dye uses nanoscale structural arrangements of colorless materials (aluminum and aluminum oxide) to create ions.
According to research leader and UCF professor Debashis Chanda, This The inspiration for the new ink came from the wings of butterflies. It is the first eco-friendly, large-scale, multi-color alternative to today's pigment-based paints. The researcher says the aim is to contribute to global efforts to conserve energy by reducing global warming.
Today, technological improvements have been made in the exterior paints of buildings in order to keep the heat in the coldest regions and to keep it out in the hottest regions. To meet these specifications, the plasmonic ink is extremely lightweight thanks to the ink's high area-to-thickness ratio. This allows full coloration to be achieved with an ink thickness of only 150 nanometers (0.00015 millimeters).
How does plasmonic ink work?
According to the study, color engineering works by controlling the absorption or reflection response of paint to white light. In this way, all conventional paints are composed of pigments that rely on the light absorption mechanisms of molecules to determine their colour, meaning that unabsorbed light is reflected back and seen by the observer associating it with the color of the object.
In the case of the plasmonic ink developed by the research group, these structural dyes control the way light is reflected and dispersed, rather than controlling its absorption, such that the components of the material have completely different hues, even colorlessness. . In other words, the structural color does not depend on the chemical composition of the material, but can be observed in complex structures such as butterfly wings.
That's why Chanda claims her inspiration is nature itself, where butterflies, as well as flowers, birds and underwater creatures, reveal attractive hues created only by the geometric arrangement of colorless materials.
The research was published in the journal Science Advances,
Source: Tec Mundo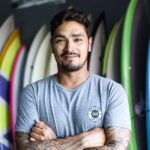 I'm Blaine Morgan, an experienced journalist and writer with over 8 years of experience in the tech industry. My expertise lies in writing about technology news and trends, covering everything from cutting-edge gadgets to emerging software developments. I've written for several leading publications including Gadget Onus where I am an author.