One of the representatives of the analytical company NPD Group named Matt Piscatella published his vision of the US gaming market. In his observation, he pointed out that month by month this year, US citizens are spending less money on video games, and also stressed that the drop in spending in this sector will continue the trend until the end of the year.
At the end of this year, spending in this sector is expected to decrease by around 8.7% compared to previous years and amount to around $55.5 billion. This trend has arisen due to increased spending by citizens in other areas, as well as a relatively small number of new releases and a decrease in the supply of consoles and new accessories for them.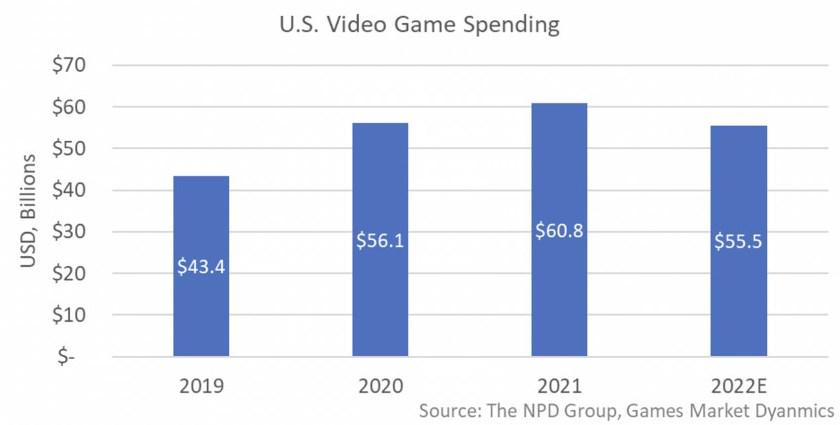 Of this year's cost characteristics, the drop in sales of games released for PC and other platforms stands out, however, costs in the paid subscription sector show positive trends.
The expert also points out that this year, the most profitable game in the US will most likely be Elden Ring. And this will be only the third time in gaming history since 2009 that a non-Call of Duty player will take the lead.
But in the console sector, the best seller in the US market will be the Nintendo Switch, but in terms of the company's total earnings, other players in the market may be in the lead.
A fairly good DVR for a car with honest FullHD recording is Fujida Zoom Hit 2 (the second generation of the popular model). The "Duo" version also includes an additional rear camera in…
I've always used mechanical models and they do a great job in most cases, but after this last one broke down I decided to look at heated models and it turned out that…
I have lived in Moscow all my life, but every time I discover the city again and find new places where I have never been before. Here is the territory of the Stankolit plant, which was once part of the Ogorodny industrial zone …
"These incredible photos taken above CERN's Large Hadron Collider (LHC) have sparked new conspiracy theories and fears that 'portals' are opening. The images appear to have been…
PCCooler PALADIN EX400 is a relatively young brand on the Russian market and is mainly engaged in cooling systems. In the winter of 2022, the company presented an updated PCCooler…
Like the Earth, the Moon also has a crust, mantle, and core. However, its center is composed of iron and nickel, which makes it the second densest moon in our solar system after Io, one of the 79…
Source: IXBT