On August 18, the Minecraft Cookbook. 50 recipes inspired by the iconic computer game. The publisher Bombora recommends it to anyone who wants to learn how to prepare not only game food, but also real food.
With the preparation of most snacks, even the youngest minecrafters should have no problem. To create Ice Blocks, you do not need to go to places covered with ice, and the Sheaf of Hay bars will surely please not only the inhabitants of the barn, but also everyone around you. In the main menu you can find dishes like the juicy "Minecraft Steak" or the "Lapis Lazuli Donut" in a radical blue color. For dessert, a flavor similar to the monsters from the game "Slime Blocks" or "Marshmallow Ghasts" is proposed. The real challenge for culinary talent is ready to be released by Steve's Yellow Cake, popular with gamers.
It is recommended to drink treats with various drinks: the refreshing watermelon will restore some health, the jam sandwich-flavored strength potion will give you energy, the night vision potion will add some vitamins, and for the first time, Lava Soda will allow you to use this burning liquid without taking damage. Unlike the game, you do not need to grow the products included in the dishes yourself – everything can be easily found on the shelves of the nearest store. Plus, the ingredients are easily replaced: fruit choir with blueberries, water lilies with spinach, spider eyes with cherries, and spider webs with chocolate web.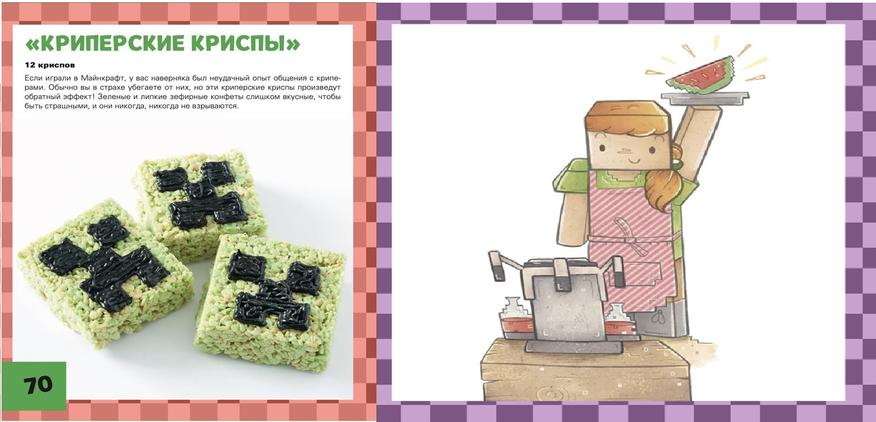 "You can create just about anything in Minecraft," says author Tara Theoharis, who has long collected recipes related to popular games. "The same rules apply in the kitchen, only edible ingredients should be used."
The cooking instructions are complete with cooking tips, game secrets and fun illustrations in a recognizable style. Simple and "neat" recipes will help children to cook goodies on their own, at least for a short time, away from the computer.
Each profession has its own special tool, which in the daily life of people of other professions may not be used at all, or may be similar to others, but differ in details. Yes in…
For a modern person, a mobile phone is an integral part of life, and a SIM card, respectively, is an integral part of the mobile phone itself. Probably not many people know that a SIM card…
When the radio played me one of the songs of the singer with the strange pseudonym Winesmoke, I immediately began to find out who she was and what else she had. The pseudonym turned out to be clever – Winesmoke is…
The festival of vintage cars and retro buses is dedicated to the Moscow Transport Day. This is an opportunity to see LiAZ, LAZ, Ikaruse, RAF, PAZ, Volga police, ZIS firefighters, and even home-made …
In this review, we will talk about a budget headset with a 3.5mm audio jack, which offers a good level of comfort, balanced sound, and a microphone. How do the headphones sound? What are the feelings of…
Nobody (except those who issue them) likes loans, because, as the trite but true wisdom says, you take other people's money for a while and give your own, and forever. And it would be nice to give…
Source: IXBT