Pinterest may not be among the most popular social networks in Brazil, but in other countries such as the United States, the photo sharing site is very common. Known for offering an online scrapbook with inspiration boards and images of various topics that you can save and reproduce to impress others, it's a digital medium made for sharing photos with the community.
Over the past four years, CEO Ben Silbermann has transformed Pinterest from just one big virtual scrapbook into one of the top five most popular and beloved social networks in the US – nearly one-fifth of online adults have an account on the site. This opens the door to new business on the network with a growing audience of mostly women (80% of users are women).
Although Pinterest launched in March 2010, it will only earn its first revenue this year by charging advertisers to promote their products to the site's millions of enthusiasts. There's a particular niche on Pinterest that can be really interesting for certain markets because it's wedding inspiration, decorating tips, vacation outings, fashion and do it yourself are the most popular on the net.
According to estimates from Michael Patcher of Wedbush Securities, these ads could generate more than $500 million in revenue in 2016. With nearly 240 employees and approximately $564 million in venture capital investment, Pinterest is among the most successful start-ups in recent years and has a lot to prove with its advertisements. However, despite being popular in the US (the second largest network after Facebook), the site has less than 10% of international social media shares.
Pinterest in Brazil
In our scenario, the site grew especially after Pinterest opened an office in São Paulo earlier in the year. Brazilians are very fond of the internet and interaction, aspects that the site aims to address nationally. The company reports that Brazil is among its ten main markets in terms of number of users (which already exceeds 350,000) and wants to improve its relationship with the virtual community there.
After the initial explosion in registrations at the launch, we can say that the users on Pinterest today are really active and use the tools offered. Since 2010, the social network has been providing new modes of interaction, such as private or public chats and group inspiration panels, to make it easier for people to interact (and go beyond the typical like, reply, and comment).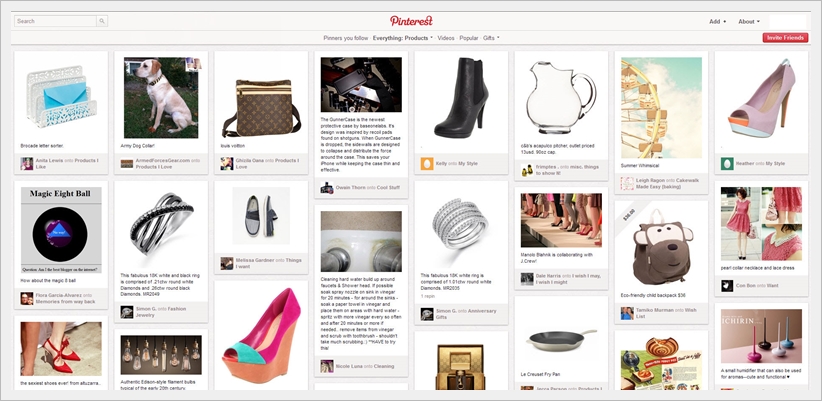 Also, with its in-country office, the site can focus more on national interests. For example, Valentine's Day is celebrated on another date here, and Halloween is not as famous as in the United States, but there are other aspects that could be better worked on, especially to reach and include the Brazilian public.
Business on Pinterest
Pinterest is also a good place for businesses, depending on the industry. Decoration, wedding, travel, etc. There are brands that want to take advantage of this area and place their products on inspiration boards and spread them among existing pins, thanks to the panels with hundreds of images about the subject. The result can be very interesting, as Pinterest users spend 70% more money than visitors referred by other sites.
The social network is almost entirely dedicated to sharing product images and therefore has very high commercial potential. Unlike Facebook or Twitter, people here spontaneously search for pictures of products and things they want to buy. Most of these images are directed to the websites of the respective brands to facilitate the commercialization of these products.
Even if you are a business owner, it is possible to register as a corporate person and not as a regular user (click here for more information). This way, you can connect online stores to the network profile, view visitor data, install the Pin It button on your websites, and control Pinterest Analytics – all this to optimize your sales and reach a wider and more dedicated audience.
Are you a regular Pinterest user? What aspects do you think could be changed or added to make the social network more attractive? Share it with us in the comments below.
Source: Tec Mundo