The long wait is over. VisionProApple's augmented reality glasses have finally been announced on keynote address opening WWDC 2023. And at the heart of the device is VisionOS, your operating system. A new software platform that aims to be revolutionary and has several new features to consider.
Rumors about VisionOS there have been many of them over the past few months and even years. Fortunately, all speculation (even about his name) is now in the past. Today we have a deeper look at what visionOS isnot just for Vision Pro in particular, but for the Apple ecosystem and the mixed reality industry in general.
This, of course, is about an operating system designed to get the most out of the impressive hardware of the new Apple glasses. Software that promises to make full use of immersive virtual reality environments and be a unique addition to the "real world" with its augmented or augmented reality applications.
Apple has spent over 5 years developing the Vision Pro and its software. Of course, at the program level, the promises are gigantic, and what was seen in the presentation is really interesting. From gesture control to a translucent display that really grabs attention. But all hardware is only as good as the software it runs on.and this is where visionOS will have to prove its ability to accomplish this task.
Apple makes a long-awaited leap into mixed reality with visionOS and Vision Pro
VisionOS has a challenging mission to bring together different concepts: to be a virtual reality platform that surpasses those that competitors have already brought to the market; use the possibilities of augmented reality, paying great attention to performance; and become an extension of the rest of the Apple ecosystem. Especially iPhone/iPad and Mac.
For this reason, Apple has decided that "reimagined" versions of apps that are already widely used across its various operating systems and devices are offered at the heart of visionOS. We refer to Safari, Maps, Messages, Podcasts, Apple Music or Apple TV+, among other things. Everything will be accessible through a kind of "home screen", similar to the iPhone, but virtualized and adapted for eye navigation and gesture control.
In addition, users can use all apps for iPhone or iPad right from the glasses, or use the glasses as if they were a Mac extension. Let's not forget that Vision Pro can be used with accessories such as Magic Keyboard or Magic Trackpad. Of course, Cupertino is betting that developers create apps specifically for glasses that can be downloaded from the new App Store. In addition, the company promises over 100 Apple Arcade games available from day one, as well as compatibility with Disney+ and productivity tools like Microsoft Office and Teams.
Apple claims that visionOS the world's first operating system built from the ground up for "spatial computing".. The first demonstration of Vision Pro's capabilities during WWDC allowed us to see more than just how glasses software can overlay virtual elements on a real environment. And also how the user can choose the level of immersion they want thanks to the Apple Watch-style digital crown. The latter is specially designed for the consumption of multimedia content such as series or movies.
Software of the future, using the experience of the past
Apple claims that visionOS was created by taking advantage of decades of engineering innovation gained from creating macOS, iOS, or iPadOS. The operating system has 3D interface which allows the user to use the entire space around him as a large canvas for launching applications and interacting with them. In fact, the Californians have put a lot of emphasis on being able to adjust the size of the windows as much as needed for a more immersive experience.
An interesting element of the software is that responds dynamically to cast natural light and shadows. This allows the user not to lose reference to the distance and scale of the surrounding elements. A point of great importance when dealing with products of this type.
We have already mentioned that visionOS allows you to navigate Vision Pro with your eyes, as well as control work with gestures. Some of the more interesting behaviors that cameras and goggle sensors allow are as follows:
You can only navigate menus and applications with your eyes. Looking at an icon makes it stand out from the rest;
To perform a specific action, such as opening an application, users simply double-tap with their fingers. Vision Pro are able to easily determine the location of the hands, regardless of their location;
Do scroll The visionOS window allows users to move their wrist up or down;
In the case of voice, visionOS lets you start dictating by looking at the search box in Safari's address bar.
visionOS keys
As explained by Apple, there are several elements above the core of the operating system for ensure the minimum delay required for "spatial computing". One of them is a new real-time execution engine that provides optimal performance for the heaviest workloads.
It also includes technology known as renderingwhich we have already seen in others headset – for example, PlayStation VR2. What it does is prioritize rendering the highest quality at the point where the eyes are focused.
On the other hand, Apple mentions including a new engine that allows you to simultaneously run multiple applications in 3D. Added to this is the fact that visionOS includes support for spatial audio, as it does for framework iOS/iPadOS and spatial experience.
A launch that raises high expectations
Apple's challenge with Vision Pro and visionOS will be to prove that the final experience will be as impressive as promised. During keynote address WWDC 2023 we saw amazing elements and even examples of very interesting interactive applications, but the real challenge will be materialize these examples with the same quality as in the presentation.
Unfortunately, in the Apple Park demo area, visitors couldn't test (or touch) Vision Pro. Just take a photo from a distance. This makes it clear that visionOS is still in its infancy. Or that at least there are a lot of details to be polished before it launches early next year.
Let's see if VisionOS and Apple glasses deliver what they promise. because of $3499 for headsetThose on the block are undoubtedly making the most compromising bet in their recent history.
Source: Hiper Textual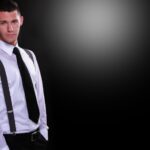 I'm Ben Stock, a highly experienced and passionate journalist with a career in the news industry spanning more than 10 years. I specialize in writing content for websites, including researching and interviewing sources to produce engaging articles. My current role is as an author at Gadget Onus, where I mainly cover the mobile section.