Getting electricity on a long autonomous journey is not easy. The external battery will be discharged, the sun for the solar panels is not always and everywhere. But there is also the power of the wind. The Canadian company Shine presented a 40W wind turbine that weighs 1.3 kg and fits in a backpack pocket on a crowdfunding platform.
Shine Turbine goes from traveling to operational in two minutes. The propeller with a diameter of 60 cm rotates from wind speed up to 45 km / h and stores electricity in a built-in battery with a capacity of 12000 mAh. With the help of a wind generator, you can charge various devices with parameters of 5V and 2.4A, two USB ports are available.
The body of the generator automatically rotates on a support (90 cm high) in the direction of the wind. It is protected from water according to the IP54 standard. In the case there was a place for LED indicators of charging and battery temperature.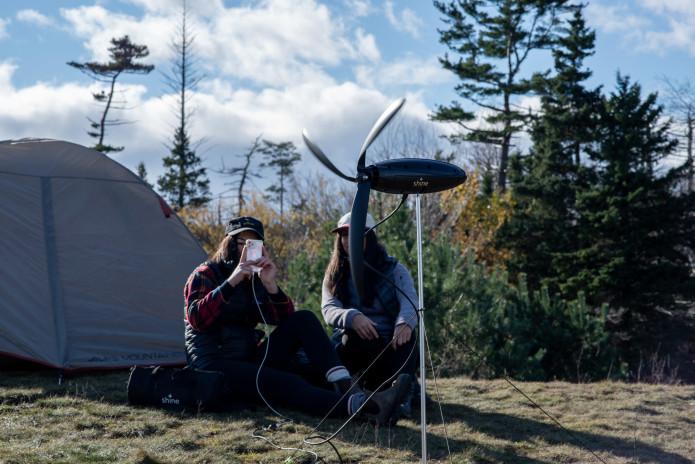 The device will go on sale at the end of the year, the approximate cost is $400 USD.
Although I have my own bike, for many years I have been paying for seasonal access to bike rentals and using rental bikes constantly. There are some tricks and hacks that not everyone knows…
Good afternoon, dear friends! Today I would like to show you a compact screwdriver set from Ugreen. Such kits are not uncommon, but this one is made quite…
As of July 1, by order of the Ministry of Internal Affairs, an online service is launched to check drivers for fines and traffic violations. How does this threaten drivers and should you be afraid that your data will fall into this database? How…
Choosing a washing machine is not a difficult process, but there are a number of points that you should pay attention to. First, there are two types of washers: top-loading (semi-automatic) and…
Mobile communications and the Internet are becoming more accessible every day in the most remote corners of our planet. Most of the people cannot imagine their life without mobile devices. To always be in…
Aluminum support, whose main function is to save space on the table. This model is equipped with a full central slot for laptops and two external slots to install additional devices…
Source: IXBT