Less left! on February 1st Galaxy unpackaged. The introduction of the new Galaxy S23 family is expected at this event. SAMSUNG This year he will bet everything on the company's so-called "flagship" high-end smartphones. But that won't be the only great presentation to be made at this event. A new laptop series is also planned to be introduced.
This is how the new Galaxy Book 3 family is distributed
Status of this directory Galaxy Book 3. But what do we really know about him? At the moment, we know the distribution of devices that Samsung is planning around this new family of laptops:
Galaxy Book 3
Galaxy Book 3 – 360
Galaxy Book 3 Pro
Galaxy Book 3 Pro – 360
Galaxy Book 3 Ultra
This range of devices is now available for purchase in some international markets. Obviously, we're talking about pre-sale. On the other hand, it is a pre-sale with benefits and benefits for the user as it rewards loyalty to the Samsung brand with gifts, discounts, offers and many more commercial issues.
Specs have already been leaked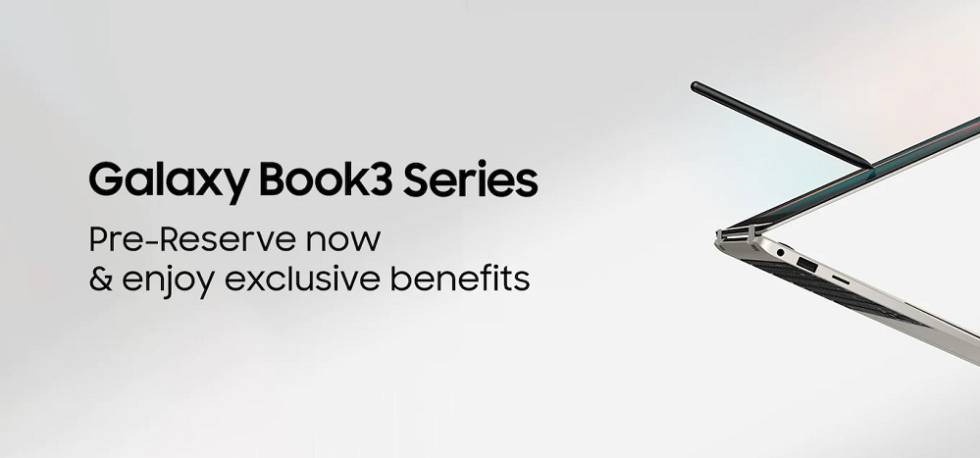 Thanks to a report on the internet, the technical specifications of the Samsung Galaxy Book 3 Pro and Samsung Galaxy Book 3 Ultra have been leaked. We examine them below.
Samsung Galaxy Book 3 Ultra:
New Intel Core i9-13900H processor
32GB RAM (LPDDR5)
1TB storage (NVMe PCI-E Gen4 SSD)
NVIDIA RTX4070 8GB GDDR6 graphics card
3K AMOLED display (16 inches)
Resolution: 2880x1800p
Thickness: 17mm
Weight: 1.8kg
136W power adapter
76Whr battery
Windows 11
AKG quad speaker system with Dolby Atmos audio
Samsung Galaxy Book 3 Pro
14 to 16 inch screen (AMOLED 3K)
Intel 13th generation Core i5-1340P and Core i7-1360P processors
16GB RAM (DDR5)
1TB NVMe PCI-E Gen4 SSD
Integrated Intel Iris Xe graphics
14-inch model: 1.2 kg, 11 mm and 63 Wh battery
16-inch model: 1.6 kg, 13 mm and 76 Wh battery
Windows 11
65W power adapter
Source: Cincodias Elpais